Tuesday 10th January 2012

Le Grenat, Théâtre de l'Archipel, Perpignan
Salves
Dance-theatre with Maguy Marin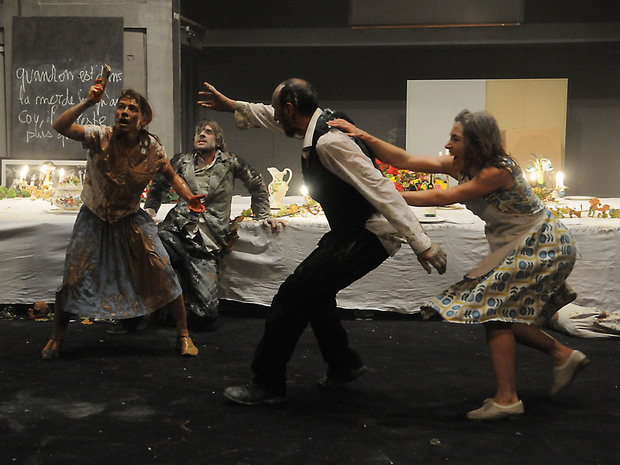 Walter Benjamin said that you have to "organise pessimism". "This means working on bringing forth resistant diagonal forces, sources of priceless moments that outlive fading memory…" says Maguy Marin, choreographer of 'Salves'. A lady who dares to take risks in mixing dance and theatre, Maguy has been sucessfully blending the two for over thirty years. Now heading up the Centre Chorégraphique National de Rillieux-le-Pape, this latest creation – universally acclaimed as a masterpiece – is a 'manifesto, a hail of gunfire, in which images shatter and fury overcomes despair. A salutary salvo of lightning in the night'.
Part political manifesto, Salves condenses Marin's career and her incredible vision of choreography with a masterful touch. Like a painting, an epic poem, this piece is a sequence of images, flashes from the darkness, which show us the folly of the world.
A piece of calculated chaos, with a huge rhythmic score for seven performers and long-time collaborators.
More info:
‪Le Théâtre de l'Archipel‬
‪Avenue Général Leclerc‬
‪BP 90 327 – 66003 Perpignan cedex‬
‪Tel : 04 68 62 62 00‬
‪Email : info@theatredelarchipel.org‬

‪
Le Théâtre de l'Archipel‬
There is an exciting new addition to the Perpignan skyline. If you have been to Perpignan in the last few months you would have noticed a large construction along Avenue Général Leclerc and a giant concrete bubble. This bubble is ‬now‪ 'the grenat,' a large theatre space accommodating 1100 guests and the venue of the Théâtre de l'Archipel. Designed by renowned French architect Jean Nouvel, the theatre will bring a touch of prestige to the previously rundown edge of the city.‬
‪The new theatre and cultural precinct is designed to be an artistic & cultural hub for the city. Welcoming local and international artists, it is hoped the precinct will encourage a spirit of multiculturalism and social tolerance.‬
‪There is something for everyone in the season line-up including theatre, dance, circus, opera, classical & contemporary music, as well as a special programme for children. Some of the artists performing include Eric Cantona, Thomas Dutronc and Yael Naim. Ticket prices range from 11€ to 40€.‬
‪For ticket and performance information you can visit the theatre website: www.theatredelarchipel.org Here you will be able to read more about "the grenat" and take a virtual tour of the site.‬