World Laser Masters Championship, Roses.
Paul Francis reports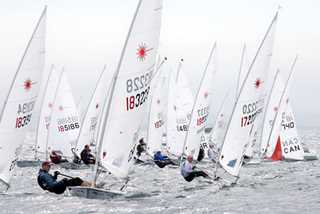 Last week I found myself 'over the border' in Roses, Catalunya, in the middle of The World Masters Laser Championship. At first it sounded rather like a shoot out for frustrated macho types. I very quickly realised that it was in fact an international dinghy sailing competition.
420 competitors from 33 countries competed for the highly coveted international Laser Master titles. Competition was intense and at times the organisers struggled with lack of sufficient wind. Finding themselves becalmed, competitors used their time productively, making new friends and sunbathing.
My host was Pep Puig, one of the officials, a very affable Catalan, who is clearly passionate about what he does.
The Laser is an Olympic Dinghy. Past Olympic champions competing included Tim Law (Great Britain). The prototype of the boat was originally named the "Weekender" but it was officially unveiled as the Laser at the New York Boat Show in 1971. The Laser became an Olympic-class boat in 1996, and a special Olympic edition of the boat was released that year in commemoration. Over 175,000 Lasers have been built. Due to its relatively low cost, responsive handling and single-design restrictions, it is the most widely-owned small dinghy in the world, and the most popular racing class.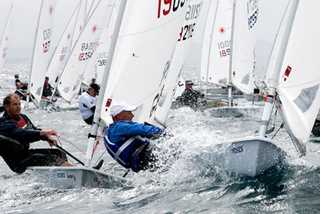 Feedback from one of the competitors, Richard Benson, of Sheffield, is that the Catalans did a fantastic job organising the competition. An excellent social programme included a giant Paella evening along with obligatory Rugby Five Nations for the men (and women).
Once the actual racing is underway it is mentally and physically exhausting. The course is a rectangular one, approximately 5 miles long. Nerves were in shreds as competitors rounded marker buoys and as I watched there appeared to be no collisions……although many came very close. A British competitor screamed at another competitor "No tacking! no tacking around the buoy!!" The other competitor, having broken the competition rules was forced to sail around the buoy again. As with any race against the clock, the start was critical as dinghies lined up just like frisky water-borne thoroughbreds waiting by the stalls. The start was sounded by officials and they were away, moving south, then north, west, south, east and north again to reach the finish line. The motor cruiser rocked in the swell and the photographers struggled to start shooting again, all the while enjoying the challenge of balancing a heavy lense on a moving platform.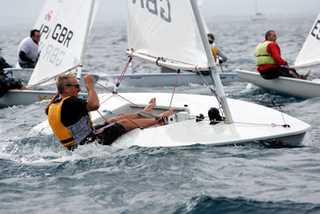 The competition was closed on Saturday 6th October with a spectacular jump by three parachutists from the Skydive Center Empuriabrava. They landed perfectly at the local beach Platja de la Punta, taking the Catalan Flag (senyera) with them. Those attending included Mr Joaquim Nadal, Catalan minister of industry of The Catalan Government (Generalitat de Catalunya).
Fast and exciting, next year's championships are being hosted by Australia. I'm booking my flight now.
© Paul Francis 2007