WITH SIMON NEWMAN
---
Though undoubtedly an artistic genius Dali had some pretty unsavoury habits – on top of which, let's be honest, he was away with the fairies for much of the time.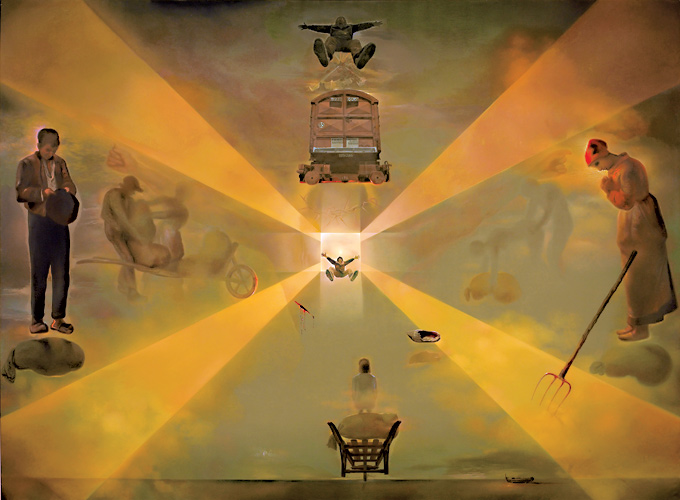 And never more so than when in 1963 he penned his celebrated homage to Perpignan station after experiencing "a mental ejaculation of cosmic ecstasy." Oh yuk, Salvador, that was more information than we needed. And really, at Perpignan station? Cosmic ecstasy? More like Ecstasy of cosmic strength I'd say – or whatever the chemical of choice was back then.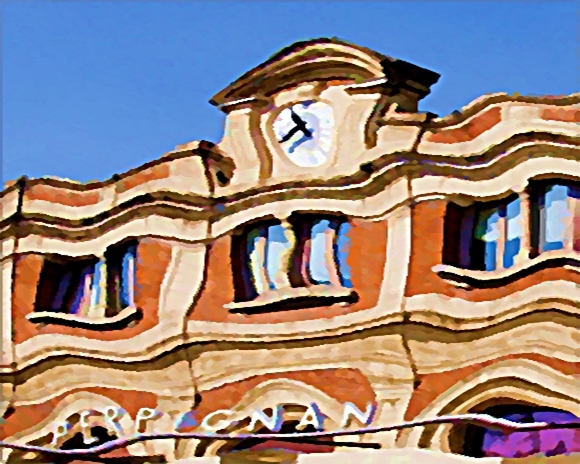 Fast forward almost half a century and the object of the eccentric Catalan's fantasy got a new lease of life. As reconstruction work on Perpignan station came to an end, I got to wondering just what the great man himself would make of the new look. Would his fun-tackle still "spring to attention in joyful anticipation on beholding the station's sensuous edifice?" No, I don't want to think about it either. But I do think the renovation cut the mustard aesthetically, though not perhaps for obvious reasons.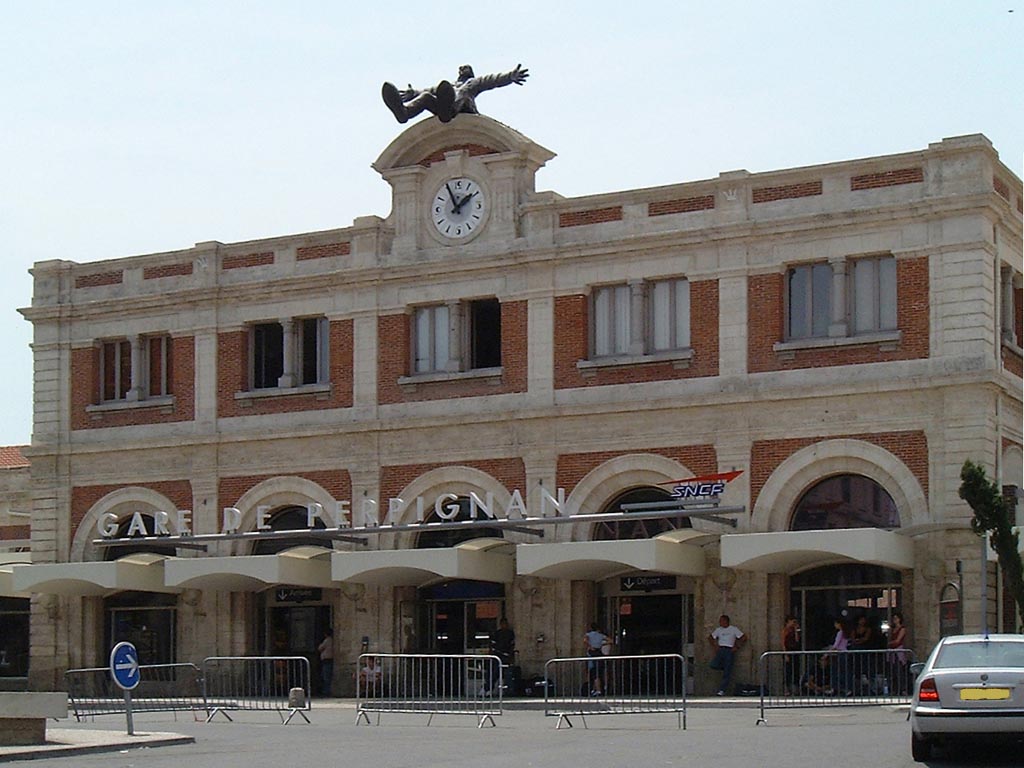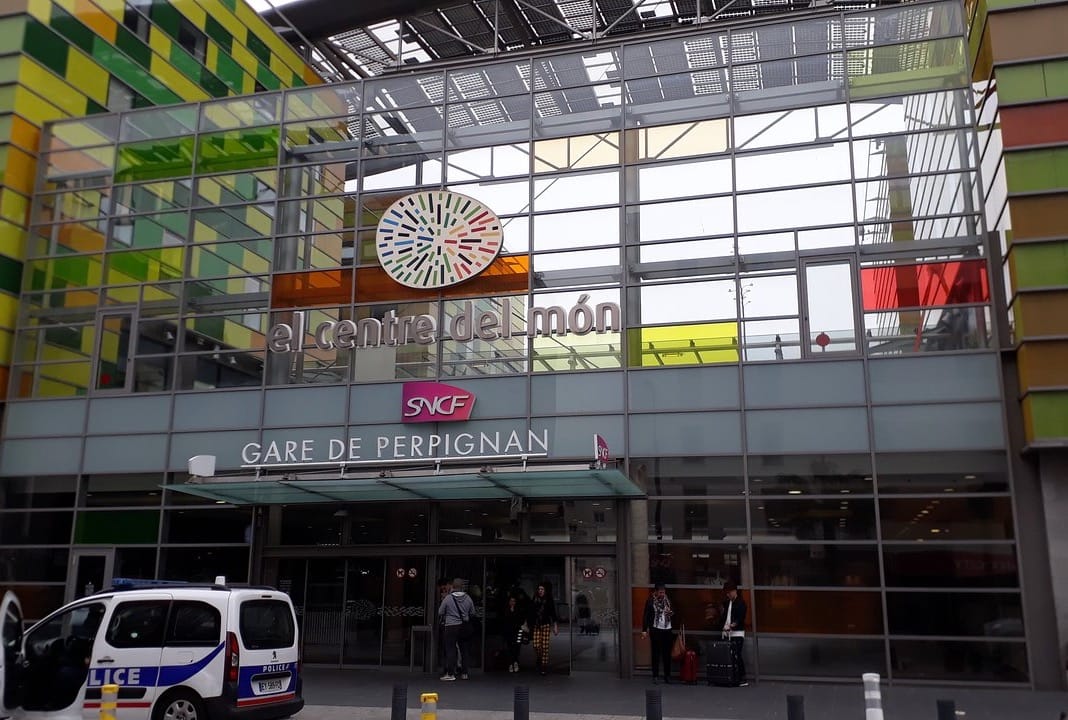 Ignore the ho-hum, airport-terminal style shopping mall grafted on to the rear (never a great success from its beginnings, when shops quickly relocated) and concentrate on the spruced-up façade. It's well proportioned and of a style that carries pleasing echoes of Perpignan's belle epoque a century earlier. The focal point, the imposing station clock, has an elegant half-reveal on the skyline in keeping with railway tradition, though I think the architect missed a neat Dali'esque trick by not making the whole thing melt just a bit.
Where the project really scores though is the fact that the designers resisted the temptation to develop the open space out front. In fact they extended the concourse even further so you can stand back and take in the station's panorama in all its splendour. Unlike for example Barcelona's Sagrada Familia (beautiful though it indisputably is) where you have to crane your neck uncomfortably to get an overview – and you can't retreat far enough without back-stepping suicidally into one of the city's busiest traffic flows.
But it's not only the concourse at Perpignan that makes the difference. The approach to the station (from the centreville end) is along Avenue du General Charles de Gaulle from which vantage point you can admire the elegant frontage several hundred metres away. I really love this straight as a die, palmed boulevard, created in the expansive style that so exemplifies this part of Mediterranean France.
Like Perpignan's station, Avenue du General Charles de Gaulle is enjoying somewhat of a renaissance and while there's still plenty of down-at-heel parts, you don't have to stretch your imagination too far to see just how beautiful it once was. And with many of the stylish maisons de mâitre currently under renovation, this location will surely soon revert to what it used to be – one of the best addresses in town.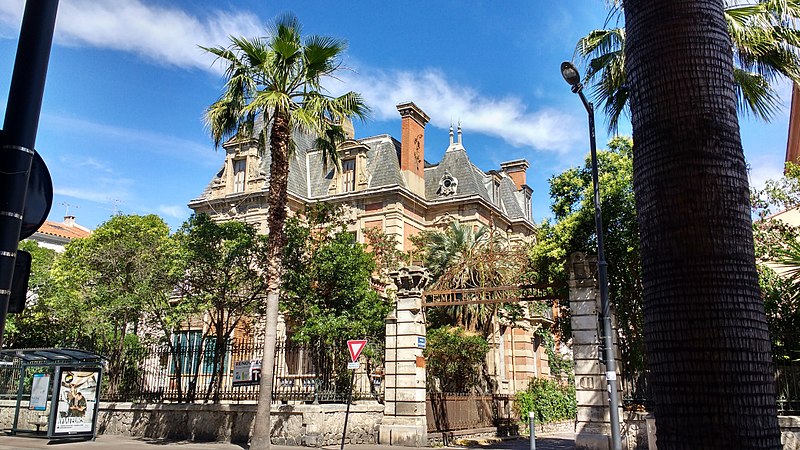 In particular, check out Château Emile Drancourt (about halfway down the avenue) a spectacular, ornate, bourgeois pile that was badly run-down for a long while – but maybe a social network grillionaire looking for a European HQ has since snapped it up. Built around 1850 to the design of celebrated Danish architect Viggo Dorph Peterson (he of Château Valmy at Argelès and Château d'Aubiry near Céret) in his signature mélange of Parisian Baroque, Bavarian Gothic and a touch of Wuthering Heights.
Commissioned originally by the Perpignan wine merchant Emile Drancourt, this grand house served as both a family home as well as headquarters for his wine business.
L'Hotel Drancourt was up for sale in 2015 at 735,000 Euros, later reduced to 5,500.
And with the TGV on the doorstep, Paris, Berlin, Madrid and several other capital cities are now just a few hours away.
So yes, the wily old rascal was right, if just a tad previous. Perpignan station and its environs can now, with every justification, be described as the Centre of the Uni………. er no, actually it's a bit still far fetched isn't it? The Centre of the Cataluniverse then. Yup. That's more like it.Dali