FETE DE L'OURS – Bear Festival, Arles-sur-Tech
---
4th February 2018

-

5th February 2018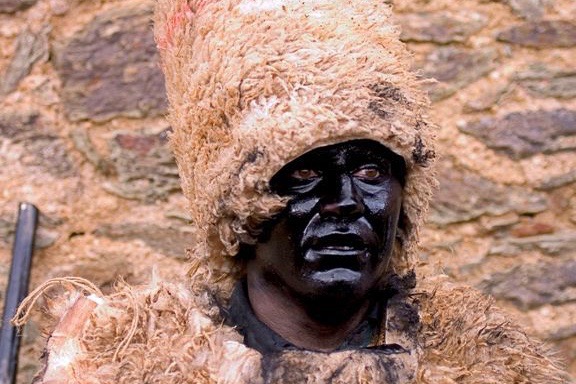 A

rles-sur-

T

ech

B

ear

F

estival
The bear festival of Arles sur Tech is acted out as a living theatre piece involving the public. Following ancient traditions, it tells of the impossible love between the beautiful Roseta and a forest creature. Captured by the trapper, the bear will be shown to the crowd in various places of the village and its strength will be tested by Bottes et les Tortuges.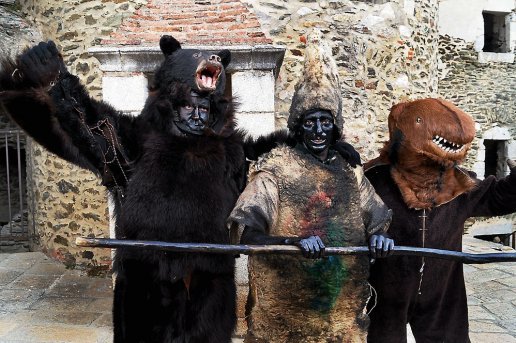 PROGRAMME
SATURDAY (for the children)
(NOT CONFIRMED)

10h30  Bou Vermell – Depart Parc de la Mairie
14h00 'Festa de l'Ós Petit' – Depart  salle des Fêtes
16h30 Shaving of the bear – Place de l'église
SUNDAY (CONFIRMED)
9h30 – Hunter's breakfast – Salle des Fêtes
10h30 –  « Trobada dels Caçaires, de la Rosetta et du Trappeur» – procession through the streets
11h – Passation du témoin "LA PATTE DE L'OURS" – Placette d'Amont
11h30 – Sardanes – Placette d'Amont with cobla « Les Casenoves »
12h30 –  Hunter's lunch – Placette d'Amont
15h – Departure of the Bear Hunt – fontaine des buis
15h – 17h – Great Bear Hunt through the streets with music from « les Casenoves » and « Els Tirons »
16h30 – Shaving of the bear and sardanes wth « les Casenoves» – place de l'Eglise
18h30 – Village centre ville : various entertainment in the bars
Traditional Catalan bands, known as coblas, with specific instruments, will accompany the festival throughout.
(words added in 1950 by Charles Trenet) [(Dans notre village autrefois

Un ours énorme dévastait les bois
Il faisait peur au bucheron
Et du berger mangeait tous les moutons Le maire et monsieur le curé
Dirent en colère "cela ne peut durer
Cet ours nous enlève tout repos
Avant huit jours, il faut avoir On partit donc de bon matin
Dans la foret qui sentait bon le pin
Avec des piques des flambeaux
Car ce jour-là il ne faisait pas beau
Nous avons marché tour le jour
Et malgré ça nous n'avons pas vu d'ours
Pourtant à la tombée de la nuit
Dans un sentier on voit un oeil qui luit Et pan! Voilà Monsieur le Curé
Qui meurt en joue et s'en est bien tiré
Mais l'ours qui n'était que blessé
Tout étourdi roula dans le fossé sa peau
On l'emporta à la maison
Et dans la cave on le met en prison
Depuis ce jour, apprivoisé
L'ours méchant joyeux et bien rasé
Se charge d'un tas de travaux
A la fontaine il va quérir de l'eau
Il sait conduire le tracteur
Au nouvel an il aide le facteur
Pour la distribution des prix
C'est son discours qui fut le mieux compris
Depuis au'il siège qu tribunal
On s'aperçoit que ça ne va pal mal Tout marche mieux à ma mairie
Ah, s'ils avaient le meme ours à Paris