Life's a Beach!
The Côte Vermeille (vermilion coast) winds its rocky and picturesque way from Argelès-sur-Mer to border village Cerbère, quaint and relatively quiet seaside hideaway in the valley of Cervera. In between lie Collioure, Port Vendres and Banyuls-sur-Mer along a twenty km stretch of beaches, small bays, creeks and coves, with some fabulous walks and cliff top views to take your breath away. This part of the coastline covers a mere 15 kilometres but the winding road from Port-Vendres to Cerbère makes it feel much longer, despite the superb views ! Take a sick bag for the folk in the back seat !
The Cote Radieuse from Port-Barcares to Argeles-sur-Mer spans 15 miles and typically takes less than half an hour to drive from Barcarès to Argeles, passing through Torreilles, Sainte Marie la mer, Canet en Roussillon, and St Cyprien.
Here are just a few of the many beautiful beaches
Argelès North and centre
Superb, long sandy beach with stunning views in the distance, this beach is separated from the hustle and bustle of the souvenir shops by a shady, tree lined walkway.
Rarely OVERcrowded as it it so big but in July and August, parking around the central area is a pain and traffic jams along Argeles plage main road a nightmare.
All usual facilities on site and nearby. Plenty of restaurants and cafés within easy walking distances, the beach is well supervised. If you don't enjoy lying around on the sand, take a wander or a guided tour of the the coastal Nature Reserve of Mas Larrieu, with its wide variety of landscapes and unusual birds. FIND OUT ABOUT ARGELES VILLAGE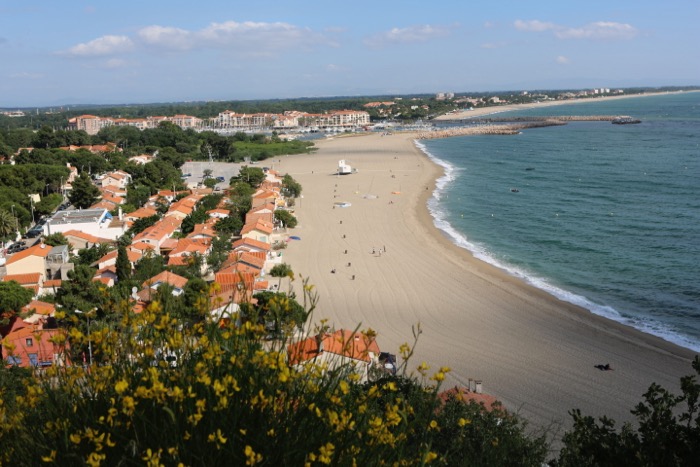 Tucked in at the very southern end of the miles and miles of beaches, the Racou beach has managed to retain that family beach feel, with shops selling saucy postcards, buckets and spades, shabby chic bars and cafés, and a tiny boulangerie full of local treats. There's a loo (if you're brave!).
Can get quite busy at times. Somewhat coarser sand compared to Argelès.
At the far end of the beach road, a track leads you past small coves (beaches unsupervised) on a cliff top walk towards Collioure. The single journey can be walked in about an hour and is off road until you arrive at the roundabout at the top of Collioure. A fabulous coastal walk or a pleasant cycle (but with a hefty hill as you arrive at the top road!!)
---
Between St Cyprien and Canet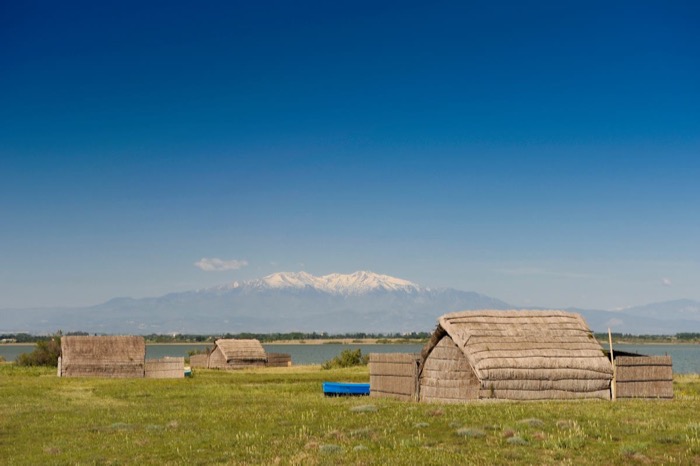 The road between the two towns runs between the sea and an étang (a kind of salt water lake separated from the sea by a narrow isthmus).
The sea beach offers a long stretch of fine sand uncluttered by buildings. The view is fantastic: look one way out to sea and the other way over the étang to Canigou.
The étang is a haven for birdlife and is famed for its flamingo population (flamants roses )
Parking spaces (free) along the road are plentiful but can be at a premium in high season so it is a good move to arrive between 1200 and 1400 when quite a number of beach-goers have gone home for lunch or not yet arrived for the afternoon. That's a good rule for any of the beaches.
No shops or toilets but fabulous views all round and the shops and restaurants of Canet just a brisk walk away. FIND OUT ABOUT SAINT CYPRIEN VILLAGE
La Franqui (Leucate)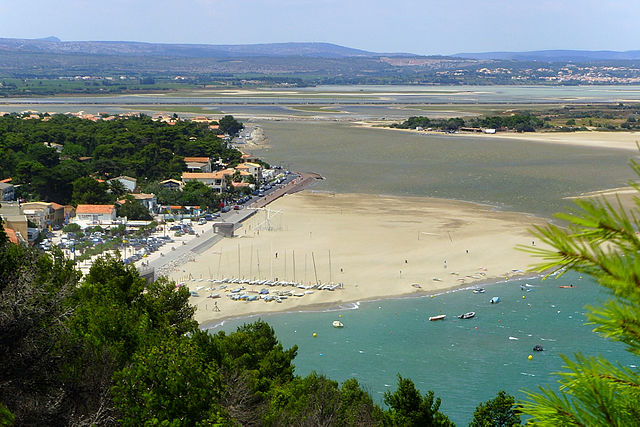 Between sea and lagoon, La Franqui beach boasts miles of un-spoilt sand, ideal for all wind and water sports – windsurfing, sand surfing, funboarding, kitesurf…… It can get quite crowded in high season but it's large and wide so space for all. Great family beach as you can paddle out a long way in shallow waters. Very popular with windsurfers and kite surfers due to the constant wind, so best to avoid on windy days if you don't want sand in every orifice! Of course, if you want to stay cool, the same wind can be very pleasant in summer.
Le Barcares

Much more attractive than you might expect of a purpose built resort – helped of course by the étang. Here you will find all sorts of boating, windsurfing etc going on.
The stretch of beach immediately past the town (heading north) is relatively quiet and has a beach café. Free parking. Behind it is a water park with the usual flumes and chutes which is great if you have children, but does not disturb the tranquillity of the beach. (Access to this beach is at Exit 15). Dogs are allowed on the beach opposite Aqualand.
Ste Marie Plage and Toreilles Plage

Pleasant small resorts with camp-sites, apartments and villas, the beaches are good with a number of shops and cafés and there is free parking.. If you want to bare all and get that complete tan, there is a 'plage naturiste' at the southern end of Toreilles Plage. (Exit from the Canet/Le Barcares road at the roundabout to Toreilles Plage and turn right a few metres along on to a track that doubles back parallel with the road before turning towards the sea).
More beaches to come….