Miles of golden sands, a port so full of yachts the masts almost obscure the palm trees…..

A golf club of some renown, restaurants, bars, a casino, a discothèque, quayside fishing boats, sporting opportunities galore, an old village centre with excellent art galleries,……and the watery play park of Aqualand and a botanical garden in which are peacocks…
Enough for several days out if not an entire holiday, and all to be found in St Cyprien.
Les Capellans
Le Jardin des Plantes des Capellans next to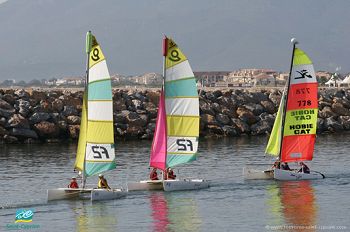 the sports complex on Rue Verdi has a collection of palms and a bambouserie.
Its star turn is the giant from Japan that, in May, grows up to a metre a day, over a centimetre an hour.
There is also a collection of over four hundred roses as well as many local Mediterranean plants through which peacocks strut.
It is to the Grand Stade des Capellans that the whole family can go for a summer of sporting and less-sporting-more-artistic entertainment.
There are seventeen out door tennis courts, and a further four indoors. There is squash, swimming, body building and fitness gym.
There is an 'ESPACE ZEN' where sauna and jacuzzi await as well as face, feet and body massage.
You can join for an hour, a day, a week, a year and the prices are very reasonable. And whilst you're relaxing in the spa, children will have a whale of a time at the kids club for a half or full day of fun including rugby, football, circus, archery, painting or dance.
Join as a family and all will profit from the wide variety of skills and activities available. Most of the staff are young, enthusiastic and bi-lingual. 04 6837 3200, contact@tourisme-saint-cyprien.com or www.tourisme-saintcyprien.com for details.
St Cyprien is very much a family resort.
The cafes and restaurants are user friendly, the port a hive of boating activity.
There is a market on Fridays on the port and Thursdays in the village, where there are also two interesting art galleries.
The surrounding countryside is rich in riding stables. Get a list from the Tourist Office. In fact horse drawn carriages are being planned by the Tourist Office as an ecologically green and fun form of tourist transport in St Cyprien
In March 1939, ninety thousand refugees were lodged in outstandingly inadequate shelters on the beaches of Saint Cyp.
It took the floods of October 1940 to finally force the closure of this appalling camp. How very, very lucky we are to be visiting St Cyprien in 2014