by Simon Newman
---
No one knows why flamingos stand on one leg
There are plenty of theories of course, the most common being that it's a heat conservation strategy to counter long periods of standing in cold water.
You'd think a more sensible strategy would be just to not stand in cold water.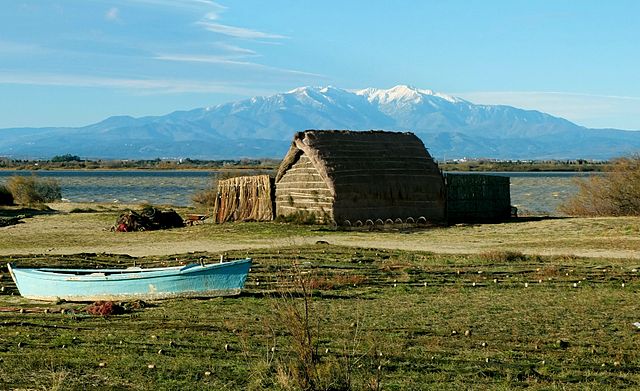 But flamingos are wading birds and wading is what they do when they're not otherwise flying, feeding, fighting or fornicating – their other main preoccupations.
And when they do wade it's mostly to sift through the sand with their especially evolved hooked bills for shrimps, a staple diet that accounts for their distinctive colouring.
And on the subject of being in the pink, don't you adore their delightfully lyrical name in French, Les Flamants Roses, tailor-made surely for une chanson d'amour by Piaf or Trenet?
Fortunately, you don't have to travel to Africa or South America (the most populous continents for flamingos) for they can be seen right here on our doorstep at the St Nazaire étang mid-way between Canet en Rousillon and St Cyprien. There's plenty of other bird-life to be seen there too – herons, grebes, cormorants, terns and water fowl among many others.
It has to be said that this étang presents, like most wetlands, a pretty stark landscape, though not without its own charm and beauty; serene too, once you get away from the busy road that bisects it from the sea. And when a blue sky and a snow-capped El Canigó provide the backdrop, the picture-perfect scene is complete.
Though undoubtedly graceful and elegant, pink flamingos are renowned as vicious scrappers with a short fuse. All bird species seem to pee them off , but particularly their own kind.
Within a colony of flamingos violent and bloody internecine spats can be seen kicking off at alarmingly regular intervals, triggered seemingly by the slightest behavioural-code violation. There's a football terrace analogy there somewhere.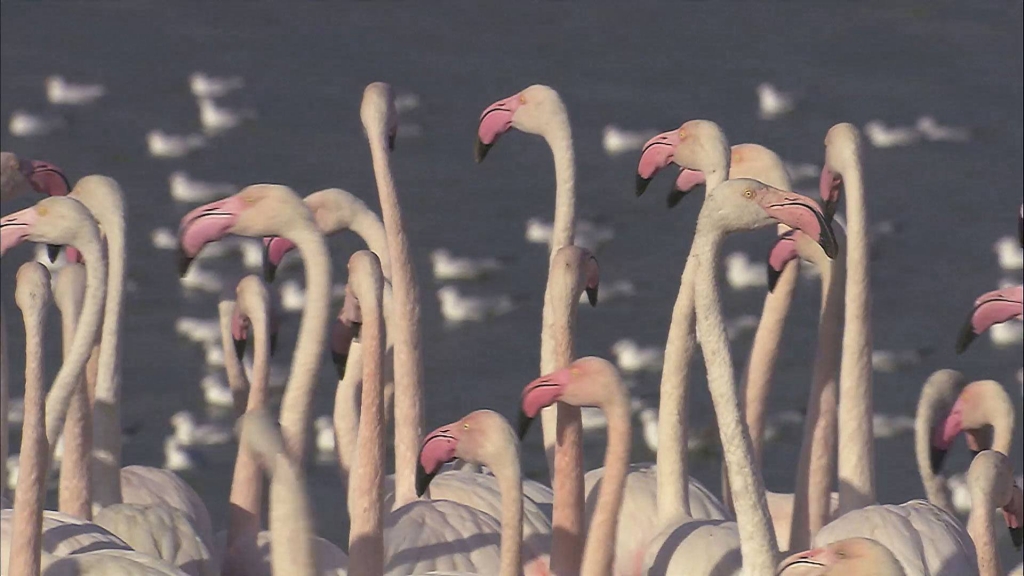 The free car park at the St Nazaire étang gives access to a network of paths to explore this protected wildlife area and there are a dozen or so bird-spotting hides that double as fisherman's huts. And at the right time of the year upwards of three thousand of the ruddy-faced creatures can be seen busily spending their days wading, fighting, honking and bonking. Flamingos that is, not fishermen. Although……..no.
December to February is the best time for flamingo twitching at St Nazaire. That said, it can't be guaranteed as the étang is fed by both salt and fresh water so the degree of salinity and hence the level of marine life (i.e. flamingo food) varies a great deal depending on rain levels and other environmental factors. As a result, it's impossible to know exactly when the birds might be in residence, so our advice is to call GOR (Groupe Orthonologique de Roussillon) on 04 68 51 20 01 for a status check if you are planning a visit.
But don't leave it too long, for sadly the flamingo's habitat in the P-O is under threat. Climate change is adversely impacting the already fragile eco-balance at St Nazaire and even though much work is being done to protect the flamingo's natural food supply, these spectacular creatures cannot be counted on to grace our shores forever.
Our advice is to get down there tout de suite for a good old gander. (Ouch, a shameless clunker I know, but so hard to resist.)