We asked just how much the Brexit vote had affected you as we celebrated (or commiserated) its three-month anniversary.
The majority of you (63%) claimed that since the shock decision, Brexit had impacted you negatively in some way. Compared to this, 15% stated there had been a positive impact and 22% claimed to not have been effected at all.
In terms of which aspects of life Brexit has affected so far, the majority voiced overseas property and cost of living abroad as topics most hit. Several also felt the Brexit bite on holidays (24%) like a pesky mosquito, followed by 12% stating work and employment.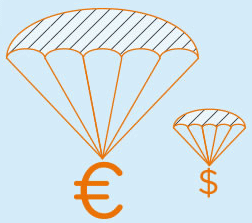 So what does the future hold?
When asked how you felt about Britain's future, 47% were positive or still undecided, with many saying three-months on is still too early to make judgement. Compared to this, only 6% more stated they were pessimistic.
With sentiment so evenly spread, perhaps it is still too early to decide how Brexit has truly effected both individuals and Britain. One thing for certain is that the pound will continue to waver as we keep a close eye on developments.
Contact us to find out how you can protect your overseas money transfers during this uncertain period. Call +44 (0) 20 7847 9400.
Best wishes
The Currencies Direct team
PS. Interested to find out what a post-Brexit vote Britain looks like? View our infographic here!
Currencies Direct Ltd
One Canada Square
Canary Wharf
London
E14 5AA
United Kingdom
+44 (0) 20 7847 9400