DECEMBER 2013
Boniface Coquillages
reviewed by Louise Sayers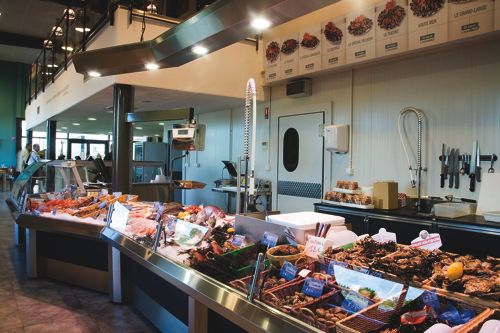 Boniface Coquillages is something of a P-O institution when it comes to all things fishy. A family business, it was established in 1973 BY Christian Boniface, who started off with an oyster farm in Sète before moving to Leucate, where it still operates today at the Centre Ostréïcole – a superb setting, incidentally, for sampling fresh-from-the-sea oysters in summer with a glass of local wine.
Christian's son, Olivier, has expanded the business to almost empirical status with four shops in Cabestany, Leucate, Perpignan and Saint- Estève – as well as the restaurant La 7ème Vague which opened in 2010.
The restaurant is located in Agrosud on the outskirts of Perpignan (between the Mega Castillet and Decathlon). The establishments grouped together here make for a pretty exclusive foodie club including La Pata Negra, purveyor of fine Ibérico ham, and renowned local pâtissier, Olivier Bajard.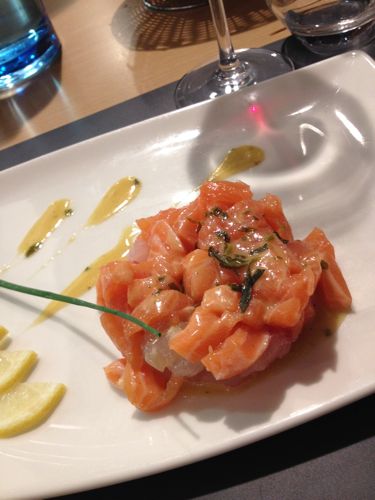 Perhaps because I possess that peculiarly British trait of wishing to drink more than I should with a meal, the concept of getting in a car specifically to drive to a restaurant stuck out on an industrial estate is alien to me, but I guess it is testament to the quality and reputation of the establishments at Agrosud that many people do just that. And parking is plentiful.
There is no doubt that the raising, preparing and eating of oysters and other shellfish is taken very seriously in the Boniface world. Restaurant manager, Pierre Saby, gave me a tour of the 80 cover restaurant and the adjoining fishmonger, where you can buy a whole host of fish, home-made delicacies such as lobster, foie gras, and monkfish liver confit or salmon smoked on the premises.
Over the festive season, up to 250 seafood platters per day will wing their way from this fish counter to tables across the region. They are beautifully presented and surprisingly affordable too, from just 24 Euros for lobster, oysters, mussels, prawns, whelks, crab, assorted clams…a fishy feast to share at home with friends!
A large room houses a series of pumps, filters and maturation tanks where oysters and other shellfish are kept in optimum conditions until they are ready to be turned into someone's dinner.
This is called affinage. As well as oysters, mussels and scallops, I came face to face with the largest crab I have ever seen and lobsters who could chop your hand clean off given half a chance, such was the size of their claws.
Back to the restaurant, clean lines and floor to ceiling windows, with several nods to the sea such as the porthole-like windows in the shop – but tacky themed it is not.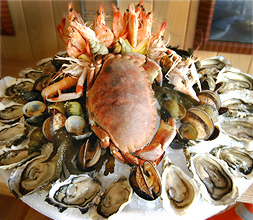 Of course, if fish is not your bag, this is not the restaurant for you, but if you like fish and seafood in all its myriad disguises, La 7ème Vague is paradise.
After much deliberation, Kate and I shunned the menu in favour of the à la carte option while Kate's husband, Olivier, went for the 26 euro dinner menu.
When the starters arrived I was envious of Kate's flavoursome fish soup, which consisted of great hunks of fish floating in a thick red sea of deliciousness. The accompanying rouille was excellent too, and this dish trumped my fish tartare (salmon and sea bass) which was pleasant, certainly super fresh, but lacked a bit of 'oomph' for my taste. Olivier took refuge from the girly chat in a very tasty and substantial shellfish broth of mussels and clams.
Kate, a self-confessed traditionalist when it comes to food, had moules-frites for her main. I loved the presentation, the chunky chips were magnificent, and you couldn't fault the portion size. I was just as happy with my choice of a scallop skewer – a generous portion of tender white discs (I was forewarned that there would be no corals) served simply with rice. Olivier demolished his lovely John Dory fillet with a gorgeous butter flavoured piment d'espelette. Simple but effective.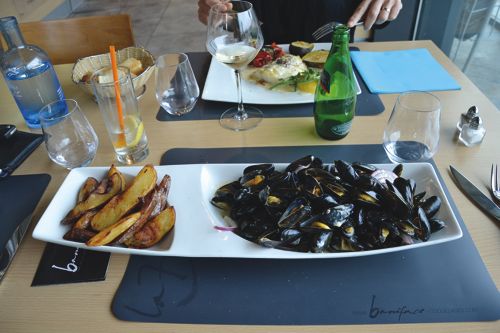 As usual, two generous courses didn't leave much room for dessert, all of which are 'fait maison' but we managed to squeeze in a café gourmand between us. What a great concept, this sampling of several desserts coupled with an espresso. Squidgy-to-perfection chocolate fondant, a little mousse tartlet of undetermined fruit, and a creamy white mousse. A pleasant end to the meal, without being particularly memorable.
Dinner came to around 120 Euros for three including wine – but the lunchtime menu is particularly good value with 2 courses at 16 Euros, including wine and coffee, or 3 courses at 23 Euros. The lunchtime menu, which demonstrates much creative flair on the part of English speaking chef, Blaise, changes daily, depending on the season. Check out their menu of the week at www.boniface- coquillages.com