Les feux de la Saint Jean
---
Fête de la Saint Jean

The current health situation means new rules, but nevertheless, the region is eager to perpetuate traditions and move forward.
As such, on Tuesday 23rd June, Vernet les Bains, Prades, Codalet, Prats de Mollo and Argelès sur Mer will celebrate the Catalan custom of la flamme de Saint Jean.
A flaming torch, kept throughout the year at the Castillet in Perpignan, is usually carried to the top of Canigou and used to light the bonfire which can be seen all over the Conflent.
A symbol of peace and unity between the Catalan countries, this flame is then carried by volunteer runners, from the summit to all the villages of the department and beyond.
Given the difficulties of the previous months, this year's event will be a symbolic representation of the usual festivities.
What's on
Vernet les Bains, 11am
The flame will arrive directly from Canigou into place de la République, accompanied by music and traditional Catalan dancing.
Prades
Residents are invited to light up their windows in place of the bonfires usually lit on the mountain tops.
The flame will be on show at the Mairie.
Codalet, 6pm
Bring a candle and play an active role in the spreading of the light.
Prats de Mollo, 6.10pm
The evening starts with a fire and Sardane dancing, before the Tour de Mir and other surrounding tours are illuminated at 10.10pm.
Bring a candle and join the illuminations.
Argelès sur Mer, 9pm
Residents are invited to light up their windows in place of the bonfires usually lit on the mountain tops.
Organisers will ensure social distancing and hygiene measures are in place for anyone wishing to partake in the evening's festivities and everyone will receive a candle, to help light up the night.
To top it all off, a traditional cobla will play to welcome the flame.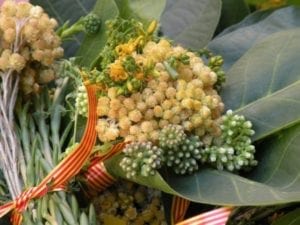 Herbs are traditionally an important part of the Feux de la Saint Jean as it is said that their curative powers are 100 times stronger on this particular evening.
Rosemary, thyme, verbena and other herbs are picked and made into bouquets and garlands.
Verbena in particular is supposed to have mystical properties and act as an aphrodisiac, whilst carlina (a type of thistle shaped like the sun) is also believed to have aphrodisiac qualities.
It is also nailed to the doors to protect from evil spirits and to prevent 'mauvaises fées' (bad fairies) from entering the house.
PAST YEARS
A selection of typical yearly events throughout the region on  23rd June
Argelès sur Mer
Music with cobla
Arrival of the Saint Jean flame with parade accompanied by the Gegants d'Argeles, les Cantaïres, le Foment de la Sardane and singers
Sardane
Fireworks
Bal
Banyuls-sur-Mer
Parades and arrival of the flame
Bonfire and music on the beach
Sardanes sur la place Paul Reig
Canet
Music and dancing
Arrival of the flame and dégustation (tasting)
Bal
Le Boulou
Music and dancing
Arrival of the flame and dégustation (tasting)
Maureillas-las-Illas
Music and fireworks at Prats de la Farga
Port Vendres
Arrival of the flame
Sardane in place de l'Obélisque
Fireworks, music and dancing
Prats de Mollo
Music and bonfire in the square
Saint Cyprien
Arrival of the flame
Sardanes
Grillade (BBQ)
Thuir
Sardanes
Tastings of traditional Catalan food and wine
Villeneuve de la Raho
Fireworks and bal on lakeside