Les feux de la Saint Jean
---
Event Navigation
Fête de la Saint Jean

June is also the milestone for moving out of lockdown, so the 2021 Fête de la Saint Jean is more relevant than ever.
A symbol of peace and unity between the Catalan countries, a flaming torch, kept throughout the year at the Castilletin Perpignan, is carried to the top of Canigou and used to light the bonfire which can be seen all over the Conflent.
This flame is then carried by volunteer runners, from the summit to the villages of the department and beyond.
Although the region was eager to perpetuate traditions last year, the circumstances meant that only a symbolic celebration was able to take place, with candles in windows and illuminations.
This year, with the curfew pushed back to 11pm (from 9th June) and restaurants and bars able to serve, socially-distanced celebrations are back on the agenda.
The traditional lighting up of the Castillet in Perpignan will also be broadcast live online, if you feel safer keeping your distance.
Contact your local Office de Tourismeto find out what's going on near you.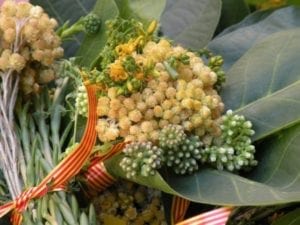 Herbs are traditionally an important part of the Feux de la Saint Jean as it is said that their curative powers are 100 times stronger on this particular evening.
Rosemary, thyme, verbena and other herbs are picked and made into bouquets and garlands.
Verbena in particular is supposed to have mystical properties and act as an aphrodisiac, whilst carlina (a type of thistle shaped like the sun) is also believed to have aphrodisiac qualities.
It is also nailed to the doors to protect from evil spirits and to prevent 'mauvaises fées' (bad fairies) from entering the house.
CLICK HERE TO FIND OUT MORE ABOUT THIS IMPORTANT FESTIVAL IN THE CATALAN CALENDAR
PAST YEARS
A selection of typical yearly events throughout the region on 23rd June….but anything (or nothing) could happen this year!
Argelès sur Mer
Music with cobla
Arrival of the Saint Jean flame with parade accompanied by the Gegants d'Argeles, les Cantaïres, le Foment de la Sardane and singers
Sardane
Fireworks
Bal
Banyuls-sur-Mer
Parades and arrival of the flame
Bonfire and music on the beach
Sardanes sur la place Paul Reig
Canet
Music and dancing
Arrival of the flame and dégustation (tasting)
Bal
Le Boulou
Music and dancing
Arrival of the flame and dégustation (tasting)
Maureillas-las-Illas
Music and fireworks at Prats de la Farga
Port Vendres
Arrival of the flame
Sardane in place de l'Obélisque
Fireworks, music and dancing
Prats de Mollo
Music and bonfire in the square
Saint Cyprien
Arrival of the flame
Sardanes
Grillade (BBQ)
Thuir
Sardanes
Tastings of traditional Catalan food and wine
Villeneuve de la Raho
Fireworks and bal on lakeside