PRELUDE TO THE ELNE PIANO FESTIVAL
---
6th June 2016

-

7th June 2016
Event Navigation

Elne (Map)
Elne Piano Fortissimo
Elne is already famous for its historic past, but is now becoming more and more well known for its International Piano Festival.
Every year, Elne offers all music lovers the chance to attend prestigious concerts organised in the beautiful romanesque Elne Cathedral.
An ever-growing audience is attracted by the high quality of the pianists, many of whom are already well recognised for their musical skills and styles, and happy to share the great masterpieces of the world through generous and inventive programmes.
CLICK HERE FOR FULL PROGRAMME AND RESERVATION.
PRELUDE TO THE FESTIVAL
Whilst the main part of the festival will take place from Friday 22nd – Sunday 24th July, two FREE CONCERTS offer you an early taster of what is to come.
MONDAY 6TH JUNE AT 20h
Concert by the lauréats of the Ecole de musique d'Elne and the CRR Perpignan Méditerranée conducted by Laurence CANET et Marie-Christine GUICHOT
De Bach à Satie en passant par Scarlatti, Mozart, Chopin, jusqu'à Messiaen
TUESDAY 7TH JUNE AT 20h
Concert by the teachers
FIRST PART
Benedikte VERMEERSCH, piano, Joël PONS, cello, Emilie TAVERNE, clarinet
Johannes BRAHMS : Trio n.5 en la mineur op.114 (en quatre mouvements)
SECOND PART
Piano à 4 mains by Laurence CANET et Mehdi KANSOUSSI
Maurice RAVEL : Ma mère l'Oye – Rapsodie Espagnole – Pavane pour une Infante défunte
MORE ABOUT ELNE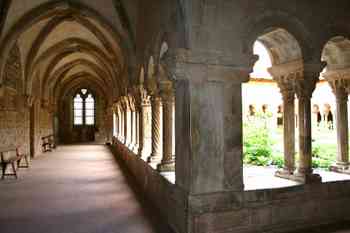 Elne, ancient capital of Roussillon, its stones steeped in 2,500 years of history, is an inspiring and fascinating town.
Constantine, the first Christian emperor, changed its name from Illiberis to Elne in honour of his mother Helena in the 4th Century.
It was the seat of the Bishop of Roussillon from the 6th to the 17th centuries and to this day, the high town, on top of massive ramparts dominates the plain and the old routes to the Iberian Peninsular.
Reached by cobbled, oleander lined alleys, is the huge Cathedral consecrated in 1069. Its peaceful cloisters, made of the blue marble of Céret are amongst the most beautiful in France. Following the sculptural style of St Michel de Cuxa and Serrabonne, the garden they surround is full of traditional herbs and medicinal plants, just as it would have been in the Middle Ages.
The cathedral itself, containing a fine Croix des Outrages, has a magnificent marble font and a stupendous view from its terrace. For a rewarding guided visit ring 04 6822 7090. Or wander around alone between 9h30 and 17h30, avoiding 12h – 14h when it is closed for the usual French lunch hour..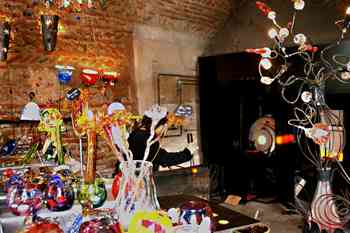 Across the way, The Terrus Musée has a permanent exhibition of Etienne Terrus, contemporary of Matisse and Derrain, as well as interesting shows of artists with Elne connections. Well worth a visit.
Walk the clearly signed circuit of the ramparts, or wander the flower filled alleys full of small galleries and workshops.
Don't miss Les Soufleurs de Verre , glass blowers of great talent and creativity, in their Aladdin's cave of colourful glass works. Fascinating to watch, their highly original glass make ideal gifts: Tour des 4 Vents, 1 Rue du Couvent, near the Tourist Office on Place St Jordi. 04 68 22 85 79.
Pop into the Tourist Office for the programme of concerts and animations. Tel 04 68 22 05 07.
It is sometimes possible to visit the Maternite Suisse d'Elne, an inspiring and moving memorial to the young Swiss nurse, Elisabeth Eidenbenz, who, in 1939, opened Château d'en Bardou and, with her team of young nurses rescued pregnant women from the internment camps of Argelès, Rivesaltes, Bacarès and St Cyprien thus saving the lives of almost 600 babies before being closed down by the Germans in 1944.
Sadly, Elisabeth died at the beginning of 2011. Read more about her and the Maternite Suisse d'Elne
As you leave Elne, direction Argelès, at 67 Av Paul Reig, the beautiful old cellars of Mas Reig, Les Vignerons d'Elne offer free tastings of their wide range of AOC Roussillon wines both red and white as well as their unique, naturally sweet AOC Rivesaltes.
A combination of traditional methods and modern technology ensure high quality wines at a very reasonable price.