The Travessia de l'Estany, Banyoles
---
Event Navigation

Sunday 17th September 2023
Cross the Lake – Travessia de l'Estany
With Simon Newman
---
The Travessia de l'Estany (crossing of the lake) at Banyoles every September is a great family day out – so pack a picnic and get on down there!
A genial atmosphere at any event, particularly outdoor ones, can be a hard thing to put your finger on but you know instinctively whether it's present or not. And there's no doubting the atmosphere at the annual Travessia de l'Estany at Banyoles (Girona region) every September when over two thousand men, women and youngsters take on the 2.2 km length of this 50 metre deep lake in what has become a major event in Catalonia's autumn calendar.
It's a social as much as a sporting occasion and you don't need to be especially interested in swimming to enjoy the day, for the energy and ambience of the Travessia is really something rather special.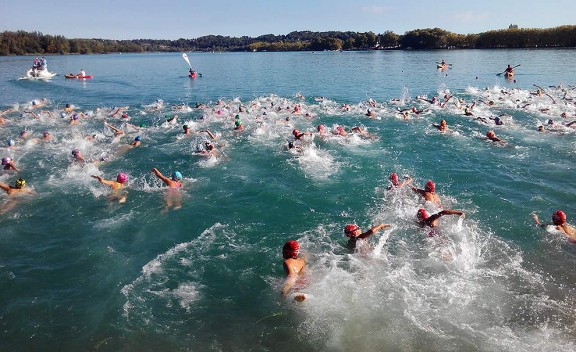 In the hour or so before the race starts the buzz in the air is palpable and builds to a crescendo as the swimmers and their supporters jostle at the start point in that gloriously chaotic way for which Spaniards are famed.
The first race was held in 1944 when just 18 swimmers (men only back then) took the plunge.
The winner was one Felip Sanchez-Babot (interestingly he was also the race organiser, but we'll say no more of that) who took just over half an hour to complete the crossing.
These days the top-guns do it in 23 minutes, while the fun swimmers can take an hour plus. Although there are massed starts for men and women, all swimmers are electronically tagged and their individual performances are ultimately ranked in age groups, with juniors and infants having their own shorter races.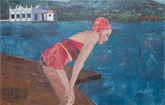 I had a go a couple of years ago and I have to say it was an unforgettable experience.
The launch pad for the mens' event was a wooden decking area where 1200 hopefuls jockeyed for position – most of them seemingly a young Antonio Banderas complete with rippling six-packs and Speedo budgie-smugglers.
Did I feel out of it? Mmmm, just a tad.
However my sense of abject inadequacy was soon dispelled as pounding rock music accompanied the countdown over the PA system. With the adrenalin running high I was all too soon carried by a lemming-like tide of humanity over the edge and into the unknown.
The serious swimmers, that is to say most of the participants, were away in a flash leaving the codgers like me plenty of room, (to be honest, only too welcome after the mayhem of the start) to plod their way down the central channel.
The winner of Banyoles's Travessia de l'estany invariably comes from one of the top swimming clubs based either in Barcelona or Font Romeu.
So how did it go for me? Well in truth, and despite a fair bit of preparation, it was tougher, colder, and seemingly further than I had imagined and for the last half a kilometre or so I was definitely running on empty.
Of the 1200 starters in the mens' event there were 1170 finishers and I clocked-in third from last (how reassuringly British of me!) in seventy-seven minutes. This didn't seem so bad until I realised that my time was nearly an hour more than the winner's.
Still, it's not about the winning. It's realising what a decrepit wreck you've become that really counts.
And yes, it would have been nice to have staggered up the finishing steps (as indeed I did) to the accompaniment of a welcoming band and much hearty back-slapping from the organisers, but the reality was they were all packing away their gear by the time I crossed the finish line.
However my wife Pauline was there to rally round and provide a towel, dry clothes and much needed refuelling. Never was there a more welcoming sight.
After the awards ceremony (if only I'd held back a few seconds I'd have at least clinched the booby prize!) everyone congregates on the beautifully maintained green-swathes that surround the lake for a big extended family picnic.
It really is a fabulous location (the site of Barcelona's Olympic rowing events in 1992,) almost Alpine-like in its feel with no end of elegant, grandiose lakeside villas complete with their own ornate bathing huts and boating jetties.
This year the 77th Travessia is to be held on Sunday 19th September so, go on, pack a baguette and some plonk and get on down there with family and friends – I promise you won't be disappointed.
Full details at www.cnbanyoles.cat