Tee Time
by Ian Klein (August 2012)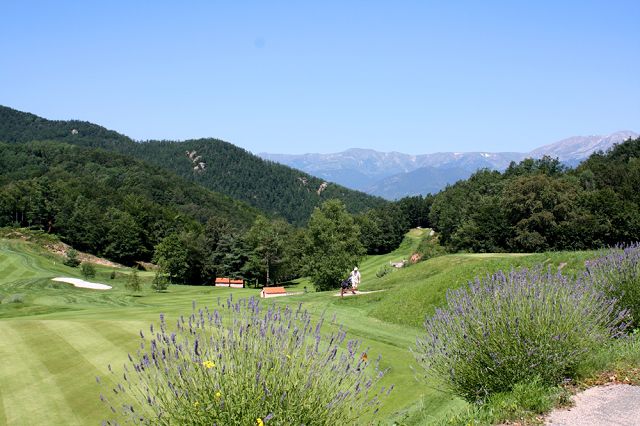 We are keen golfers, and live in Sorede. We have played at Domaine de Falgos, Montescot and St Cyprien in PO, and also at Peralada and Torremerino in Spain. I am a 25 handicapper, which does colour my view somewhat, but my other half plays off 12!
General notes
When the Tramontane is blowing it is best to steer clear of the golf courses on the plain and head for the hills, i.e. Falgos. Sometimes it can be pleasant in Peralada when it is very windy here, but sometimes it can also be very windy there. It is vital to check the weather before playing. We use eltiempo.es for the Spanish weather.
The bunkers at all the courses are filled with very coarse grained sand. My technique is not great at the best of times, but here I find that chipping out is the only way. Fortunately, they are mostly not too deep!
It is always best to ring and book a "départ". My Spanish is non existent, but staff at both Spanish courses below speak excellent English.
Montescot
A recent arrival and a welcome one, as it is close by and the green fees are reasonable. We buy a carnet of 10 green fees and it works out at 30 euros for 18 holes. This is a nine hole course, with a range and a practice area for chipping and putting. The practice area can get very busy!
The course is pretty flat, and apart from the first and the ninth has nothing much of interest. The first and the ninth are the most interesting holes, with mature trees seemingly blocking your every move!
Even though the course looks straightforward, it plays quite long, and so is harder than it looks. The view around the course is very nice, and the recent addition of a clubhouse is very welcome. The greens and fairways are pretty well maintained, and the people are friendly.
This is the most convenient club for us, and so we play here often.
Peralada
A short drive over the border (having negotiated Le Boulou), about 45 minutes, you will find the best course in the area (in my opinion of course). It is a hotel and golf club, surrounded by some rather nice looking properties. Interestingly, they are still building new ones (Aug 2012), so the recession has not hit here too badly!
This is an 18 hole course, with a range and a practice area that is pretty quiet. There is also a par 3 course here but we have never played it. It is a parkland course with many mature trees and water at various places.
The course is well designed and well maintained (although in 2012 there has been slight drop in standards). The holes are varied and interesting, and I am sure you will enjoy playing here. The pro shop has some nice gear (bring your credit card), and there is a nice restaurant/terrace overlooking the first and tenth tees.
In the past we bought a book of ten green fees, but this year we splashed out for 30, making a green fee 43 euros, which is not too bad.
This is a delightful course, and well worth a visit.
Falgos
This must surely be one of the prettiest golf courses in Europe; I haven't played that many, but this course is just stunning. It is set high up in the mountains near the Spanish border. From the car park you can see the bay of Roses. The view of Canigou from the 12th green is breathtaking.
It is a short course, and as you might guess quite hilly; you often have a steep climb up to the green, and some of the paths between holes are also quite steep.
If you hit a wayward shot, the ball will probably be lost down the mountainside, so bring plenty of balls!
The course is very well maintained, and a great pleasure to play, as long as you don't look too hard at your card at the end of the round (at least that is my experience). The hotel has a nice terrace/dining area, and a reasonable shop (smaller than Peralada).
The big problem with Falgos is the drive. It is a good 75 minutes away, and it is quite demanding driving up through hills. By contrast, the run to/from Peralada is much easier and quicker.
We haven't been this year (too busy playing at Peralada), but the last time we played we bought a carnet of 10 green fees at 35 euros each.
Torremerino
Another course over the border in Spain, a little bit further than Peralda (junction 4 off the autopista, whilst Peralda is junction 3). We played here because our UK membership gives us a 50% off the green fee, which is 80 euros.
This is an 18 hole course of mature parkland, with some interesting holes, but less so than Peralada. The fairways are more undulating, and the course layout is a little less imaginative. However, it is very well maintained and worth a visit as it almost as convenient as Peralada.
St Cyprien
We have only played here once, a few years ago, because the green fee is a bit steep; even with a carnet it is nearly 60 euros. The course is a bit flat and uninteresting, not quite parkland, not quite links.
For this level of green fee we expected the course to be immaculate, but it was only average. Plus, the Tramontane blew up as we were playing, making it very unpleasant just to stand on the course, never mind play on it.
I think our memory of the place is a little tarnished, and we keep planning to go back, but never manage to. Maybe next year!