Restaurant Review Spring 2015
With Kate and Mates
I am no gourmet 'foodie' but I know what I like. Fresh, tasty food, good and friendly service, clean cutlery, crockery and loos, and prices that don't send me into shock compared to the quality of the meal. The following reviews are not adverts, they are just restaurants that I have enjoyed, or that friends have recommended. Bon appétit.

LA TABLE DE VALMY, Argelès…..with Allan
2016 – RE-OPENING IN MARCH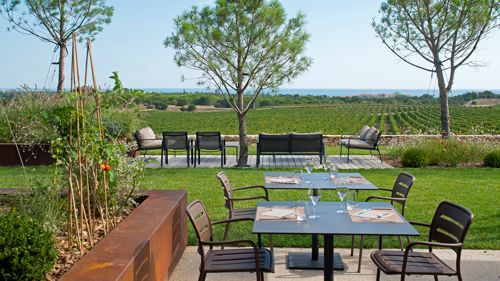 This is a stylish restaurant with a lovely terrace that has spectacular views over the vines and the sea.
The service was excellent and the place had a real buzz about it. Chateau Valmy is clearly using the restaurant as a showcase for their wines and they offer a 4 course menu with a different wine served with each course at €45 or without wine at €35 – in both cases coffee and water are included.
They have a children's menu at €15 which is not published.
The wine list obviously features their wines but they are reasonably priced and if you buy a case of 6 to take away, you get a free bottle to drink while you are there.
The food was very good, though not spectacular, but the place should be taken as a complete package, the location, the view, the wine, the food and the general ambiance – overall we thought it was terrific.
Like many restaurants these days they don't offer much choice on the menu. This is particularly frustrating as we really enjoyed this restaurant and will certainly go back – but the limited choice means we will probably end up eating the same as we did this time.
MOANA NUI, Thuir…..short and sweet with Keith and Sheila

Very much worth a review, this restaurant presents a menu from a different country around the world, changing on a weekly basis. Fabien is the excellent chef with his wife Patricia. The 3 course evening menu including a glass of wine and coffee at 19.50 euros is very good value.
Moana Nui
24 Rue du Souvenir
Thuir
04 68 64 19 72
ARBEQUINA, Thuir….with Kate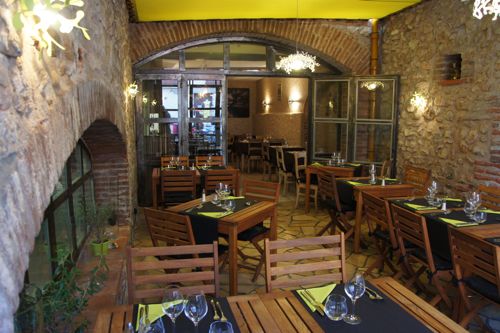 2016 – JUST BEEN AWARDED THE MICHELIN BIB FOR HIGH QUALITY AT LOW PRICES. WELL WORTH A VISIT.
Young chef Guillaume has trained with some of the top Perpignan chefs – and it shows. Named after a small aromatic olive, dishes are predominantly Mediterranean, fresh, light and sunny, plenty of colourful vegetables, without being over complicated.
The lunchtime menu, very reasonably priced at 15 euros for 3 courses, or 12 euros for 2 courses was tasty and beautifully presented, but there was no choice. The à la carte however, offered some unusual and exciting dishes with great presentation and flavours. Tempting titles such as 'Gambas rouges, guacamole et sésame noir' for starters (my choice and delicious) or 'Pavé de lieu jaune rôti, coques et salsa verde' did not disappoint and were as tasty as they sounded
A small but busy restaurant, with a pleasant atmosphere, attentive service, clean loos….. Will certainly go back there again.
21 Rue de la République,
Thuir,
Phone: 04 68 34 46 64
LE RELAIS D'OULRICH, Céret/St Jean…..with Danièle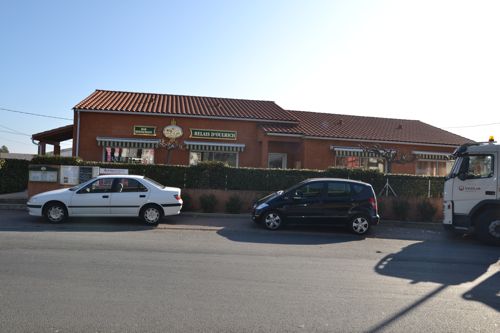 2016- ALWAYS THE SAME EXCELLENT VALUE FOR MONEY.
This restaurant is very busy at lunchtime – if you arrive after 12.30 you may not get in – it is popular with local working people and the retired. It is not a chic place for a long lingering lunch, but for traditional French home-cooked food it would be hard to find better. It is airy and modern, with a separate bar area and a terrace for summertime. It is excellent value, and the waitresses helpful and cheerful.
The menu changes daily, but to start with there is always the tempting large cold buffet, or usually a homemade tart /quiche (last visit it was courgette, chicken and mushroom) with a little salad. For the main course it was hard to choose between chicken with cèpes, duck and smoked sausage cooked with lentils, a duo of tuna and smoked fish on a bed of creamy leeks, or brandade (of salt cod) – all delicious. Steak and chips is normally available as well, just ask. Amongst several home-made puds were two tarts – banana, chocolate and coconut, or pineapple (the Chef's pastry is excellent).
The 3 course menu including wine is 14€50, or if you are not so hungry, for 11€ you can have the buffet with a pud, or a main course and pud. A 3 course children's menu is available for 8€.
I find it great for lunch any time I can find a good excuse to eat out (sadly it is not open in the evenings), but especially after my supermarket shop! – very handy! Try it for yourself.
Rond-Point des Pyrenees
Z.I. Oulrich,
Ceret
Tel: 04 68 39 17 28
AU DIAMANT NOIR, Montferrer…..with Rhona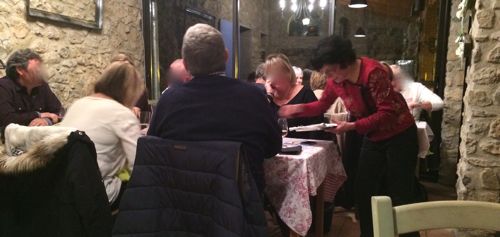 2016 – NOT SURE OF THE SITUATION WITH THIS RESTAURANT. MIGHT HAVE CLOSED AND BE OPENING UP SOMEWHERE ELSE.
Au Diamant Noir was named after the much sought after black truffle, known in this area as the black diamond.
Chef Serge and wife Micheline are your hosts. Their hospitality and attention to detail shines through every dish, traditional home made French cuisine, well cooked from fresh local produce, created for all seasons.
The menu is €21 for three courses and €25 for four. Bookings are by reservation only, both lunchtimes and evenings. The menu is not extensive, but there is a choice between meat and fish.
On my last visit, I started with mille feuilles d'endives followed by perfectly cooked cod in an American sauce served with potato and turnip purées and finished with superb crepes with caramelised pears. Delicious. Other dishes available were red mullet with scallops as a starter, veal with potatoes and vegetables, creme catalane and a selection of local cheeses.
This restaurant may be a diamond but it is not the only gem in lovely Montferrer. The Cafe Communal/Bistro De Pays, run by the delightful Gisou, is perfect for your apero, before popping across the road for lunch or dinner at the Diamant Noir.
Montferrer
Tel : 04 68 87 12 83