LES ADVENTURIERS DE ST JEAN
NOW OPEN
Saint Jean Pla de Corts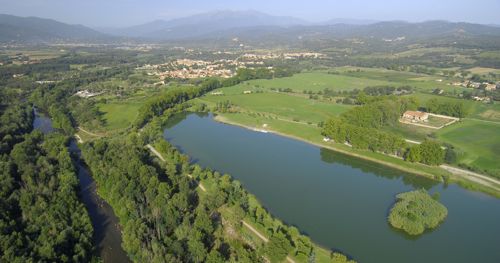 Look out for signs for Plan d'Eau off the main road from Le Boulou to Saint Jean Pla de Corts, and you quickly arrive at the perfect spot for picnics, summer swims, and lakeside walks, shimmering reflexion of Mount Canigo in the smooth waters of the immaculately landscaped terrain.
With a lifeguard during the summer months for swimmers, it's already well worth the small entrance fee of 2 Euros per car, (still free til the summer season starts) to park in the spacious car park, but around the large lake, Les Aventuriers de Saint Jean offers exactly that – adventure!
You don't have to don a loin cloth and beat your chest, but you'll probably have more fun than Tarzan ever did, with a series of increasingly difficult runs high up in the trees……nets, ropes, zip wires, Tyrollean splash across the lake, archery….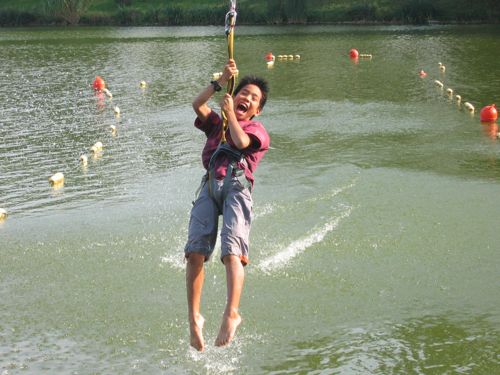 Warm and friendly extreme sport fanatic Pascal, described by his friends as 'casse-cou', (daredevil) was the first to develop an activity around the lake ten years ago. He has put his heart and soul into the venture ever since. And it's suitable for 4 to 104 years olds! Go on Gramps. Dare you!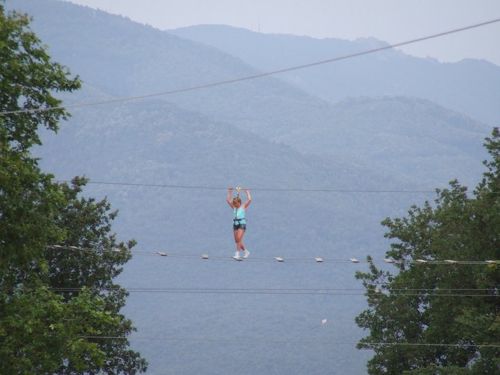 06 71 60 37 44
www.lesaventuriers66.com
FOR TREETOP FUN WITH FRIENDS AND FAMILY……
Four Tyrolleans (zip wires) of more than 150m , including one splash across the lake of 170m
Five different treetop runs from beginner to adrenaline junky
Introduction to archery (from 8 years)
From only 9 Euros
Also around the lake in July and August…..
Join Helena and Alicia on Monday and Wednesday evenings for Nordic Walking and yoga Pilates. Find out more on 04.68.87.38.34