Friday 7th March
Happy March! After some fabulous weather at the beginning of the month, we have now had several days of icy and violent gusts of wind rattling through our rafters and chilling our barnacles – but hey! We've all suffered from bad wind at some time in our lives and this certainly won't be the last time so it's just a tiny little 'blip' on the radar, soon to fade away into sunny days and balmy eves.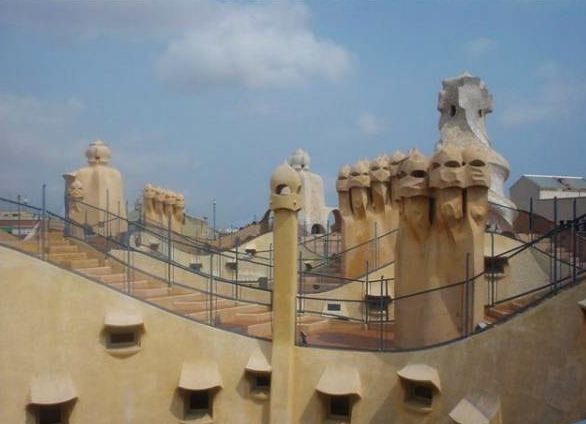 I made it back from Barcelona in one piece, in the dark, very slowly… but I made it. Six days of boarding kennels for my little golf in the Barcelona airport car park (named very appropriately Prats Parking) cost me a bras and a jambe – 103€ – meaning that a return journey to Barcelona cost over 200€ including petrol and tolls. Luckily for me my dear old Dad was there to foot the bill (Isn't that what Dad's are for?) but if you do fly from Barcelona it is worth thinking of alternative arrangements for leaving your vehicle as that did seem over the top to me. On the other hand, I haven't left the car at an airport for a long time so maybe that's now the going rate!
You would think that my Dad, well into his 80s, would be here to relax, read a little, sit and watch the world go by…. Nah! A three mile walk in the morning through the vines and cherry orchards of Maureillas at a strapping pace, a drive out to get yesterday's paper (did you know that out of season, when you want to get an English newspaper, you can only get yesterday's? Ridiculous! Where do they think we are? Abroad?), a quick sandwich, brief nap and off we go again – out for a bit of sightseeing, tea and a toasted tea cake (French version) back for a glass of wine or two and a bit of healthy discussion, dinner, DVD, stroll along the prom prom prom….. I miss him now he's gone but I'll be glad of a few early nights – too much energy for me!! Love ya Dad.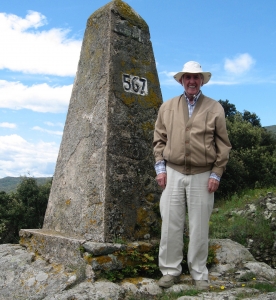 Olivier is on a council 'liste' and has been preparing for the elections. He is only standing because he thinks that the running of a small village like Maureillas should not be political and should take purely into account the interests of the villagers but the whole thing is nevertheless riddled (on a very small scale) with politics, one-upmanship and 'dirty tricks'. I don't think he will be too upset if they don't get in as there is an awful lot of work and time involved and they have to pay for the privilege – yes, they each have to contribute to finance the campaign – but I think it would be a shame as he is straight and honest and would be one of the few who would genuinely work only for the 'good of the people'. So… vote for Olivier! Or if not, vote for Bisou as she is at her stinkiest at the moment and would definitely repel all invaders!!!
Olivier went on the THT demo last Saturday in Perpignan. There's a very good account here. If the latest plans to take the line through Le Perthus come to fruition (and rumour has it that they have already started works in Spain for this very route) those of us who live in Maureillas, Le Boulou, Villemollaque etc will be living with a spoilt view and potential health risk. If you're not sure whether it will effect you, try placing a ruler in a straight line from Baixas to Le Perthus. If you are on or around that line, you should be thinking about going to the next demo in Girona on the 30th March and defending your future.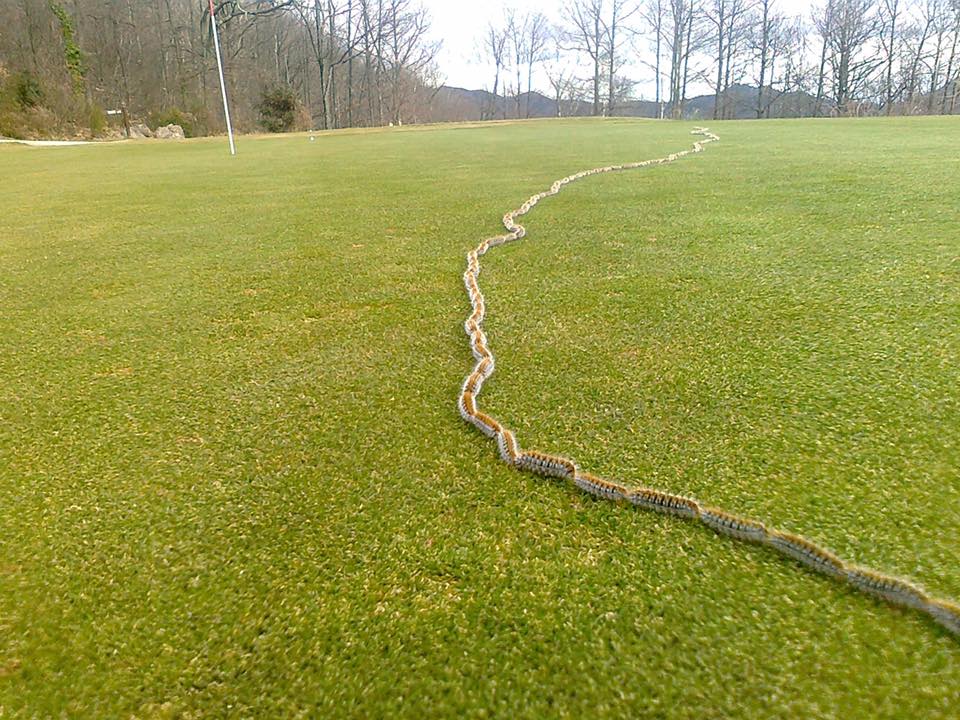 Finally, onto a totally yeuchy subject, (no doubt dear to our Roger's heart) those horrid, hairy chenilles processionnelles are out and about. Here they are wondering around in a circle for no apparent reason. Here's what they're saying about the little critturs on the forum "I witnessed last week for the first time in my life…….processionary caterpillars. My youngest daughter pointed them out to me and ironically I counted 66 of them! She was the one (10 year old ) who told me and my young charge not to touch them,
Today I turn up at work and apparently the little girl I look after had been out yesterday with her family and one of these caterpillars had touched her……..she is in a real mess and to be honest her face looks like she has been on a rugby pitch – she is scratching like crazy on her arms and her hands are swollen.
Fortunately tor her , Mum is a doctor and apparently had all the paraphenalia needed in her car. I honestly cannot believe what a mess those little creatures could make. Take care when out walking and keep your eyes peeled!"

"I was severely afflicted with the rash from these last year. I went to our pharmacie and after they had all had a good gawp, and told me it was 'dégoutant' (or I was !) they sold me some Onctose ointment, which soothed it a lot. But I had a swollen neck and lower jaw for about 2 weeks, and hell, did it itch! these caterpillars can be very dangerous for dogs if they get the hairs on their tongue. Remember you don't have to touch a caterpillar to get the itch, it's enough to get some hairs on you. Yuk "
"We have been fighting an ongoing battle with these monsters since we purchased our house. In December we removed lots of the cocoons from the trees and left our tree man to remove the ones left after our departure, unfortunately he forgot so in Feb we found them crawling all over the place. Hubby set fire to approx 50 of them but when we chopped down the remaining nests they felt empty. We will be at it again next year unless we get rid of the trees which I am loathe to do. He pours on acetone then lights it. It seems cruel but as they do not appear to have any natural predators and are dangerous to have around we have no choice."

"Mind your pets as well , as they can be severely affected too"
Lavvly!
Thursday 13th March
A splendiforous day today – warm sun in a near cloudless sky and not a hint of wind. The 'élections municipales' didn't go too well for Olivier's 'liste' which is made up of several of the outgoing councillors, including the deputy mayor, and the second round on Sunday is not expected to be much better.
The politics of a small village like Maureillas tend obviously to be a lot more personal but the list in the lead is headed by a guy who, so rumour has it, moved to the village just six months ago in order to stand for the elections, hoping that it will be a springboard to future deputédom! On his list are several faschists, which I refused to believe until yesterday at one of his meetings when one of his supporters told an opposing liste member to 'get back to Normandy where he came from' There are also a few anti-British, one of whom told me to my face that he didn't like the Brits as they were lazy and undisciplined – he really shouldn't judge you all by me!!
Seriously though, it is a little worrying. One of the greatest pools of support that this chap has received has come from the hunter's federation, to whom he has promised to increase the land where hunting is allowed! He has also made personal promises to individuals like "I will ensure that noone pees on your lemon trees" but much more convincing and serious. I have kept out of the elections so far, but dislike the thought of being 'ruled' by an anti-British mob. They have hidden it well so far and have even taken onto their list a very nice British lady.
Last sunday, the counting of the votes went on well into Monday morning due to 'panachage', the process in which one can vote for selected names on different lists and cross off or add on particular names. This makes the whole process verrrry painstaking.
I must admit that I will not be devasted when this is over and I get my husband back – I have become a bit of a political widow – meetings every evening, phone calls and flyers, but it does seem unfair that this new council should get in through bullshit whilst Olivier's list is squeezed out because they havent carried out a 'dirty tricks campaign'. Still, that's politics eh!
Have just treated myself to 10 litres of Montana red – thoroughly recommend it. You can pop in and taste before you buy (going from Perpignan to Le Boulou, turn left at the roundabout opposite Village Catalan and follow the signs. They also have a wine museum tho' haven't visited that yet. Cheers! Hic!
Friday 21st March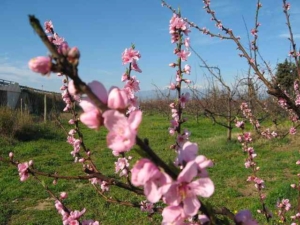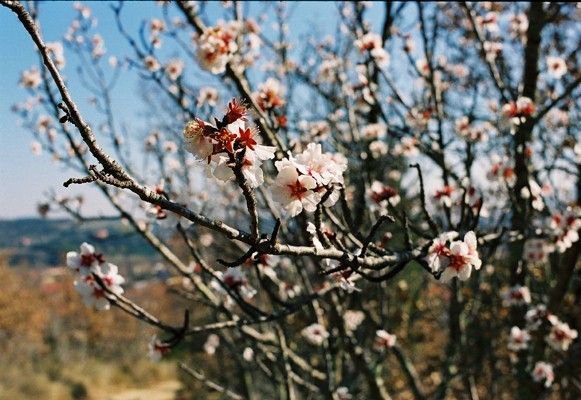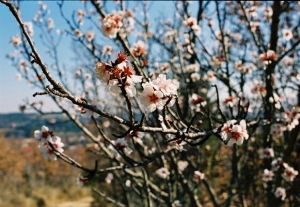 Well, brrrr, brrrrr and thrice brrrrr – it's chilly! How has Easter suddenly pounced? it was only Christmas a few days ago! This weather is very deceptive – blue skies and bright sunshine entice you from inside so you say to yourself "Self. What perfect weather for a lovely walk in the hills" before stepping out into an icy blast of Tramontane, chilling you to the bone and sending you rattling for shelter.
Anyway, Happy Easter! In France, the Easter tradition is to hide choccie eggs all over the house and garden, give the children a basket to collect them in, and watch over the rim of a large glass of red as they leap around, giggling and screaming (well I have to admit that the red isn't actually part of the tradition but it certainly should be!!!). I did actually buy five eggs for Lulu but by the time he arrived home from school there were only three left. Naughty Kate!
Despite the cold, the blossom is out and oh-so pretty – fluffy whites and pinks all around. Fantastic!
Sunday 23rd March
Yummy, yummy yummy, I've got bunyetes in my tummy! Délicieux! Friend and neighbour, Evelyne dragged me next door this morning to show me how to make bunyetes, (also known as 'Oreillettes' or 'merveilles').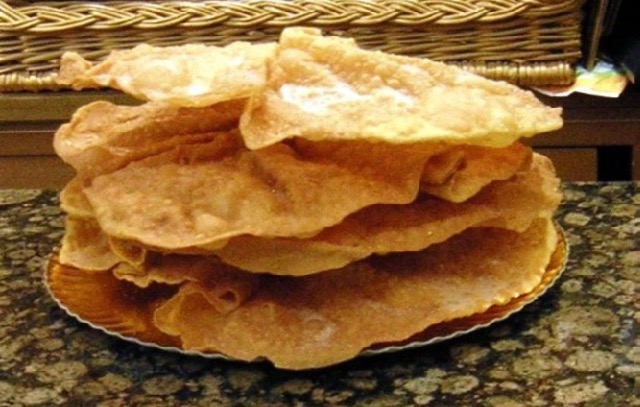 Traditionally made and eaten at Easter all over Catalonia, these are flat, fried 'pancakes' flavoured with orange flower essence, which swell in oil, become crisp, and are served dusted with granulated sugar, much
like beignets or doughnuts. However, do not eat the pastry before cooking like Fleur, Evelyne's daughter apparently did last night. "Ne mange pas la pate crue" she told me sagely this morning "J'ai roté et peté toute la nuit!!" My camera has gone walkabout yet again, so no photos I'm afraid but that is not really such a bad thing as I just do not suit a pinny!
Monday 24th March

Still so sign of my camera so you'll just have to take my word for anything I say! (Did I tell you by the way that I am absolutely gorgeous?
We had to cancel a day out walking with friends yesterday due to the weather. We were quite disappointed but the wind was so strong and cold that a picnic lunch in the mountains rather lost its appeal. Anyway, it has not been cancelled but postponed and remains firmly on our 'to do' list for this week.
P-O Life is at the printers and nearly ready to hit the shelves! I find it so exciting going to pick it up at the printers and taking it round to all our 'points de chute'. Dominic of Le 66 last came round last week. Very nice chap and interested to see if there's anything that we can do together to reduce costs of printing and distribution, which seems logical to me. I've never really seen the 66 and P-O Life as competitors although I suppose there is naturally some competing for sponsors. However, P-O Life for me is more of a 'passion', nearly an obsession I suppose. I love doing it. I find it challenging and thrilling and my every waking moment is full of "That might be interesting for P-O Life" "I wonder how I can find more out about that for P-O Life" I have never really treated it as a money making scheme or business which is maybe where I have gone wrong. The 66 is going to direct their mags towards P-O Life style content, starting with a THT article, food and drink, more events…. AND he has selling and business experience, both of which are foreign to me!! On verra.
Friday 28th March
The weather is remaining stubbornly stinky! Dry but dreary with heavy grey cloud loitering above. However, despite the weather's continuing stinkiness, the P-O are slowly beginning to explode into colour AND I've found my camera! Once again, the little villain had disguised itself as an 'appareil photo' and secreted itself in the pocket of my cycling jacket (which has been taken on and off several times over the past few days, but never actually got past the front door) I would take a picture of it to show you, to celebrate its return but…obviously…. I can't. It doesn't do self portraits.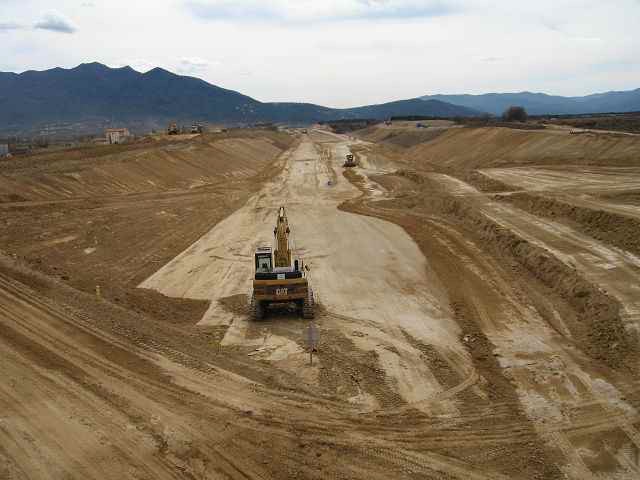 So… back to the colour explosions. Olivier and I walked up behind the casino (on the outskirts of Le Boulou on the way to Le Perthus) yesterday morning – quite hard going on the way up but wow! We hardly noticed the hard climb. It was like passing over into another world of bright yellow, green and purple – and the smell. Hmmmm. Fresh and flowery, a hint of coconut from the yellow broom, herby, honest, pure…. so nice.
For those of you who haven't been over here for a while, here's a photo of the TGV taken from behind the thermes at Le Boulou. You can see the new road, which should soon become a dual carriageway.