Amanita Caesarea – "Le meilleur champignon du monde !"
by Jane Mann
On Wednesday this week the sun came out.
This should not be remarkable in June in the South of France. This "summer", however, any sunshine is to be appreciated. A perfect excuse to abandon the computer in favour of a stroll through the stone garden we have spent most of the winter creating.
I was startled to see some serious lumps and eruptions appearing in our careful arrangement of gravel, stones and boulders.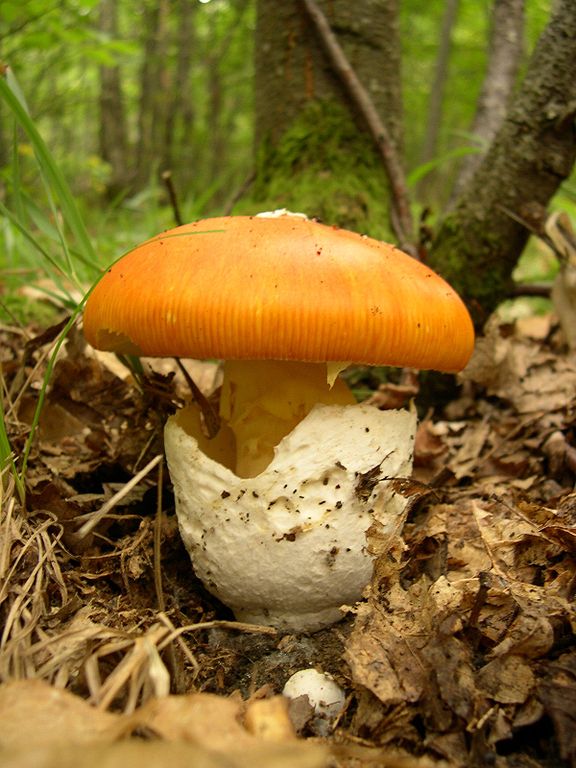 Closer inspection revealed monster mushrooms thrusting upwards, bold brutes of champignons, capable of forcing their way through our earth's cement like crust.
Some were already full grown, occasional lumps of soil balanced on their bold orange lids. Others, egg-like were bursting forth, scattering small stones, skins splitting as they sought the sun.
"I'm not eating those!" was Phil's' first and rather forceful response to my excited call.
I photographed them. I scanned my pocket mushroom book. I failed to identify them.
The next day we were to go to Ille, Thuir and Port Vendres. "I'll just take one to the pharmacy," I said. Too late for the pharmacy in Ille we went straight to lunch with Jackie and Paolo in Port Vendres. "Show them your toadstool!" said Phil.
They, both confirmed hunter-gatherers, recoiled from the large sample I presented safely isolated in a cardboard box.
After a glance at the orange skin and yellow underbelly they announced, emphatically, in several languages, that they "wouldn't even dream of eating that!" (They speak several languages.) "Neither would we." We assured them.
On the way home we called in at the Ille Pharmacy.
"Doesn't look good." Was the reaction of the chemist. "I'll check it out."
We had other shopping to do. We returned. "It's an Amanita Caesarea and, yes it is edible… Possibly delicious."
I felt a buzz of excitement. Monsieur Roman alias Repartout, mender of all our unreliable electrical machinery and mushroom fanatic, had always told me to contact him the moment I found an Amanita Caesarea.
We went straight to him. He glanced into the box. With gentle care he turned it over. "Madame Mann," he breathed " C'est un oronge! Le meilleur champignon du monde !"
We went home and ate it. First raw, " Peut consommer cru, en salade…" suggested the mushroom book, and then, thinly sliced and fried in butter. It was delicious.
"Son nom rapelle que cette amanite etait reservee aux empereurs romains tant elle etait appreciee" "a mushroom reserved for emperors, as its name decrees." The book may have exaggerated slightly, but not a lot.
Tomorrow, I will gather the rest of them, slice them finely and serve them to a bunch Roman Emperors who, by chance, are coming to dinner.