Tentatively out and about with Tony Goodman
Music
Chateau Planères
Nothing sums up summer in the P-O than sitting under a velvet black sky among the vines listening to world class music. Spaced as per the regulations, we were taken to downtown Havana with Eliene Castillo's Cadencia Quartet. Liquid silk smooth jazz, plenty of standards and a few home grown Cuban airs. The weather was perfect, cool enough to dress up is so inclined but also shirt sleeve friendly. Arriving early allowed the non drivers to sample the wines and load up a few cases into the trunk.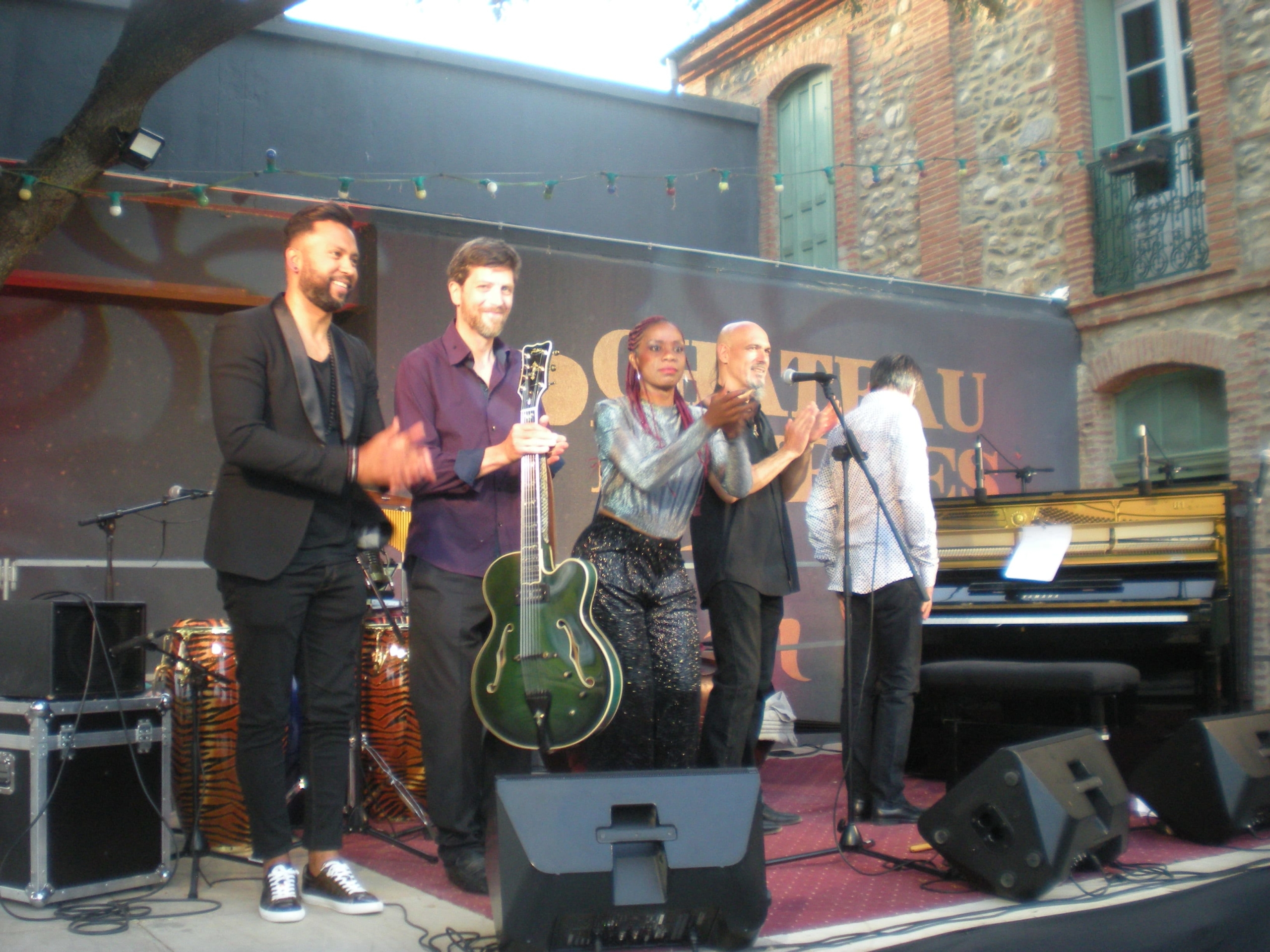 Chillies
A good friend and incredible chef who lived for many years in India gave us a handful of chilli seeds. Cayenne, Khorika Jolokia and Kashmiri. The latter is our favourite. Some weeks ago, I planted a few seeds in one of our small pots on the terrace and waited in vain for them to emerge. A few weeds arose and that was it. Then the thermometer hit around 28°C and the pot exploded into life. Almost over night, the seeds had emerged and seem to be gaining almost an inch a day. Extraordinary, now I have to find a way to keep them alive.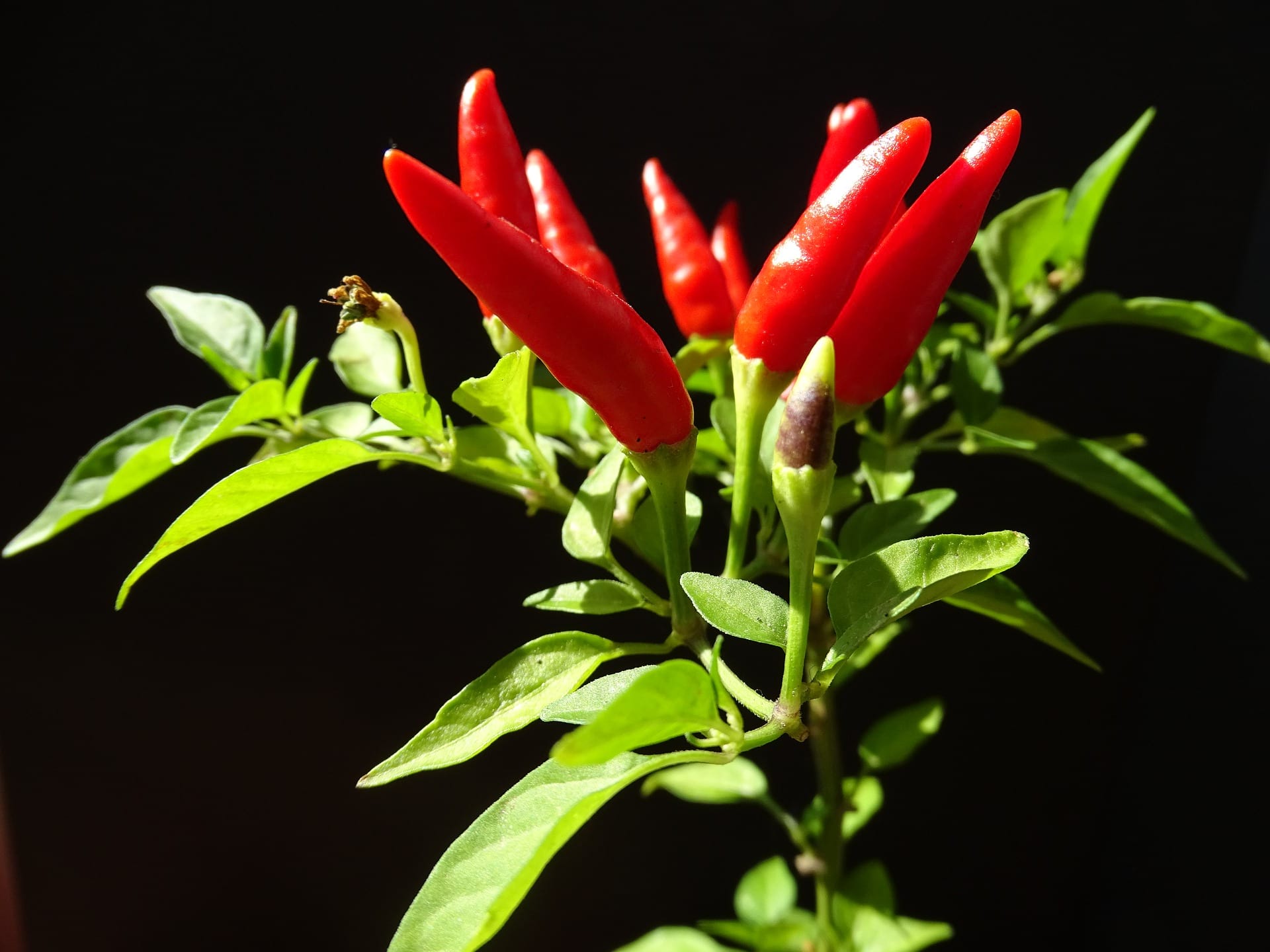 Thursday Night Murder Club
Plenty of twists and turns emerging as we have now reached the more substantial chapters. Murky histories are surfacing, competing motives are emerging. The history board is filling up nicely. While our improving speed and fluency allows us to enjoy the story more, we still hit the occasionally brick wall of grammar and local expressions. We are just under a quarter of the way to the dénouement, plenty of sleuthing to be done.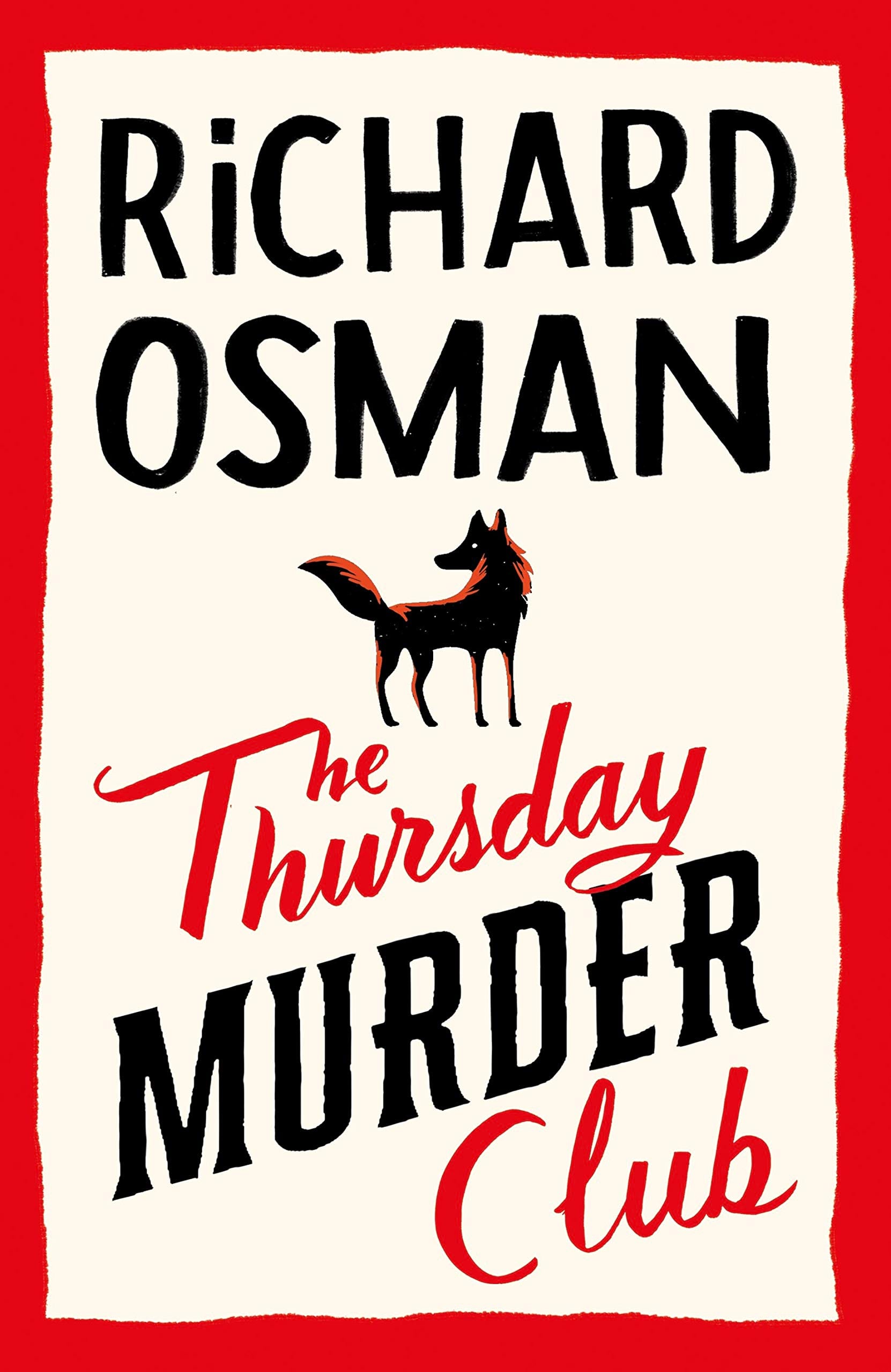 Packing the bags again
We are off for a short break in the mountains before settling into our summer routine. We want to take in some of our fresh mountain air and try some fabulous food at a restaurant in Prats de Mollo recommended by a very reliable source.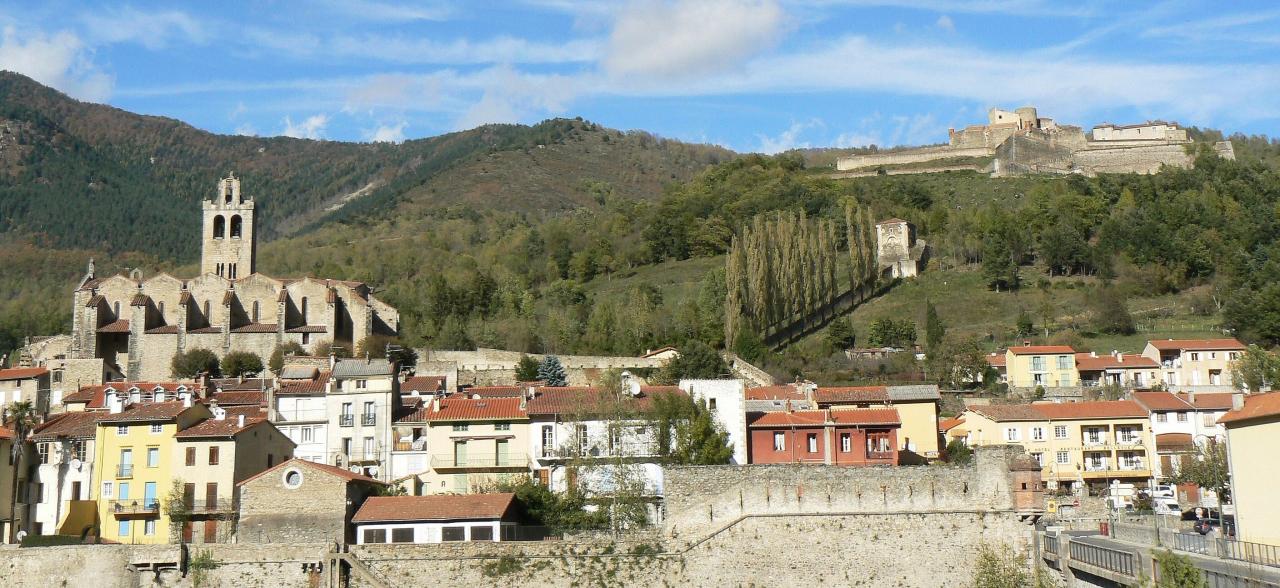 Tax office
Coming across an absolutely inexplicable error message while filing on line, we decided the best course of action was to make an appointment face to face with the tax office. The error message was quite odd, it was intermittent and seemed unrelated to our very simple finances.
Making an appointment was simple a matter of a quick phone call. Arriving 10 minutes or so before time, we presented ourselves to security who ushered us into a deserted waiting room. Right on time, an official appeared and guided us to a scrubbed and gleaming interview room where we sat with a Plexiglas screen between us. Once my BH had explained the situation, it was smiles all round, rather than being an issue with our affairs, it seems the problem lay with the new online forms. We were advised they were happy with our filing and promised we would receive a note accordingly. The moral of the story, if problems arise make an RDV. It's that simple.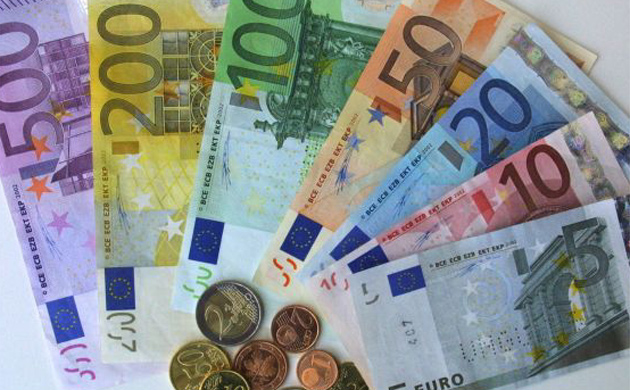 Private air show
Perpignan Airport doubles as an airbase for the L'Armée de l'Air. In summer it is used by the French acrobatic display jets. So it was that we were treated to a private display complete with coloured smoke, soaring vertical flights and some very intricate manoeuvrings while we enjoyed a mid morning coffee.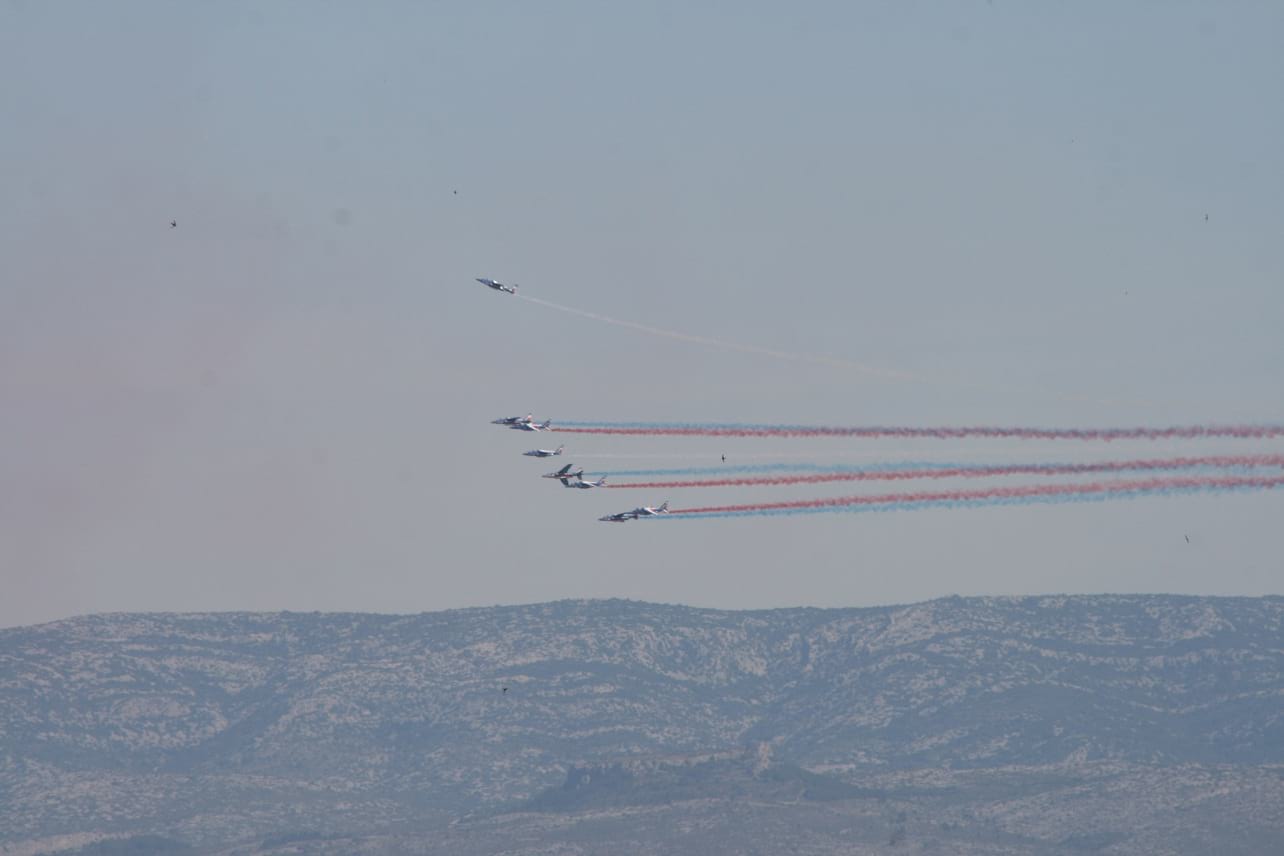 Roadworks
Well I suppose it's summer but after many many months when the roads were empty, it seems now is the only time the municipality could find to completely block off our surrounding streets as they dig up the drains and resurface the streets.
While I'm sure the noise levels are within approved limits, I had to laugh when I asked a neighbour about the sound levels of the of the massive JCB and the pounding compacter. He advised I was not to be concerned, another chap would soon drown them both out!
Thankfully we have our calm green mountains and soft sandy beaches to escape to.