Michel Gloaguen: Retrospective
By Ellen Turner Hall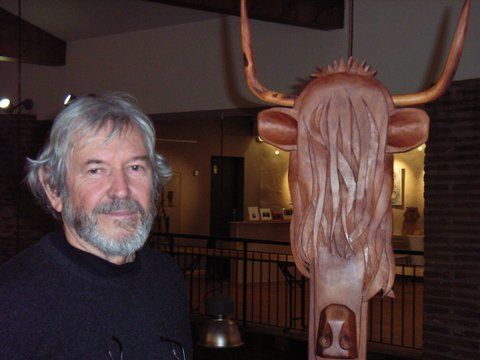 Artist Michel Gloaguen is celebrating 30 years in Roussillon with a delightful retrospective show at the Place de Gall, Palau del Vidre from 14 December to 13 January 2013.
Michel Gloaguen went to art school in Rennes and taught art in Nantes and Perpignan. In 1983 he arrived in Palau del Vidre where he met his wife, Claude. Together they established a home and his studio in St Michel de Llotes, where Michel could explore a variety of materials and subjects.
In the present exhibition the photographs of reflections on water are among the first works Michel produced in Roussillon. In the 90s he created a series of sculptures combining wood with rocks collected on walks in the Pyrenees. Then followed a series of photographs of boulders too big to transport.
In 2002 Michel turned his attention to scarecrows, photographing the extraordinary range of ragbag figures set in fields all over France and Spain. Three years later came his most successful project: wooden sculptures of cows.
Each essential feature (eye, ear, nose, tongue, horn,tail) is made from wood carefully selected for its distinct colour and shape. The heads and tails are attached to a body cut from a single plank, which elongates and foreshortens the figure at the same time. In a series of over 50, no two are alike. A sense of fun and playfulness runs through the works from the shaggy, wide-horned highland bull to the most docile Daisy.
"Linge" (laundry hung out to dry on balconies, photographed from below) produced an impression reminiscent of the flowing robes of Renaissance princes. The result of a collaboration with a glass-maker, the series "L'intimité" combines glass panels with wooden figures in sexual embrace. For cat lovers, Michel's most recent series is hard to resist. As with his herd of cattle, each sculpture has its own personality. The wood – species with evocative names like serpent wood or zebrano – is sometimes burned to create special effects.
Thirty years of abundance and diversity comes from Michel's search for yet "another love story"! Go to his show in Palau del Vidre. Who knows? Maybe you will fall in love yourself.
The exhibition is open every day from 15h00 to 18h00. Tel: 06.48.49.13.24