Barcelona is not such a long way from the Pyrenees-Orientales. With the long awaited arrival of the TGV, it is quick and easy to head off for a long weekend or even just a day.
Thr best way to get there is to take your car to Figueres, a twenty minute drive from Le Perthus, leave it in the station car park, and take a train into the centre of Barcelona.
It's easy and gives you a chance to see the beautiful city of Barcelona without the hassle of parking – and bearing in mind petrol, motorway tolls and parking charges in Barcelona, it is a much cheaper way to travel.
There are some great rock concerts in Barcelona if you are musically minded.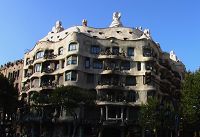 Where sightseeing is concerned, here are some ideas of places to visit, including museums, shopping, leisure, sport and nightlife.
If you want to make a weekend of it, there are plenty of hotels to choose from but watch out! They're not cheap! Take a look at these maps to help you to find your way round and, most important, have a brilliant time!
Incidentally, Gaudi's work has greatly influenced the face of Barcelona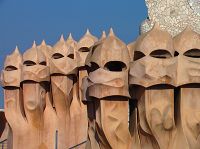 Architecture so here's a little bit about the man himself.
Born in Reus in 1852, Antoni Gaudi received his Architectural degree in 1878.
From the start, his designs were different from those of his contemporaries, influenced by forms of nature, reflected by the use of curved construction stones, twisted iron sculptures, and organic-like forms – traits of Gaudi's Barcelona architecture.
Gaudi also adorned many of his buildings with coloured tiles arranged in mosaic patterns adding another important dimension to his buildings which is so often overlooked by architects – the use of colour. When he was struck by a tram on Gran via in 1926, the whole of Barcelona turned out for his funeral.
Amongst his most famous pieces of architecture:
The Park Guell
A magical park with amazing buildings, sculptures, and tile work all designed by Gaudi. You will also find Gaudi's old home in Park Guell which is now open to the public as a small museum. The Güell family were a family with great prestige in industrial and artistic circles at this time in Barcelona.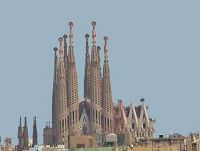 Sagrada Familia
A giant temple, probably Gaudi's greatest works and the most visited attraction in Barcelona, and unfinished, as he dedicated the last fifteen years of his life to it, constantly adding more and more fantastic and unusual elements, and died before completion.
NB As with many cities similar to Barcelona, organised gangs prowl the streets, stealing bags, pickpocketing and running various scams. Do be alert. Keep a tight hold of your handbag, make sure that your wallet is well hidden, don't put shopping down in a public place….. FIND OUT MORE