Christmas on our bums
For our third Christmas since leaving the UK we decided to take advantage of the fact that we live only a 90 minute drive from some pretty good ski resorts. Other than our son David, none of us had skied before. In the excitement I forgot the fact that I'm terrified of heights and have no coordination whatsoever, and was convinced I would like it. We duly went to Decathlon where we spent rather a lot of money on boots and other paraphernalia. Hubby, son and I arrived in Les Angles in the mid afternoon, expecting to relax in our apartment, but it seemed the son had other ideas. "Come on," he said, looking at his watch. "We've time for a couple of hours on the nursery slopes."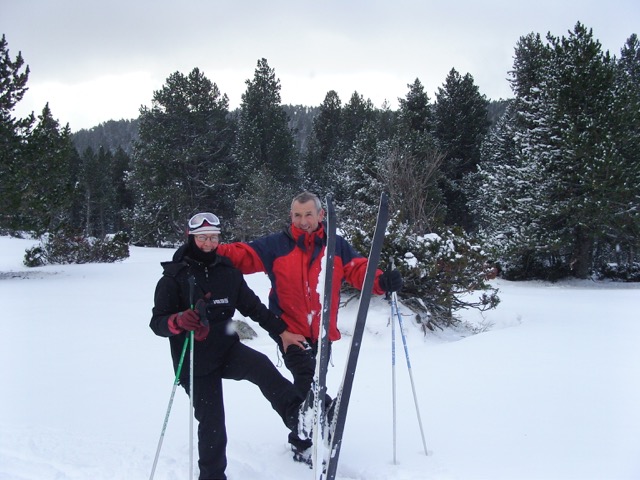 We drove up to a very gentle nursery slope that had a kind of moving carpet affair to get you to the top. Bill and I listened dutifully as David explained the physics of putting on one's skis, something involving an orange. But hubby doesn't do instructions and was impatient to get his feet into the skis. A second later he was lying in a ditch, very funny. "You can stop laughing", David said, sternly pointing his ski pole at me.
The next day, the other half and I had a lesson booked at mid-day and instead of a lie-in our son had us out of the house at first light to queue up and buy the horrendously expensive ski passes. We then queued up to get on the futuristic gondola affair that would take us up to the slopes. I was pleasantly surprised to find a nice level area at the top, with a couple of restaurants in easy sliding distance.
This was where parent/child roles reversed and our son assumed instructor mode. Very carefully, he explained the first stage in learning to ski – where you point your toes together and do a kind of braking action that prevents you sliding off the mountainside. There were various supposedly easy slopes just here, with little lifts to take you to the top of each one. This involved catching a suspended seat, tucking it under your bum and allowing it to pull you to the top. Near the top you had to find the right moment to let go so you could glide off into a little level area. Unfortunately this was beyond poor hubby's capabilities. Time after time he held on for too long, was propelled across a no-entry area, where he flew through the electric cable supplying power to the lift. Each time this happened a whole line of people toppled into the snow, and the lift monitor had to rush up and plug the thing in again.
After a little while and almost enjoying this, the son suggested we ski down to the bottom of the mountain to meet up with our instructress. I was very doubtful but the son declared he knew best and we should do what he said. "Just follow me," he said, weaving his way to the start of the Green Run. This period over Christmas was actually not a good time for us to learn to ski. The place was very busy, with both skiers and snowboarders, plus the snow was compact and icy. But we did as we were told and dutifully followed David, or at least I did. "Ski from side to side and follow me," he told me. I put my legs into the rather painful crouching position with toes almost touching, and obeyed. After a while, making slow progress and with numerous near-collisions with snowboarders and infant skiers, we noticed hubby had disappeared. Later on, we found him standing at a cross-roads, not sure which way to go.
"You should not have gone off like that," the son said. "You should have been a good student, like mum, and followed me." I stuck my tongue out at the hapless husband, and on we went. By this time my thighs were like iron rods. As we got lower down the mountain we encountered a very steep, icy slope. I lost my nerve and sat by the side, taking off my boots. "What do you think you are doing?" Dave asked. "You cannot walk down, mum. Put your boots back on and follow me." We did reach the bottom of the mountain in time for our lesson, but were so shattered we made our excuses and left.
During the days that followed we decided skiing was not for us. But we did enjoy sitting in the deckchairs outside the restaurant and eating and drinking while our son was whizzing down the Black Run. When we spied his woolly hat in the distance we promptly got up and pretended to ski about.
On our return, just after Christmas we had a call from our Screenwriter Man (SM) to tell us that his partner, J, was very ill in hospital and could we visit her please. We had not had any dealings with SM since we had decided not to invest £15,000 in his blockbuster (a decision that took all of 0.5 of a second) and to my relief he had not reappeared at any of my yoga classes. However, we were happy to help and found J in a clinic near Perpignan. She told us a very strange tale that made us rethink our relationship with the pair. Apparently SM had turned up on her doorstep two years previously with only a suitcase containing a few clothes. He had no other possessions and no money. "I support him," she said. "I've even paid his airfare to the USA to meet with film directors. He spends his days writing his screenplay and playing tennis." This did not surprise us that much but what came next did. "He's been poisoning me, the doctor has told me so."
We were speechless, this was a serious allegation in anybody's book. "And while I'm stuck in here," she continued, "he's been chopping down my trees and selling the wood." We knew this rather more mundane accusation was at least true, as SM had borrowed our trailer on several occasions. She requested we did not let him have access to the trailer again. We agreed of course but felt very awkward about the whole thing and hoped he would not contact us again. Unfortunately, things went from bad to worse.