May 2020: Coronavirus in France: Should you wear a mask?
If you've stepped outside in recent days, strictly in accordance with French government guidelines bien sûr, you will notice that the vast majority of people are now choosing to wear a mask. There is much debate on social media about whether you should or shouldn't use a mask and much of the advice is conflicting, which is why it's probably best not to rely on social media as your number one source of advice!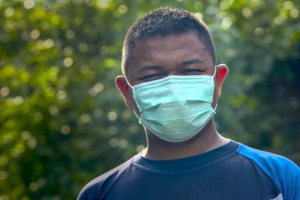 For accurate information, we'd recommend taking the advice on the World Health Organisation's website.
Their main points of advice are as follows:
If you are healthy, you only need to wear a mask if you are taking care of a person with suspected 2019-nCoV infection.
Wear a mask if you are coughing or sneezing.
Masks are effective only when used in combination with frequent hand-cleaning with alcohol-based hand rub or soap and water.
If you wear a mask, then you must know how to use it and dispose of it properly (see below).
This advice is coherent with the results of one of a very few clinical trials carried out regarding the effectiveness of wearing a mask, carried out in Australia and New Zealand. The paper cautions against the use of cloth masks concluding that 'Moisture retention, reuse of cloth masks and poor filtration may result in increased risk of infection.'
Nevertheless, President Macron made a 'masks for all' promise during his speech to the nation on Easter Monday and there are rumours that it may soon become obligatory to wear a mask in public in France, as is the case in some countries including Austria, Slovenia and the Czech Republic.
If you do think you need one to protect yourself or others you'll probably know that surgical masks have become rarer than hen's teeth in France and it's almost impossible to find them in pharmacies . While we wait for President Macron to deliver on his promise, you might have to resort to making your own. There are dozens of guides online to making your own but here's one of the best tutorials we've found:
How to use and dispose of a mask
Mask or no mask, remember….
…your best weapons against contracting Covid-19 are washing your hands often with soap and water, using an alcohol-based hand sanitiser with at least 60% alcohol, if soap and water are not available, and avoiding touching your eyes, nose and mouth with unwashed hands.