DONKEY DAYS
with With Katja Willemsen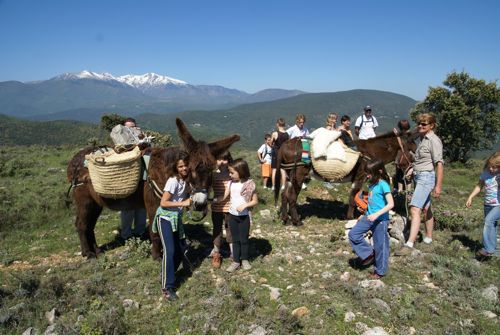 What do you give someone who has everything for their 50th birthday? A day out with donkeys of course. There is no age limit to falling in love with a donkey!
We all know how stubborn donkeys are, but did you know how kittenish they could be? From the moment we started our hike, Baby Canco nuzzled us for tickles and cuddles. Scratch between her down-soft ears and you could almost hear her purr! We were smitten from the moment we groomed her with firm brush strokes and quiet whispers.
The donkeys at Mas Fontane are raised as part of the family so it's no wonder they love human company. Within seconds of arriving for our play date with Mama Donkey, Manta, and her young daughter, Canco, seven donkeys bounded towards us, jostling each other out of the way for attention!
Cathy and Alain Fontaine raise Catalan donkeys on their sprawling farm on the slopes of a sunny valley close to Céret. From the patio of their old mas, you can see the Albères mountains crinkle into the Mediterranean, and the only sounds you'll hear are birdsong and exuberant hee-haws.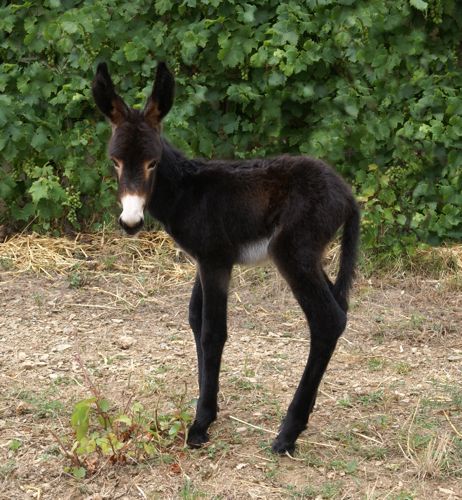 Donkeys are intelligent, strong and courageous, and they are excellent with children. A donkey learns fast and never forgets. He is independent rather than stubborn, and if you ask nicely, he'll be only too happy to do whatever you ask.
With our picnic goodies stored in the grass baskets strapped onto Manta's sturdy back, we set off up the dusty lane leading out of Mas Fontane. Filigree shadows danced through the cork oak trees, a welcome relief from the burning sun. Oblivious to the heat, Baby Canco gambolled beside us like an excited toddler.
Adult donkeys can carry up to 40 kg and walk a steady 3 to 4 km per hour. Just don't rush them if they're not in the mood!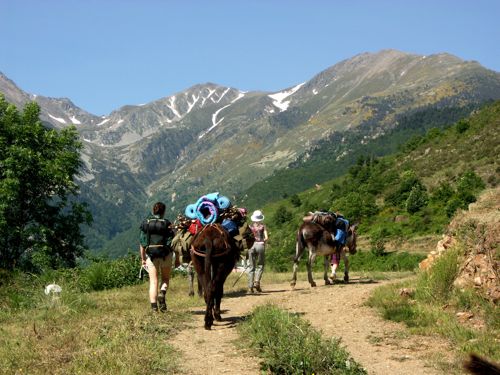 Take the donkeys out on your own or let Cathy be your guide through the fragrant scrubland of the Aspres. The more adventurous can join her on longer trails across more challenging terrain. Donkeys will carry an afternoon's lunch of wine and baguette as easily as sleeping bags and food for a trek up Mount Canigou.
Just remember to say please and thank-you to your donkey companion, or she may decide that snacking on grass is more appealing than carrying your picnic!
About Mas Fontane
• Situated about 10 kilometres from Céret, close to the hamlet of Oms.
• Old Catalan mas converted into spacious gite/ B&B with pool. Ideal for both long holidays or shorter overnight stays.
• Cathy and Alain speak English and offer wide range of donkey activities from half-day outings to week long mountain adventures.
• Phone 04 68 85 34 86 or email las.fontanes@orange.fr. Don't forget to say you read about it in P.O Life!
• For more info: www.gite-rural-66.com.

How To Get There
• Head for Le Boulou, via the D618 if coming from Argelès, or the D900 if coming from Perpignan.
• These roads feed into the D115 towards Céret.
• Pass Céret on the left, stay on D115 to Prats de Mollo/ Amélie-les-Bains.
• Two kilometres later, turn right over the beautiful pont de Reynes bridge (D15 to Taillet).
• At the small roundabout, take second turn-off, direction Taillet/ Le Villa (D15)
• Less than 200 metres later, take tiny road to right, Route du Riuros marked with Mas Fontanes sign.
• Wind along this narrow little road for 6.8 kms until you come across a startling scene of colourful soft toys dangling from trees and fences…. turn right and follow signs to Mas Fontane!
Read Shepherd's Prayer, Katja's fast-paced adventure set in Collioure. Available on Amazon
Shepherd's Prayer
by Katja Willemsen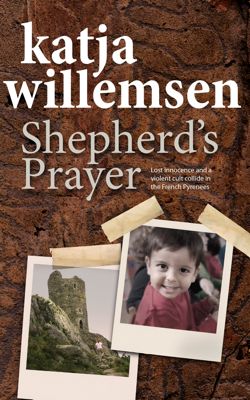 Shepherd's Prayer, the new novel by Katja Willemsen, is set in the scenic hills behind Collioure and anyone who has visited the area, and enjoys its brooding history, will love this book.
From the very first sentence the story has heat and tension. Having run from a marriage proposal in London to the history-steeped Pyrenees, Raisin Radcliffe is visited by her estranged brother, Geoffrey. , They befriend a grizzled Catalan shepherd, Henri Arana, and help him save an emaciated wolf with a strange circular insignia branded on its haunch. 'Protect the vulnerable' is the old man's credo.
Hiking between the craggy oaks above the village, they find an ancient dolmen and Raisin is drawn into the caves below by visions of a mysterious tribeswoman. As Raisin and Geoffrey explore the labyrinthine caves, so the secrets of their traumatic childhood begin to unravel before them, with shocking consequences. Raisin is plagued by questions about her brother's strange and violent reactions, and the kidnapping of a village boy leads to the two of them being captured by a violent cult. Katja teases her reader skilfully and as one mystery is solved, another one is created.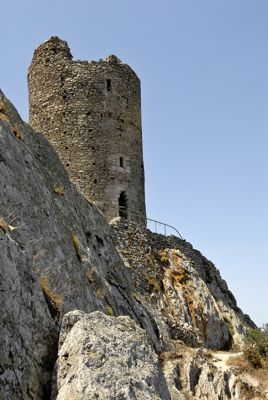 There are so many ways to enjoy this book. Many of the locations are real and can be explored. If you're interested in the effects a disturbed childhood can have on adult relationships, or if you just want a good thriller for the summer, which twists and turns like the mountain paths of the story, then this is the book for you.
I thoroughly enjoyed Shepherd's Prayer, and would recommend it to anyone. As for myself, I'm hoping Raisin and Geoffrey Radcliffe continue their journey of self discovery during another adventure soon.
CLICK HERE TO READ CHAPTER ONE OF SHEPHERD'S PRAYER
BUY SHEPHERD'S PRAYER FROM AMAZON
A CHAT WITH THE AUTHOR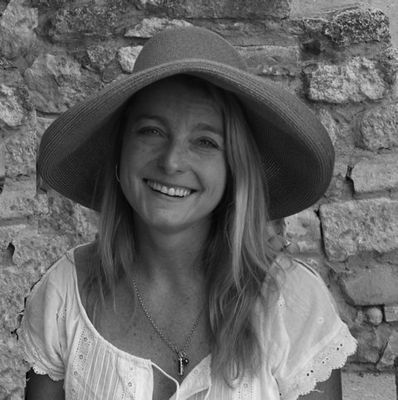 Where are you from?
I was born in Holland, grew up in South Africa, and now live in a tiny Pyrenean village in France, with my husband, Dave, and our three cats: Espresso, Vespa and the new arrival, hell-kitten Pixie. I look Dutch, feel South African, and have sturdy tap roots in this little French hamlet.
Did you always want to write?
Definitely not. I wasn't born with visions of book deals whirling in my head. My eighth grade English teacher, Veronica Wallace, opened my eyes to the world of words and books, and I devoured books all my life but I never expected to write one.
Was there life before writing?
Yes and No. My "other life" in three words? Stress. Soulless. Exhaustion. My writing life? Passion. Perseverance. Electrifying.
My themes involve family secrets, psychological shadows, and the supernatural, wrapped around loaded topics – betrayal, schizophrenia, death of a child, sexual abuse. My goal is to create page turners that can be enjoyed as a light summer read, but there's thought-provoking psychological depth lay behind.
My next book is already bubbling…. I want to portray the horror of the Spanish retreat from Franco before the start of World War II. Simple folk, women and tiny tots, their pets, desperate to escape this brutal dictator by scrambling over the Pyrenees during an icy January in 1939, only to be herded into inhumane concentration camps by the French.