Restaurant Côte Catalane
NOW CLOSED DOWN BUT FISH AND OYSTER DISHES STILL AVAILABLE AT THEIR SHOP, OYSTER RESTAURANT AND FRESH FISH MARKET IN PORT VENDRES.
ZAC du Mas Balande, Route d'Elne, PERPIGNAN – 04 68 66 89 00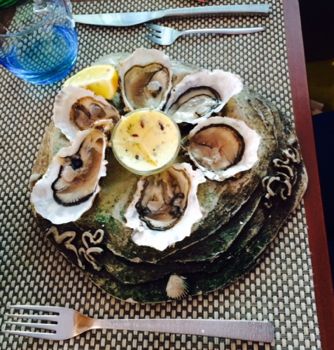 March 5th 2014
Restaurant Côte Catalane, Perpignan

Visited the restaurant at the Megacastillet for lunch yesterday. Excellent meal, beautifully presented and mega tasty, aimed at fish lovers – but steak and other non fish dishes available too.
Menus from 13 € although the 13€ menu has only one choice for each course. We chose the 21€ menu and it was delicious from beginning to end.
I started with fish soup, plenty of taste, and a little different in that it was served with a half a baguette covered in toasted cheese.
My friend was delighted with her oysters, declared perfect.
I'm not much of a restaurant reviewer as I tend to talk too much, and not really notice much detail about my food, so here is yesterday's superb lunch in photos.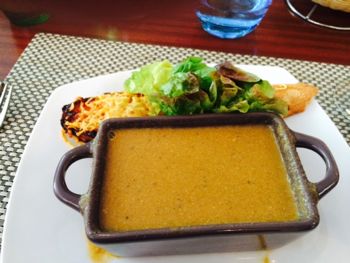 Les Poissonneries de la Côte Catalane
Fish lovers cannot possibly visit Port Vendres without calling in at Les Poissonneries de la Côte Catalane (La Criée), one of the largest fish markets in the western Mediterranean.
On the other side of the port, just a ten minute walk from the hustle and bustle of the main, busy restaurant area, it's well worth the detour.
Oyster, seafood and wine bar, with shelves of seafood delicacies, condiments and wines, counters of fresh fish, seafood, soups, and prepared dishes, live lobsters and langoustines….. Vans and lorries come and go to and from this working fishing depot with fishing fleet based on the nearby quay.You can't get fresher than that!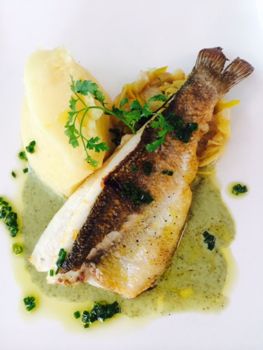 And if you'd prefer to eat at home, magnificent seafood platters, cooked paella and bouillabaisse are available to take away for that al fresco lunch on the terrace or intimate soirée – leaving you to concentrate on the onerous task of chilling the white wine to the perfect temperature!
Big changes to come this year too to this fabulous ocean side restaurant with panoramic oyster bar, and more 'straight-from-the-sea' eating possibilities. Watch this space!
Or if you still fancy fresh fish, but don't happen to be on the sea front, why not go for a fishy feast followed by a film, and dine in style at their very own traditional marine restaurant opposite the Mega Castillet on the outskirts of Perpignan. (SEE ABOVE FOR REVIEW)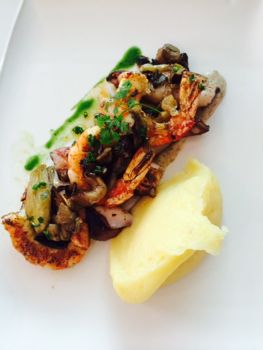 Port Vendres
ANSE GERBAL – LA CRIÉE 66660 PORT-VENDRES – 04 68 98 46 00
Megacastillet
ZAC du Mas Balande, Route d'Elne, PERPIGNAN – 04 68 66 89 00
www.cotecatalane.net
www.cotecatalane.com
Fish is quick to cook and scrumptious when fresh (really fresh fish should never smell too 'fishy'), but of course, it helps to know what you're eating! Here is some useful vocabulary to help you choose your little fishy on a little dishy!
Aigrefin/Eglefin – Haddock
Anguille (Congre) – (Conger) Eel
Bar – Sea Bass
Cabillaud/Morue – Cod/Salted Cod
Carrelet – Plaice
Colin/Merlu – Hake
Daurade/Dorade – Bream
Espadon – Swordfish
Lotte – Monkfish
Loup – Sea Perch
Rascasse – Scorpion Fish
Requin – Shark Fish
Rouget – Red Mullet
Saint Pierre – John Dory
Seiche – Cuttlefish
vider – to gut (lit. to empty)
(court) bouillon – stock or broth
médaillon – small, round pieces (of fish/meat)
(sans) arête – (without) bones
en papillote – cooked in foil
darne – fish steak/slice
décortiqué – shelled or peeled
écailler – to scale fish
A little more info …
Loup or Bar = Sea Bass
A coastal fish much prized by line fishermen. Firm-fleshed, not too many bones, it can be grilled, barbecued or baked in a court bouillon or en papillote. Delicious cooked in white wine or served with fresh herb sauce. It is a very popular fish in Turkey so middle eastern recipes work well…
Daurade Royale = Gilt-head Bream
It has a splash of gold on each cheek and is consecrated to Aphrodite. Perhaps because of its beauty or maybe because of its hermaphroditic tendencies. Who knows? In any case, it is considered to be one of the best of the local fish. It holds its shape well and can be cooked whole, filleted or stuffed. Particularly good baked in white wine with mushrooms.
Galets, for which I could find no translation and which you can see in the water when snorkelling or paddling up to your knees, are bonier and less tasty than the Loup or Daurade. They are also cheaper and well worth trying fried, grilled or barbecued.
Rouget = Red Mullet
Much sought after, a jolly red fish that is usually cooked without cleaning. Just de-scale, drizzle some olive oil over it, a squeeze of lemon and fry, grill or bake in the oven. Do not steam or poach.
Espadon = Swordfish
Steaks of swordfish are brilliant on the barbecue, can be grilled or baked or made into a stew. Versatile, firm, tasty and a useful alternative to fresh tuna (thon).