Festivals: Olives in Espolla & Beans in Santa Pau
---
Event Navigation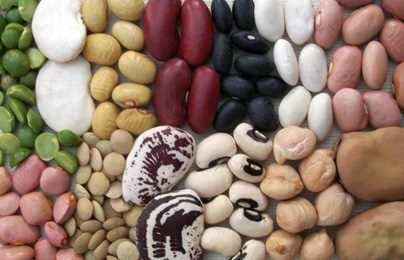 TWO FESTIVALS FOR THE PRICE OF ONE
Fira del Fesol (Bean Festival) – Santa Pau
Fira de l'oli i l'olivera (Olive Festival) – Espolla
Olive festival, Espolla and bean festival, Santa Pau
Plants, olive related produce, photo exhibition of decorated doors and balconies, donkey rides, bouncy castle, Castellers….…bubbling beans and local wine…..
---
Jane Mann describes her visit to the olive and bean festivals in southern Catalonia…..
Bean festival
It had a bit of the feel of hacking through a Borneo rain forest.
Fallen trees obstructed forward progress, huge roots turned off piste scrabbling into an assault course of titanic proportions.
"It's just an hour's gentle stroll through the woods to Santa Pau, gives you an appetite for the bean feast" Ellen had said.
But the previous week's tempest had strewn enough trees across the path to render strolling unrealistic. We were not young, we were not particularly fit but we did want to experience the bean festival.
Famous locally for the excellence of its dried beans, this was to be an opportunity to taste and buy any number of them in the delightful medieval village that hosted the annual feast and visit the olive oil festival at Espolla. Two festivals for the price of one…
We did eventually burst out of the forest to the distant sound of medieval festivities taking place in the village of Santa Pau that, from the distance, looked authentically medieval. We hastened towards it.
Olive oil festival

Jostling crowds surged through the narrow streets. Bags of beans were being sold at exorbitant prices at stalls lining the route. The crowd was good natured, Quaint music played, a few jigged along, morris dancer fashion.
Some had plates of beans in hand, many were imbibing wine from those pointy jug things so essential to all Catalan occasions. The sun shone, the beans bubbled, the atmosphere was good, the views from the ramparts were of farming countryside rolling forever to distant, distant hills.
Loud Spanish music drew us to a market place where goods from the orient were competing well with the bags of beans. Ellen bought us all generous plates filled with beans, a large grilled sausage, some fatty bacon and a pan tomate. Delicious (except for the bacon).
We ate it balancing our feast on the sloping side of a derelict farm cart in a scrap metal yard not far from the passing crowd. It seemed an appropriate spot.
The plastic mugs of local wine added a pleasurable frisson to the experience and allowed us all to forget that to regain our cars and make it to the olive festival we still had Borneo to get through.
Fuelled by beans we made it. It was even fun. The sun was setting on Espolla by the time we arrived.
We were not late, many others were jamming their cars into the few remaining places in the car park. There was much olive oil to be tasted. It tasted good and was, by French standards, very reasonably priced.
Soon we were all carrying five litre containers. Honey, also in generous jars, was obviously essential. When we could carry no more we repaired to the village bar, a cavernous neon lit affair full to overflowing with festival goers of all shapes sizes and ages.
A television was, for the most part, ignored, despite its size and dominant position. The atmosphere was convivial, conducive to relaxation. Wending our way home felt unattractive. We had another drink.[/vc_cta]