Biotechnology-based Fantasy Novels.
Night of the Fête and The Pevi's Riposte
by V S Rose – www.vsrose.co.uk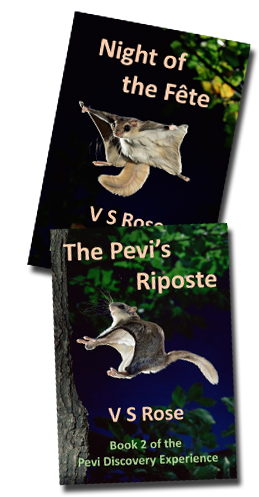 I launched the first novel in The Pevi Discovery Experience in 2013. Called Night of the Fête, it soon acquired a small, but dedicated, band of followers. The sequel, The Pevi's Riposte, was published in February this year. Both e-books can be downloaded for free from my website.
Night of the Fête introduced us to the Pevi, a race of invisible, intelligent, flying squirrels who live in the deer park of Knole Manor house in Kent, along with some rather quirky fairies. It's a biotechnology-themed fantasy novel, but definitely not a children's tale. It's humorous, innovative and draws on my extensive scientific and managerial experience.
The Pevi's Riposte follows the Pevi's adventures in Collioure, Mont Louis and Lac des Bouillouses, as well as expanding on the biotechnology concepts introduced in the first book. It even contains a song, 'Mervin', about one of the characters in the book, which you can listen to on my website.
Many people think I am wrong to give my books away, but writing is a hobby for me; not a career. Although I received royalties when I published Night of the Fête, my publisher and Amazon made more money than I did. So, when I finished the sequel, I took the decision to make both e-books available to download from my website for free. That way I reach a much wider audience and don't have to worry about creating a business (which is not particularly easy in France) and filing tax returns.