A star still shining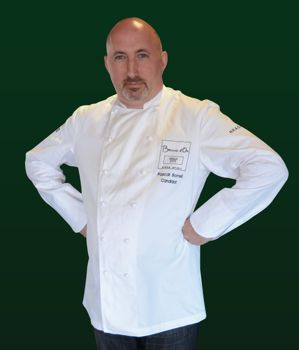 Michelin stars are awarded to "restaurants offering the finest cooking, regardless of cuisine style" so why did Pascal Borrell, talented former chef of the much talked of Maison du terroir in Maury, voluntarily give up the hard earned star awarded to the restaurant?
Out of the five restaurants in the department awarded Michelin stars, only two remain.
Jean-Paul Hartmann lost his star at the Almandin in Saint Cyprien, Bart Thoelen gave up the Palmier in Laroque-des-Albères and in September 2012, Pascal Borrell surrendered his star on the Maison du terroir in Maury. However, whilst a restaurant can lose, or voluntarily surrender its star, a Michelin-starred chef remains a Michelin star holder for life.
Pascal explained that, economically, a Michelin starred restaurant could simply not survive in the little village of Maury. The need to drive there cut out long liquid lunches, the lack of other entertainment or activities along with acceptably higher prices for gourmet grub ruled out families, few local companies within a wide radius meant no group business lunches or dinners…so with great sadness, Pascal jumped before he was pushed!
However, his star continues to shine as brightly as ever in Le Fanal, new edition on the restaurant scene in Banyuls-sur-Mer since 2013, and a popular venue for those in search of inventive quality dishes. There are some pretty steeply priced menus, as you would expect for a restaurant of this calibre, but there is also a menu of 19 euros for two courses and 29 for three courses, making the Michelin starred restaurant more accessible to all. Is the cheaper menu of the same quality as the more expensive ones? I honestly couldnt say. Up to you to find out!
Pascal invites you 'à table' to sample his mouth-watering creations overlooking the port in Banyuls-sur-Mer. A warm welcome awaits!