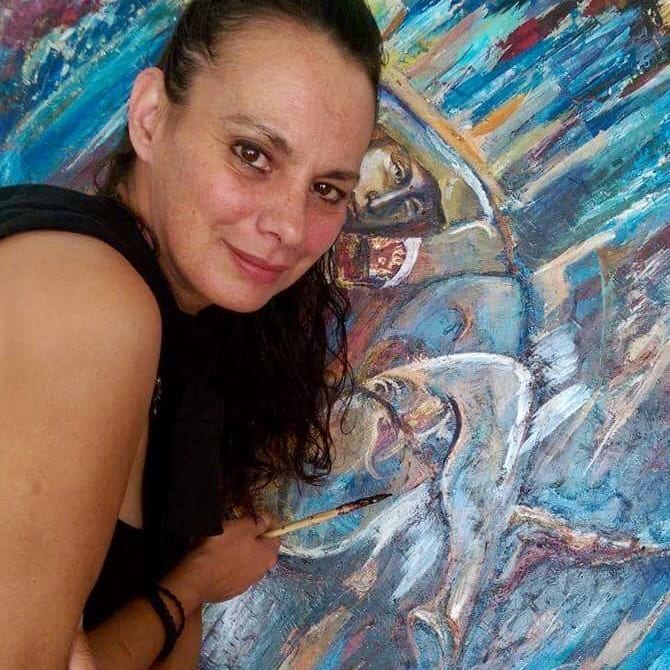 Irena Gapkovska
With a passion for art history, Macedonian painter, Irena Gapkovska, takes inspiration from the Byzantine tradition of icon painting. 
Bursting with emotion, feeling and movement, she combines classical anatomical studies with her love of colour and form, to capture the beauty of a fleeting moment in time.
The artist
Irena Gapkovska has lived and worked all over the world. She had a successful studio in her adopted home of Miami and still runs a busy studio in her native home of Skopje, Macedonia. Now living in the P-O, she also has a studio in central Perpignan which is open to visitors under normal circumstances. As well as producing her own art, she teaches up and coming talent and has trained over 400 students, many of whom are now successful, professional artists.
Gapkovska's works are sensual and emotive, celebrating the joy of human movement by combining precise anatomical drawings with expressive, spontaneous strokes of colour. Inspired heavily by nature, the seasons and the cycle of life, she redefines the spiritual Byzantine tradition with her unique, modern approach.
Upcoming exhibition
Portraits Chimériques
This exciting new project is a collaboration between Gapkovska and French artist and poet, Christian Bardet.
Inspired by a tree in Bardet's garden, the pair have created a dialogue between Bardet's photographs and poems and Gapkovska's paintings, reflecting both what they see and what they imagine.
More information coming soon!