Palalda – come on over to Dan's place
Originally named Paladdanum meaning 'Dan's Palace', this pretty medieval pedestrian-only village has bar, 10th century church with swirlingly decorated door (once to protect church from axe attacks!) and a sprinkling of artists/craftspeople, all of which may or may not be open depending on the day and time of year so check ahead with the Amélie Tourist Office.
And don't miss the Musée de la Poste (smoke signalling, ancient telegraph, stamps, the evolution of communication…) the Museum of Popular Art and Traditions (old tools, collections of old post cards), and a permanent exhibition of Charles Rennie Mackintosh. All can be found in the square near the church.
Once a castle, the remains of a tower still stand.
The cobbled village with its labyrinth of narrow streets is delightful. On summer Fridays, at the small night market, locals and tourists mix, and the atmosphere is magic.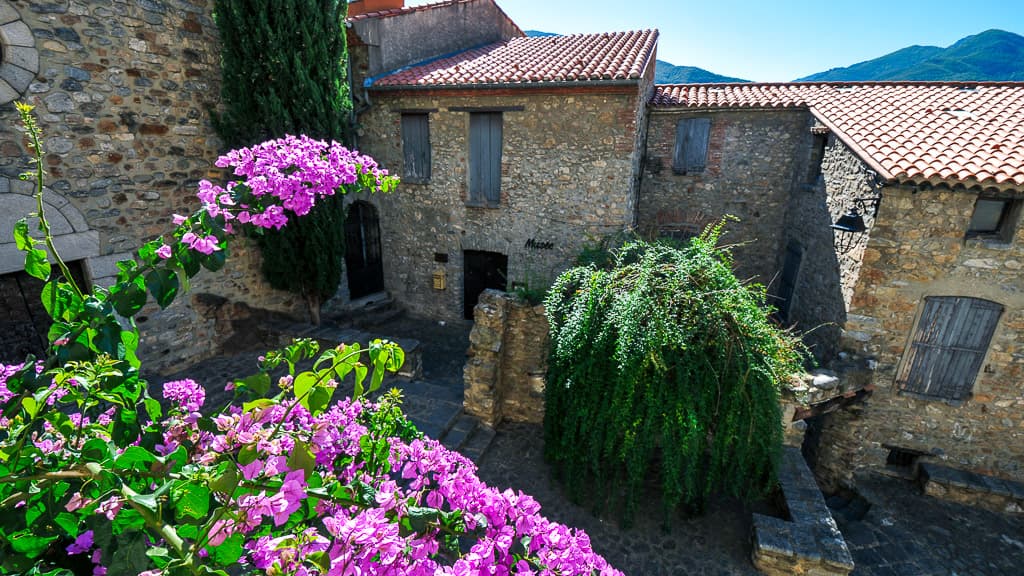 Fête du Rosaire
Every October, Palalda's 'Chapelle du Rosaire' celebrates the Fête du Rosaire with a programme of songs, traditional dancing, prayers and concerts.
In 1571 Christian troops provided by the Vatican overcame a Turkish armada in the entrance to the Corinth gulf.
The Pope at the time, Grégoire XIII, attributed this victory to the daily processions of St Rosaire brotherhoods who promoted the rosary in the streets of Rome.
He promptly changed his planned 'Victory Day' to 'St Rosaire day', to be celebrated on the 7th October.
The celebration continues to this day, with special masses held in St Rosaire sanctuaries all over the world.