The pound punched higher against the majority of its peers yesterday as markets reacted to the Bank of England's latest rate decision, in which rates were left unchanged.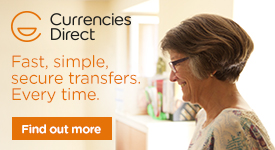 Sterling appears to be consolidating these gains this morning, with GBP/EUR stable at €1.1411, GBP/USD flat at $1.2930 and GBP/CAD muted at C$1.7214, while GBP/AUD and GBP/NZD hold steady at AU$1.8241 and NZ$1.9131 respectively.
With no major data releases on the table today will we see Brexit return as the main driving force behind the pound?
What's been happening?
After initially dipping as the Bank of England (BoE) lowered its growth forecasts for 2019, the pound rallied on Thursday, following some aggressive comments from Mark Carney in the BoE Governor's post-meeting press-conference.
These gains appeared to be mostly centred on Carney's comments suggesting that markets need not worry about a rate cut in the immediate future, despite the Bank's statement warning rates could move up or down depending on the outcome of Brexit.
Helping to propel the GBP/EUR exchange rate close to a one-week high was the release of the European Commission's latest economic forecasts.
This saw the EC downgrade its growth forecasts for 2019 from 1.9% to just 1.3% as it warned of headwinds from the US-China trade dispute and weakness from within Europe.
Meanwhile, the GBP/USD exchange rate strengthened on Thursday on concerns that the US-China trade truce will expire without a deal following reports that US President Donald Trump and Chinese President Xi Jinping will not meet before March 2.
What's coming up?
Looking ahead, in the absence of any of significant data, it's likely we may see Brexit return to the fore again today.
Theresa May will meet with her Irish counterpart, Leo Varadkar, today in an attempt to alter the backstop agreement, with the pound potentially dipping if she continues to be face resistance.
Meanwhile, following the publication of Germany's latest trade figures, the Euro may find support today after a stronger-than-expected upswing in domestic exports.
Finally, USD investors will also have to contend with a lull in data today, potentially leading markets to shift their attention back to Washington, with the US dollar likely weakening if it still appears likely that the US government is on track for another shutdown.
We're here to talk currency whenever you need us, so GET IN TOUCH if you want to know more about the latest news or how it could impact your currency transfers.