With Lisa Temperley
---
At this time of year, pumpkins are in all the shops. Rich in vital antioxidants, and vitamins, low in calories (100g provides just 26 calories), it is one of the food items recommended by dieticians for cholesterol control and weight loss programmes.
Pumpkin Soup
Serves 6
♡ 700 g Pumpkin or butternut squash (peeled, deseeded and chopped into 2.5 cm dice) rubbed with olive oil and roasted in the oven until soft.
♡ 25g butter
♡ 1 medium onion (thinly sliced)
♡ 275ml whole milk
♡ 725ml made with marigold Swiss vegetable bouillon powder
♡ ½ Chilli
♡ Salt and pepper
♡ Handful Parmesan and Emmental cheese, or swirl of cream to serve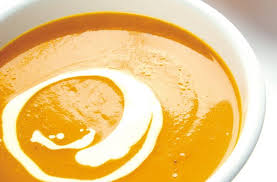 Melt butter and cook onion for about 8 mins
Add chopped pumpkin, and chilli, stir , season and cook
Cover and sweat gently on low heat for 10 mins
Pour in milk, and stock, simmer gently for 20 mins (keep lid slightly off so milk doesn't boil over )
Pour into food processor or use a hand blender and puree
Once smooth, serve sprinkled with a little cheese.