NOVEMBER 2012
Auberge Can Joan


(between Le Boulou and Le Perthus)



Reviewed by Paul Cartmell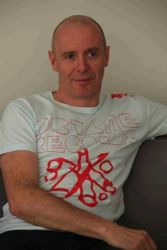 I first spotted 'Auberge Can Joan' on a wonderful walk last Easter from the hamlet of Saint Jean d'Albere. I'd followed one of the walks featured in PO Life from the Auberge to the top of the Alberes on a beautiful, sunny morning and after a three hour hike rewarded with the most amazing views. I could have demolished several lunches, but sadly the Auberge wasn't open.
Following a number of recommendations that the Auberge was worth a visit, we drove along tiny, winding forest roads, with magnificent twisted cork oaks leading to the Auberge. This time there was no pre-lunch walk and the day was cool and overcast. We approached the large, ancient building commanding magnificent views towards Spain, and walked through an unassuming door leading to a lovely, vaulted room with fabulous echoes, where we were given a welcome as warm as the huge fire roaring in the hearth.
The most important things to bring with you to the Auberge are a hearty appetite, plenty of time and a nominated driver. And if you have plans for eating in the evening, cancel them. Oh and the next day too!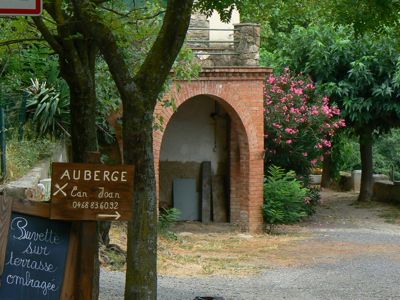 Almost immediately, aperitifs were served; dangerously by the bottle….. pastis, Grenache and Muscat with a generous plat de crudités. We were presented with three choices for a main course, that day duck, wild boar, or veal. No large and complicated menus to navigate, decisions were made and we all went for the wild boar casserole.
Aperos finished, a large platter of charcuterie arrived, pâtés de maison, roasted peppers and other vegetables, anchovies, eggs mimosa, and salad accompanied by ordinary but pleasant red, white and rose wines. The platter would make a meal by itself and was thoroughly delicious.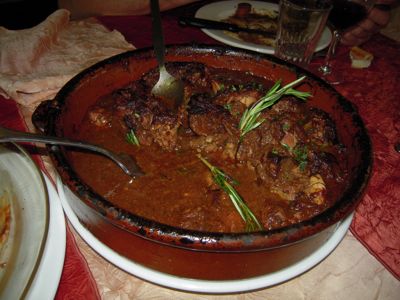 After a welcome pause (I did say allow plenty of time), a huge pot of wild boar and mushroom casserole arrived, accompanied by a steaming dish of dauphenoise potatoes. Hearty and very tasty, we really enjoyed both dishes but reluctantly could not finish all. Time for another pause ('though the wine was still flowing), and we were then offered a plate of lamb cutlets (grillard d'agneau). Now, we were beginning to flounder, belts loosened and top buttons unfastened, and regretting not taking a pre-lunch hike, and so we reluctantly passed on the lamb, though I've no doubt it would have been delicious, if the wild boar was anything to go by.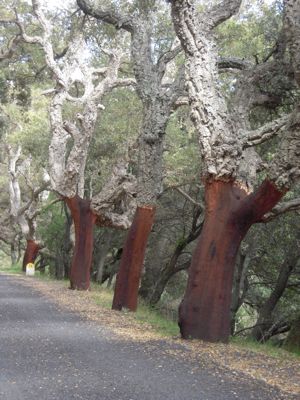 Following the hearty main course, the lightness of the crisp green leaf salad, with cheese selection was almost refreshing and wonderfully simple. And the wine…. well it just kept flowing.
I don't know about you, but lovely long, relaxing lunches are a rare pleasure, especially with a roaring fire and in a room full of character. Three hours into lunch feeling languid and replete, the dessert arrived. Familiar local favourites made up the choices and we all enjoyed a magnificently rich chocolate tort, complete with dessert wines.
Coffee and digestifs completed a memorable lunch and feeling rather full, we took a very small meander around the delightful hamlet of Saint Jean d'Albere, which in no way compensated for the calorie intake.
We had chosen the set menu for 27 euros and it was incredible value, including five courses, wine, aperitifs, digestifs and coffee. The food itself is not pretentious; it is fresh, hearty, home cooked food, prepared very well and simply delicious. The portions are almost too generous but there are smaller set menu or a la carte options
Since this gastronomic adventure, I have been back to he Auberge for a lighter, summer lunch on the terrace and it yet again lived up to expectations. The service was charming, welcoming and friendly, the staff are extremely helpful (also English speaking) and the ambiance has the feeling of a much loved old farmhouse.
I'll be going back there again but next time, the pre-lunch walk is compulsory!
To get there….
Take the RN9 direction Le Perthus, turn left onto the D71 at the Douane building just before Le Perthus, direction St Jean d'Albère and keep on going until you see Can Joan on your right
Tel 04 68 83 60 92 Open every day, all year round!