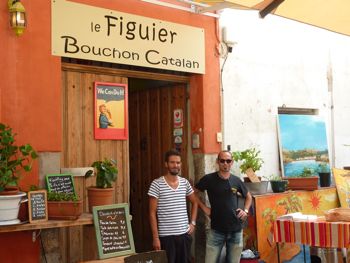 Alfresco eating in town doesn't get much prettier than this and Le Figuier is lucky enough to have this diminutive square all to itself. There isn't actually a fig tree in site, but the square, which is bordered by olive trees, oleander, bamboo and traditional shuttered townhouses, is a lovely spot to dine outside in Perpignan. Le Figuier is just as good a choice in winter when the weather is less clement, with an interior which offers 70 covers in a cosy and convivial atmosphere.
The restaurant describes itself as a "Bouchon Catalan". This is a playful take on the concept of the traditional "Bouchons Lyonnais", restaurants serving local Lyonnais specialities, with a focus on a convivial atmosphere and a personal touch rather than aspiring to the notion of haute cuisine.
Although tucked away off the beaten track, Le Figuier is a popular spot both with the lunchtime work crowd, and evening socialites looking for a relaxed vibe and Catalan food with a twist. This is testament to the fact that it is clearly run with passion and commitment by the team of three friends whose aim was to create a place that they would be happy to eat at every day. In this I think they have succeeded.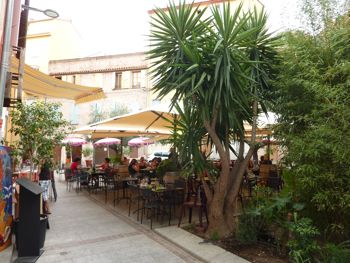 The trio bring their different but complementary skills to the table (quite literally!). Jean Roure is the charming Catalan front-of-house man who, in his own words, is there to make sure everyone has a good time. It's worth noting that he speaks very good English if you need help with interpreting the menu.
The chef de cuisine, Cyril Deroche, has worked in a number of Perpignan eateries, including Al Très, before taking over Le Figuier. Trained under Michelin-starred chef Michel Portos, Cyril produces a seasonal menu which is a showcase for local products and small-scale regional producers. Menus include such delights as rosée des Pyrénées veal, pork cheeks and Mediterranean seafood.
The third member of the team is Frédéric Prieur, the sommelier who has put together an interesting selection of wines – 80% of which are from the region, others coming from other parts of France, Spain and Italy. No pichets here! The restaurant steers clear of American products, offering instead organic lemonade and cola, as well as beers, from Argelès-based award-winning producer Cap d'Ona.
The food is best summed up by the words "fresh" and "simple". There is an à la carte menu as well as a selection of tapas, which can also be eaten as starters. At lunchtimes (except Saturdays) there is a set menu priced at 9,12 or 15 euros respectively for the plat du jour, 2 courses or 3 courses. The staff were happy to answer the myriad of questions we had about the dishes and their friendliness made up for service which was generally good but teetered towards slapdash when the dinner service was in full swing and the restaurant was at its busiest.
So what did we eat? I kept it sea-based with enormous and very tasty flambéed prawns from the tapas menu as a starter and beautifully cooked and simply presented whole sea bream. I would recommend both. Mark went for the gazpacho, packed with flavour and the succulent and generous beef skewer. No complaints there either. The in-laws went for pinxos de casa (marinated pork skewer) which was probably the weak link of the meal, and described by my mother-in-law as "fairly ordinary". We couldn't fault the portion sizes except that they didn't leave room for desserts!
There is an 11 euro children's menu, although we weren't offered it when we ate so do ask. The salmon or bavette (steak) with potatoes and vegetables made a refreshing change from the standard steak hâché or ham and chips offered at most places, dessert was ice cream or chocolate cake.
All in all I'd say convivial atmosphere and personal touch pretty much nails it – this is well worth a visit when you're in Perpignan.
Planning a day out in Perpignan – here are some ideas for things to do:
Shopping – rue du Figuier leads off rue de la Révolution Française which houses a number of studios of local artists and photographers where you can browse. The city's old streets mix high street names with quirky one off boutiques
The Castillet – climb to the top and appreciate the views then visit the Casa Païral which houses the Musée Catalan des Arts et Traditions Populaires
Castillet Cinema – the cinema in this beautiful art deco building often shows films in English, including some of the big latest releases (look for VO in the listings which stands for version originale)
Le Palais des Rois de Majorque – views and impressive architecture dating back to the 13th century at Perpignan's most important historic monument.
7 rue du Figuier
Place Joubert de Passa
66000 Perpignan
Tel : 04 68 63 14 82
Open Tuesday to Saturday, lunchtime 12-2pm and evening from 7.30pm