Restaurant reviews – Summer 2014
With Kate and Mates
I am no gourmet 'foodie', but I know what I like. Fresh, tasty food, good and friendly service, clean cutlery, crockery and loos, and prices that don't send me into shock compared to the quality of the meal. The following reviews are not adverts. They are just restaurants that I have enjoyed or that friends have recommended. Bon appétit!
Perpignan – Dove andiamo a cena stasera?
Spaghetteri'Aldo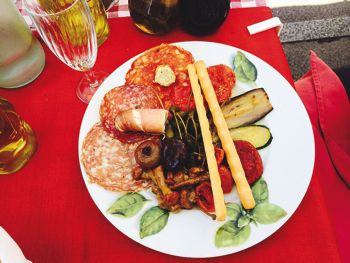 There are many good and some great restaurants in Perpignan, but Spaghetteri'Aldo ticks all the boxes for me, as a resto which caters for everyone – vegetarians, carnivores and 'pativores' (my made up word for pasta eaters, so don't quote me!)
A stone's throw away from the Castillet, heading past Galleries Lafayette towards the Théâtre de l'Archipel, this bright and cheerful Italian restaurant, run by Magali and Philippe (who has 20 years of 'cheffing' behind him) is small on price, but big on flavour and quality produce. Eat indoors or on the terrace, which despite being near a main road, wasn't disturbed at all by passing traffic when we visited in mid-May.
The dilemma? How on earth to choose from such an amazing range of pasta dishes? Ravioli au foie gras, spaghetti vongole with clams, mussels and king prawns, tortellini au crabe, rigatoni, tagliatelle, fettuccine…along with speciality mushroom or seafood risottos, traditional Italian meat dishes, good choice of saIads…and antipasti to melt even the hardest critic's heart. Too much to describe, you have to taste to believe! My friend, a 'hearty' eater to say the least, couldn't finish her main course, a rare occurrence!
Described by many as 'les meilleures pâtes de Perpignan' (no pizzas!), Spaghetteri'Aldo also has a good choice of light Italian summer wines and homemade desserts to cry for.
Definitely at the top of my list next time I eat out in Perpignan.
The Conflent – deee-vine and deee-lish
A couple of restaurants in the Conflent worth a visit to remind us that we can't always judge a book by its cover! Both offer a similar lunchtime idea of 'plats combinés', made up of nibbles, starter and main course, all served together on a large platter.
Le Square in Ille Sur Têt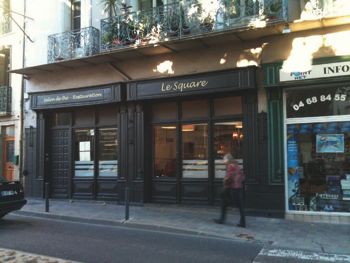 This little gem resembles a slightly dodgy north London pub but do not be deceived! Dine in, or sit in the shade of the olive tree in their pleasant courtyard, where simple fresh ingredients are perfectly cooked. Choose from a variety of tapas, seafood medley, meat and poultry dishes, home made chips, home made desserts (look out for strawberry Tiramisu – it is deeeeee-vine!)….. And at 14.90€ including coffee and desert (or just 7,90€ for the excellent children's menu) this is definitely one of the best finds in the Conflent.
55 Avenue Pasteur,
Ille-sur-Têt
Tel: 04 68 61 48 40
Le Royale in Molitg Les Bains
A bit of a spit 'n sawdust bar with a plastic tent attached to the side, but prepare to be delighted when your meal arrives. A presentation that wouldn't be out of place in a smart gastro pub or pricey bistro, a superb 'mains' selection is surrounded by an array of mouth-watering 'tasters' – pumpkin velouté, paté, salmon tartar, guacamole, marinated raspberries … according to season.
The 15,50€ menu includes wine, but not coffee or desert (but worth a little extra for the deeee-lish chocolate fondant)
4 Bis Les Thermes
Molitg-les-Bains
Tel:O4 68 05 05 26
The Coast – nautical….but nice
La Marine in St Cyprien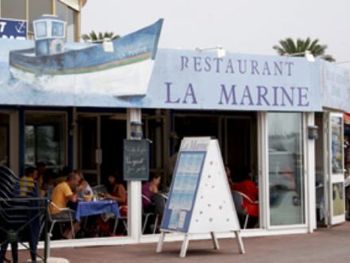 First-hand views over the port, ample parking just opposite the Tourist Office, (maybe less ample in high season) outside and inside dining in a cosy nautical atmosphere.
Husband & wife team, Hervé (in the galley) and Valérie (at the helm) offer a wide range of dishes, with the accent on fresh fish, and a 3-course set menu from just 16€.
My friend chose a very copious foie gras salad and I decided on the smoked salmon maison.
Our mains of cuttlefish and a seafood platter (white fish, mussels, squid, sauté potatoes) were big enough to feed an army.
No room left for dessert, but the home-made thickly-coated chocolate profiteroles proved irresistible. (Just a little longer out of the fridge would have made them even better!)
A pleasant, thoughtful and satisfying meal with warm and friendly service.
(PS After the seafood platter, we watched in fascination as the waiter produced a small, flat white pastille on a plate, added hot water, ……and it sprang into life, quadrupled in size, turning into the best beautifully hot hand cloth I've ever seen!)
6 Boulevard Desnoyer
Saint-Cyprien
Tel: 04 68 39 06 21
The Vallespir – Right Said Fred
L'Atélier de Fred in Céret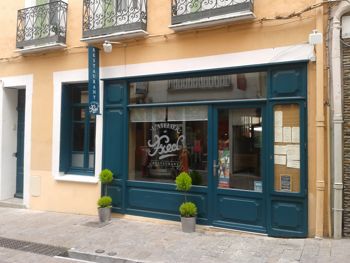 Not the first time we have mentioned the consistently excellent Atélier de Fred in the heart of Céret, so a very short nod to a superb restaurant!
Small and intimate, imaginative cuisine, using market fresh ingredients, the lunchtime formule changes regularly (19€ for two courses, 23€ for three) and is an excellent value introduction.
In the evenings, choose from the 'carte', or two 'menus' of 28€ or 39€, both three courses.
Original, home made desserts, short, but well-chosen wine list, (with fabulous, well-priced pichet wine from the popular Piquemal winery) this is a fine restaurant with high quality food and service.
The Catalan tradition for an "-ada" (a collective meal for many, based around a single ingredient,) often creates some highly unusual, charming festivals where the whole community meet up in the 'place'. Some examples are bullinada (fish stew), cargolada (grilled snails), ollada, (a winter stew), escalivada (grilled veggies), calçotada (char grilled onions)…