Automne Musical en Vallespir 2013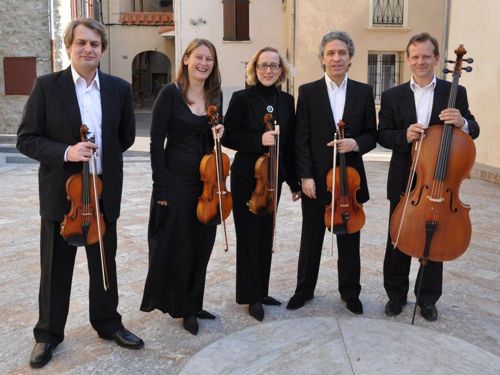 The second weekend of the festival saw a packed audience in the church of St. Etienne in Maureillas welcomed a quintet of soloists from the Orchestra of Montpellier. With four wind instruments and a cello, they gave virtuoso performances in a varied programme including Mozart, Malipiero, Villa-Lobos and C.P.E. Bach.
It was the turn of Céret, in the church of St. Pierre, to welcome the first concert of the last weekend of Automne Musical en Vallespir 2013. On Friday 25th October the ensemble 'Tutti Bassi' re-united 7 Catalan-based cellists and a double bass player. All masters of their instruments, they were joined by the beautiful voice and presence of soprano Ulrike Van Cotthem in a programme of romantic music from Bellini to Piazzolla and from J.S.Bach to R.Strauss.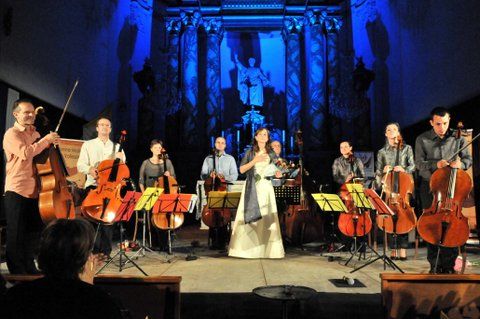 Saturday 26th featured the wind quintet 'Kafka, playing in the Church Sant Vicens in Reynes. This Gerona-based group of 3 glamorous young women (on flute, bassoon and French horn) and 2 young men (on clarinet and oboe) delighted the audience with the verve of their renditions – especially Didier Faure's 'Vent de Folie' and Piazzolla's 'Libertango'.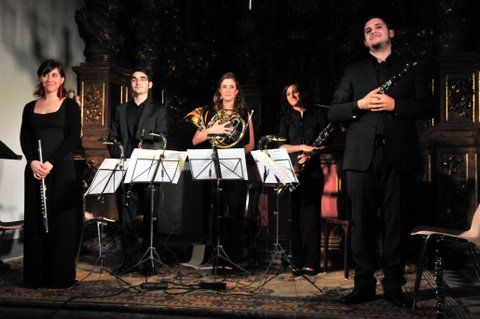 The closing concert was so well-attended that every seat was taken in the church of Sainte Marie in Le Boulou. Over 200 enthusiasts were treated to a glorious musical feast. François Ragot, superb cellist and musical director of the festival, had brought together a wonderful range of talents, with regular members of the ensemble 'Mare Nostrum Musicae', including Frédéric Descargues on first violin, being joined by others soloists from Gerona's Giorchestra. For the second part of the programme the orchestra was further extended with musicians from the l'Orchestre Symphonique Régional de Canet Roussillon-Méditerranée.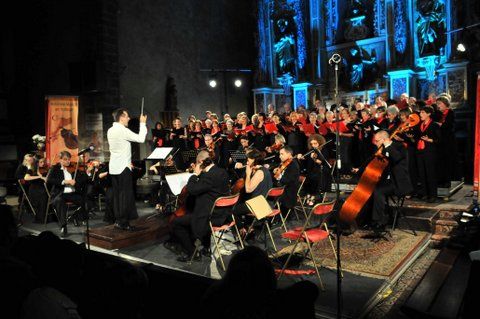 The youngest star of the evening was Judith Botanch, who was invited as soloist to play a Mozart piano concerto (op 144 in L Major). Born in December 2001 she joined the Conservatoire in Gerona at the age of 5 and has already won prizes in a number of music competitions. Her composure and faultless playing was greeted by a storm of applause. As a child prodigy himself, Mozart would surely have approved!
The climax of the evening saw the members of choirs from St Cyprien, Le Boulou, Perpignan and Avignon reuniting to perform the Masse aux Chapelles by Gounod, which they had previously sung on Easter Sunday in the cathedral of Shanghai.