Trace Catalane 2015: Sunday 4th January 2015
Review: La Trace Catalane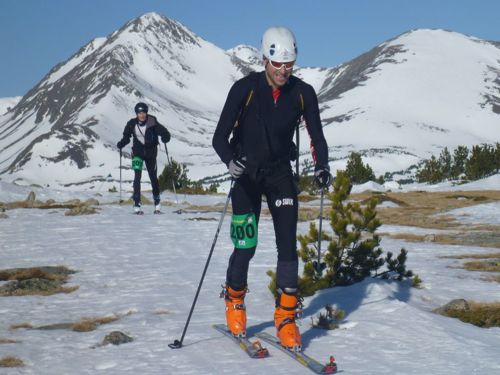 "The 27th Trace Catalane ski mountaineering race took place on Sunday 12th January, 2014 in the village of Les Angles. Many keen skiers love to ski "off piste" but I am sure that very few people know anything about ski mountaineering, especially the competitive kind.
I love to ski in the back country and even climb mountains on my touring skis but at my advanced age I have never contemplated racing so I thought that I would go and have a look at the Trace catalane and see what it involved.
Les Angles has hosted the "Trace" ever since it started and the organisers from the Sport Montagne Cerdagne Capcir pick a different route each year, depending on the weather and snow conditions, with potential avalanche risk being the main factor.
This year they decided to start the race from the Plateau de Biggore at the top of the Les Angles Gondola. There was 300 skiers attempting 3 different courses with 150 tackling the hardest one which climbed over Mont llaret 2376m, Petit Peric 2690m and Pic Peric 2810m before returning over Mont Llaret to the top of the Gondola. Nearly 20k with 1800m of ascent.
Normal ski touring kit is quite similar to piste skiing kit but tends to be lighter and the binding is able to pivot at the toe when going uphill whilst locking at the heel for downhill. To go uphill, "skins", originally seal skin but now artificial, are attached to the ski base and held in place with special glue. They have a pile which enables them to slide forward but grip when moving backwards. Racers are able to put these on and off without taking their skis off.
Touring boots are a lighter version of normal ski boots but with a walk mode. My first look at race kit was a real eye opener. A friend's son is one of the top juniors in the Cerdagne and his skis weighed less than half of mine. The minimalist binding was made out of titanium and weighed less than 300 grams against nearly 2k for mine! Boots are carbon fibre as are ski poles and it seems obligatory to wear a one piece lycra suit, not something that would look good on me. As you may have guessed, all of this weight saving is designed to get you uphill as fast as possible but the downside is that skiing downhill is an absolute nightmare as they have no stability.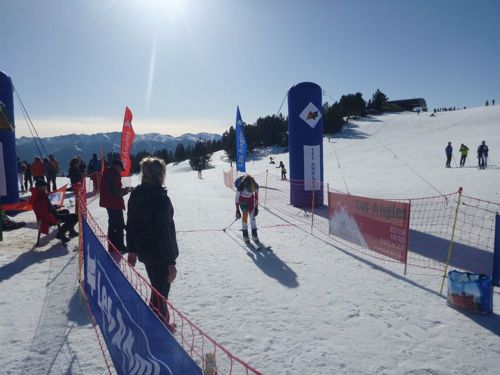 Watching 300 people race up to Mont llaret is an awesome sight but I knew that there was no way I could keep up with then so I had a coffee and set off up at my own pace knowing that I could take it easy and catch them on the way back.
Anyone who has walked over the top of Les Angles and climbed the Perics knows just how far it is so reflect on the fact that the winner of the Trace Catalane, Marc Pinsach, a member of the Spanish team, managed to climb over Mont llaret, descend to the Cab. De Balmeta 2120m, climb Petit Peric 2690m, descend to the Camporells lakes 2250m, climb Pic Peric 2810m, descend to Balmeta and climb back over Mont Llaret all in 2hours 6.5mins.
This course does not just happen by accident. The organisers plan the route for several months and it takes a week to mark the route with special paint and tape as well as protecting some of the steep descents with more than 300m of rope. The check points have to be manned by members of the Pyrenees Catalanes Ski Alpinisme club, many of whom will have had to set off the day before and then everything has to be cleared up afterwards. Security is important and all of the competitors have to have a harness, crampons, snow probe, shovel as well as wear an avalanche transceiver. This equipment is the norm for anyone venturing outside of the marked ski area.
By the time I had arrived at the check point at the summit of Mont Llaret the winners were already heading back towards the finish for their elevenses. They were fortunate that the weather was perfect as running an event like this in bad conditions is a real problem.
Ski mountaineering racing is a young person's sport and judging by the age of the people passing me, male and female, the local sport is in great hands.
Fortunately ski touring in the mountains is a pastime that can be undertaken by all ages as long as you are a competent skier so why don't you look at renting some kit, hire a guide and have a go. You won't look at skiing in the same light again and why not come up to Les Angles next year to see just how the top racers do it "
Mike Rhodes is an International Mountain Leader / Accompanateur de Montagne, lives all year in Les Angles and specialises in guided walks in the high mountains and Snowshoe trips in winter. He can be contacted on 0033(0) 46 80 43 728 email: mike.rhodes@free.fr or visit his web site at www.pyrenean-trails.com