30th JULY
The origin of this procession goes back to 1465 when a shepherd of Montbolo called Noguer de GASNACH had a vision at the Col de la Porta (Col de Formentere).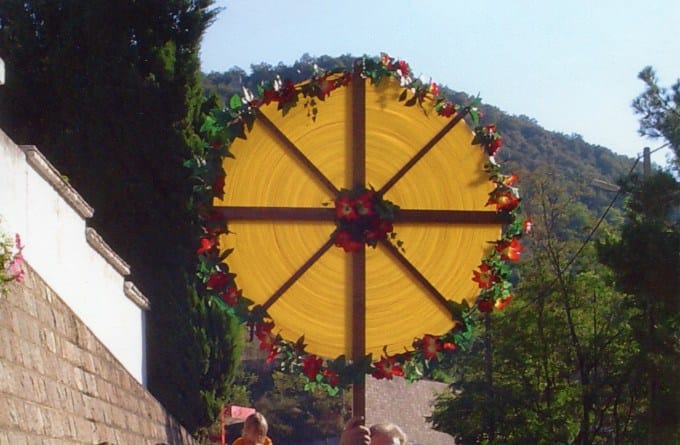 In this vision, two witches came to Montbolo, bringing with them bad weather. When they arrived at the Col, they were unable to pass as the two saints, Abdon and Sennan stood before them.
They were therefore obliged to take away the bad weather and destroy the crops elsewhere. Naturally, the villagers were very grateful to the two saints and decided to make that day a yearly celebration, a thank you to Saint Abdon and Saint Sennen for saving the crops.
Since then, every 30th of July the inhabitants carry together a coil of bees wax (the Rodella) fixed to a cross as an offering to the Saintly protectors of Arles-sur-Tech and various entertainment and activities take place throughout the day.
The procession leaves on foot from the church of Montbolo at 7h, heading down forest paths towards Arles-sur-Tech. Catalans in traditional local dress, carrying the relics, meet up with the Rodella around mid morning in Arles and the whole procession continues on to the église Sainte Marie d'Arles where they kneel, embrace the saintly relics, and attend Mass.
Holy water is distributed from the Saintly Tomb and you can buy mini Rodellas which give you the power to send away any storms!
Combine a visit to this delightful village, with its amazing views and large fortified XII century church, with lunch or dinner at the Bistrot du Pays with its 'point d'art' and traditional Catalan cuisine (You can see a review here). Take a wander through the 'jardin botanique' and the fascinating 'parcours géologique' where the different stones mined in the Canigou are on exhibition. If you're feeling fit, walk up to the old mine workings of Batère, a fascinating insight into the mining industry of the Canigou's past, with view over Canigou, the Alberes, the Vallespir, the Tech valley, the Roussillon plain and the Mediterranean.