This Catalan sauce has a wonderfully complex flavour and conveniently keeps for at least a week in the fridge. It is traditionally served with Calcots, but works beautifully with simply-cooked fish, roast chicken, and even over warm new potatoes. In this instance I suggest serving it with a simple Tortilla Espanola. I prefer to ditch the food processor and use a large pestle and mortar, but this is not essential, it just gives a more authentic and satisfactory texture to the sauce. Nora peppers are relatively easy to source these days; I usually buy mine from Sainsbury's, Waitrose, or Brindisa when in the UK, but they are also available on-line.

♣ 3tbsp Sourdough Breadcrumbs
♣ 6tbsp Extra Virgin Olive Oil
♣ 1 Large Clove of Garlic (crushed with a pinch of salt)
♣ 15 Whole Almonds (ground)
♣ 15 Whole Hazelnuts (ground)
♣ 2tbsp Sweet Smokey Paprika
♣ 1 Large Tomato (chopped)
♣ 1 Dried Nora Pepper (torn apart and soaked for 10 minutes in hot water)
♣ 150g Piquillo Peppers (finely chopped)
♣ 1-2tbsp Good Quality Sherry Vinegar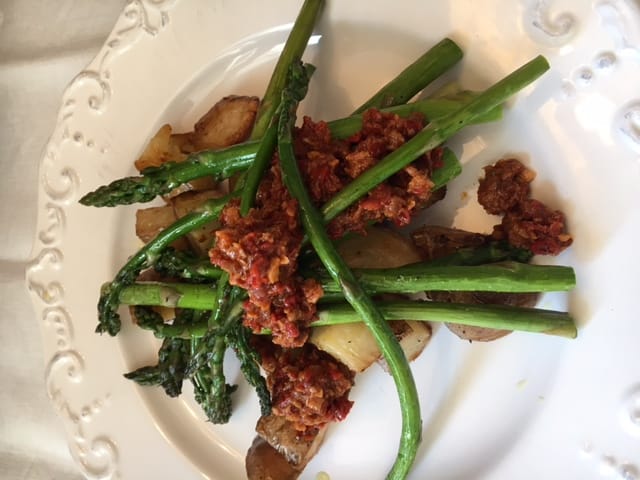 ♣ Remove the seeds and the stem from the pre-soaked Nora pepper, then finely chop the flesh.
♣ Heat a medium frying pan. Add 3tbsp of olive oil. Add the breadcrumbs and gently fry until golden brown. Transfer the breadcrumbs into the food processor.
♣ Add 3tbsp of olive oil, the ground nuts, and garlic to the pan and fry until they turn golden brown. Add the paprika, the tomato, and a pinch of salt. Cook for a few minutes until any excess water from the tomato has evaporated.
♣ Stir in the Nora pepper and the Piquillo peppers. Add the vinegar. Fry for a minute, and then empty the contents of the pan into the food processor. Pulse until the mixture is combined but still has some texture.
♣ Season to taste and refrigerate until needed.
[/vc_column_text][/vc_column][/vc_row]