With Mike Rhodes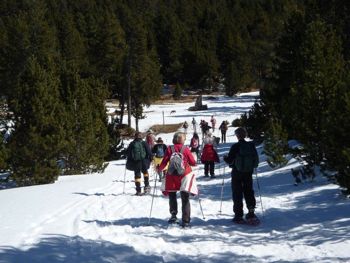 At 10.00am on a beautifully clear day, we assembled at the col de Creu between Matermale and Sansa for the second of our winter snowshoe walks.
Our previous walk in the valley of Planès had been a great success so this time we had planned a bbq at the unguarded refuge les Estagnols, on the slopes of the Madres peak.
Earlier in the week the route had been covered in snow but we were concerned that four days of hot sunny weather may have changed conditions.
We had planned a circular route so after picking up snowshoes from the hire shop, Ian and I left our cars at Sansa and returned to the col to fit our clients with snowshoes and poles.
Our regulars are now very adept at adjusting the "racquettes" but there are always new people who need some help and this time with substantial amounts of food to be carried and 20 people to be fed, we needed to split up the food between everyone. It looked strange to see some of the 10 baguettes strapped onto the outside of sacs.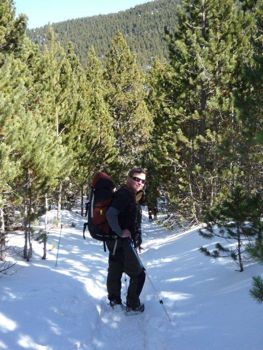 Normally we are a group of adults but now in the school holidays we had several children as well as three dogs including Lily, our Pyrenean Mountain dog, Bertie, Jane and Phil's dog and Luba, owned by one of Ians neighbours, but who always seems to live at Ian's house.
Initially our fears about the snow conditions seemed well founded as we set off through the snowless forest above Matermale but soon we hit the track and with relief, lots of snow.
The track climbs steadily for a few kms and in the sun, jackets were soon being removed and the normal comments of "you told me it was flat" could be heard reverberating around the group but the stunning views down towards Sansa and Olette soon took priority especially as the path now levelled off.
Regular nature calls and stops for photos also helped. Crossing a small col to the west, we traversed the belvedere overlooking the Capcir valley with stunning views over the mountains beyond. This was a view that most of the group had never seen before and some time was spent identifying the high summits of Pic Carlit, Peric and Roc Blanc with exiting promises being made for walks in the summer.
Descending to the col de Sansa the refuge could be seen on a small knoll a tantalising 40mins away, but before long we were all ensconced at the refuge with only a bbq for 20 people to prepare.
Collecting all of the food together we started to look for kindling to start off the fires. The refuge has three bbqs and a good supply of dried wood so getting things going was not difficult especially fortified by some of the 5L of red wine that we had carried up.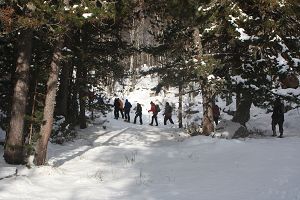 The refuge at 1792m is in a great position overlooking the Garrotxes valley with views over to the mountains on the Spanish border.
Facing south it is a perfect sun trap to while away the time whilst we chefs get cooking.
This is a private refuge so Ian had picked up the key from the Maison de Capcir that morning. It has electric but no water so clean snow has to be melted and boiled on the stove whilst the wood burnt down to embers suitable for cooking.
The refuge has sleeping accommodation for more than 12 people and makes a great overnight stop for an ascent of Le Madre and surrounding peaks.
Soon the smell of Catalan sausage and porc chops were filling the air and people were tucking in to hot dogs covered in sauce or some of Jennys home made pickle and relish followed by the chops, baked potatoes, home made coleslaw and salad. Oh how plastic plates and cutlery makes these events much easier to put on nowadays. A selection of cheeses and coffee followed by bon bons and chocolate mints ended our repas.
No-one seemed too keen to set off again after lunch but after cleaning up and making sure that the fires were out we set off with the promise that "it is all downhill".
Passing a small etang, the normal water supply, we descended through the trees on snowshoes and into open pasture land with a typical "Orri" in the meadow.
At this point we had run out of snow on these south facing slopes and we continued our descent on foot following the route of a proposed mountain bike descent. "Not for me" cried many, so I don't believe that Ian, a mountain bike guide will recruit too many clients from this group.
The descent to Sansa took nearly 2 hours but it was a really enjoyable walk in perfect weather. Sansa is a really old farming village which once upon a time, must have been really remote, being at least 20kms up the valley from Olette on a road that even today is a narrow single track road.
Another steep descent below the village brought us to the cars and a tired but very happy group of walkers were re-united with their cars after a wonderful day.
Many thanks to my wife Jenny for her help, support and allowing me to take some of her precious pickles, Ian & Angela Pendry and Paul Williams an International Mountain Leader from Carcassonne.
The sun is still shining and the snow is melting fast so I am not sure whether another snowshoe walk will be possible but watch PO Life for details of summer guided walks.
Mike Rhodes is an International Mountain Leader / Accompagnateur de Montagne, lives all year in Les Angles and specialises in guided walks in the high mountains and Snowshoe trips in winter. He can be contacted on 0033(0) 46 80 43 728 email: mike.rhodes@free.fr or visit his web site at www.pyrenean-trails.com