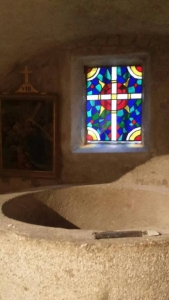 Teresa Wennberg, Swedish multi media artist, arrived in Vallespir in 2008.
But this was not her first encounter with Catalunya – her debut exhibition as a painter was at the gallery Sala Gaudi in Barcelona in 1974 and she has lived for long periods in Cadaquès.
Catalunya is brimming with cloisters, prieurés and churches that local inhabitants as well as tourists love to visit and admire. One of the most beautiful ones is the small parochial church, Eglise St Martin de Corsavy, built in the 1650 on the site of the ancient chapel of the masters of Corsavy, which was destroyed by an earthquake in 1428.
Teresa started renovating the broken windows of the church in 2014.
"One day, I remarked to the Mayor of Corsavy, Antoine Crysostome, that it was a pity to see that several windows in the church were broken. And before I knew what I had started, I was standing in the church with a paper box full of pieces of dirty old glass and distorted pieces of lead in my hand. I am a visual person, a painter, a video maker, a creator of 3-D images and Virtual Reality with enormous computers, but this was a new challenge!
I started studying on the Internet how to cut and assemble glass windows,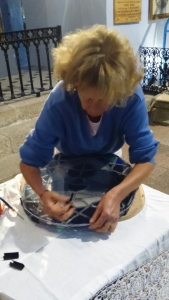 I consulted books about old stained glass windows and analysed their composition and design, I tried out the various special tools that are required, and practiced cutting and soldering with a window from our kitchen that had to be replaced. It was quite difficult!
The hardest is to cut correctly and not break the glass wrongly, but all the moments in the construction process are delicate and quite complicated. As soon as I felt secure enough to start restoring the first window, painstakingly replacing bit by bit of the old and decrepit pieces with new antique glass shapes with the same coloration and soldering it together with new lead. The motive turned out to be the shape of the "Sacred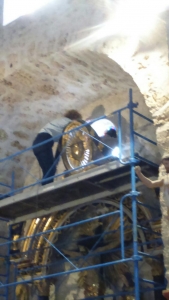 Heart" (Sacre Coeur), placed in the middle within an oval of red, green and blue triangles. We couldn't find any signature, nor a date. Actually, I didn't sign it either.
The next one, a rectangular window, was a composition of my own design. I respected the color scheme from the first one and took up exactly the same red, green and blue and added a darker green for variety. This window has a cross in the middle and free composition of coloured pieces around it.
In the corners, a tribute to the Catalan sun.
There are more to come, but it's a long term project. I hope to finish end of summer 2016. I hope that my work will attract people to visit this beautiful church and village! "
PS To visit the church, one must ask for the – gigantic – key at the local épicerie-restaurant Chez Francoise opposite the church..