Water Sport – Saint Jean Pla de Corts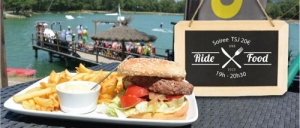 Love water sport but tired of sand in every orifice? Simples.
Follow the wild screams of excitement (and the sign for the Plan d'Eau) to the 'téléski' at Saint Jean Pla de Corts and take a walk on the wild side.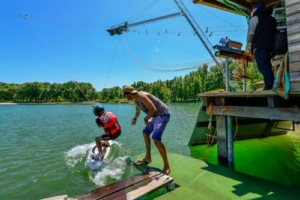 If you're a fan of thrills and spills, (and we wish you more of the first and less of the second bien sûr!), you won't be able to resist a visit to this 'téléski', the most southern in France, to try out, practice or perfect your water-ski and boarding skills. Monoskiing, wakeboard, wakeskate and kneeboard await – maybe with a few 'Air Tricks' once you've become a bit of a pro.
Towed along the water by overhead cables attached to pylons, the 2 pylon run is suited to absolute beginners from 7 upwards, who can quickly progress to the main 5 pylon run. This 600m clockwise circuit, travelling at a speed of 30km/h, has jumps and obstacles, adding a bit of spice for the more experienced.
And don't panic if you're more of a landlubber. There is a sunny lakeside terrace and snack bar overlooking the action, the perfect spot for a cold drink or snack, or even a delicious continental breakfast
Take a stroll, soak up the sun, and cheer the skiers on from benches strategically placed around the lake.
Book on line in advance or on site when you arrive.
It's a unique experience, big-time fun for all ages from 7 to 77!