Grub-ada
The Catalan tradition for an "-ada" or 'ade' in French, denoting a collective meal for many, and based mainly around a single ingredient, often creates some highly unusual, charming and community spirited festivals where the whole village meet up in the 'place'.
Some examples are bullinada, (fish stew) cargolada, (grilled snails) ollada, (a winter stew) escalivada, (grilled veggies) calçotada, (char grilled onions)
Cargolade


Usually kept for special occasions, this is made up of snails, together with local sausages, black pudding and lamb chops, all grilled over a fire from pruned vines.
Escalivada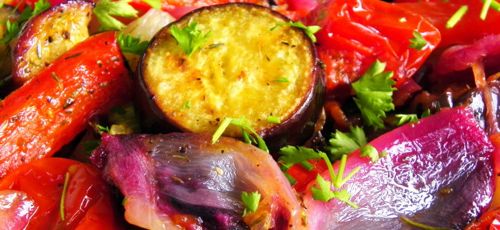 A recipe for barbeque season!
Escalivada comes from the Catalan word escalivar, meaning "to char", as the vegetables were traditionally cooked over embers to give the smoky flavour that is the essence of the dish. Serve as an entrée with crusty or toasted bread, or as an accompaniment to roast meat or fish, warm or at room temperature, but never straight from the fridge.
Ingredients
2 aubergines
2 green peppers
2 red peppers
4 red onions
8 tomatoes
30 cl olive oil
salt and pepper
1 large clove of garlic, chopped
1 tablespoon sherry vinegar
2 tablespoons coarsely chopped flat-leaf parsley
2 teaspoons small capers in vinegar, drained
Preparation
Char-grill or barbecue peppers and aubergines until soft and tender, then transfer to a bowl, cover with cling film, and stand for 15 minutes. Peel both, removing seeds from peppers and tear into large pieces. Remove stem end of aubergine and tear lengthways into pieces. Chop onions and lightly brush with olive oil, then char-grill or barbecue for 3-4 minutes on each side or until tender and golden. Place char-grilled vegetables on a large platter or in separate bowls. Place garlic and 1 teaspoon sea salt into a mortar and, using a pestle, pound into a smooth paste, add ¼ cup olive oil, vinegar, parsley and capers. Season to taste with freshly ground black pepper, drizzle mixture over grilled vegetables, and serve with crusty bread.
Bullinada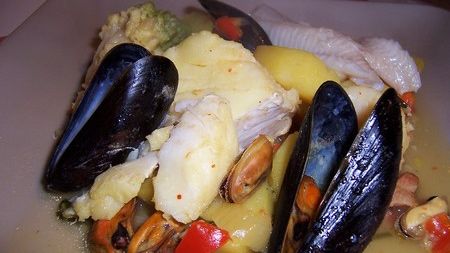 Catalan fish casserole traditionally made with eel but as this is not always easy to get hold of, there are many fish alternatives
Ingredients:
1.5 Kg of fish: whiting, red mullet, king prawn etc
1 Kg of potatoes
1 or 2 red peppers
½ teaspoon of saffron
5 or 6 cloves of garlic parsley
2 tablespoonfuls of flour
2 tablespoonfuls of olive oil
salt and pepper, parsley
Preparation
Peel and cut the potatoes into thick slices. Clean the fish. Put the garlic, red pepper and parsley in the pot and add a layer of potatoes, and then a layer of fish. Sprinkle each layer with some flour and pepper, and then finally add the saffron. Cover the whole mixture with water and boil for 15 mn