The Earliest Europeans……. told by Tautavel.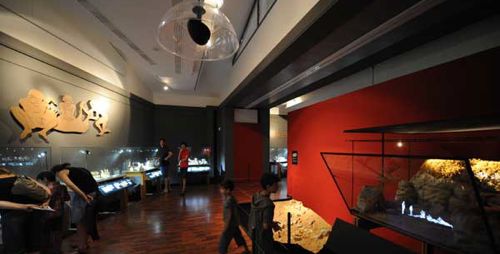 So where did they come from 1.8 million years ago? What did they do?
The story of those first Europeans is to be found in le Nouveau Centre d'Interpretation in the Palais de Congrès of Tautavel.
Easy to find by taking the small road between the Town Hall and the Post Office with their attractive ceramic mosaic decorations. A ceramic mosaic panel "l'homme arrive en Europe" assures you are on the right path.
The exhibition tells the story of man's arrival in the Caucasus from Africa all those millions of years ago and plots his journey towards Asia and Europe. It is clearly shown, easy to grasp and fascinatingly presented.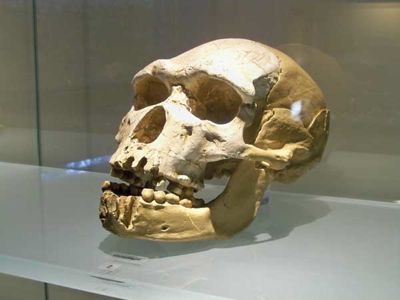 From the days before he had learnt to hunt and following the trail of the tools he made and the fossil remains of ancient animals, it starts with a shadow puppet show. In it, a group of our ancestors is shown removing the meat from a deer killed by a sabre tooth tiger, illuminated by the fire of an erupting volcano the ashes of which will smother them and leave us a record of their passing.
Through Italy, France and Spain we follow him in a series of 3 dimensional optical plays, in a large tactile virtual book and on a touch screen scanner as he becomes a hunter, discovers fire, builds himself huts, comes to stay…
Open from 14h30 – 17h30, the very reasonable entrance ticket is 2 euros for adults, 1 euro child or take an 8 euro adult, 4 euro child ticket to visit the Tautavel Museum and Centre of Prehistory as well, an inspiring place, where students come from all over the world to study Prehistory, where the original archaeological finds are stored and where copies are meticulously made for use in exhibitions and museums worldwide.
Walking to the Museum through the village it is hard to resist the many wine caves offering tastings of the excellent wines of Tautavel, or the brilliant and stylish Raku pottery of Juan and Marilyne Verdy, or the grenat jewelers, or the tempting restaurants. All potential for a great day out…but, for a taster and a riveting outing for all ages, the First Europeans of Tautavel beckon.