Bayonne 31 – USAP 20
With Mike Thomas, Sorède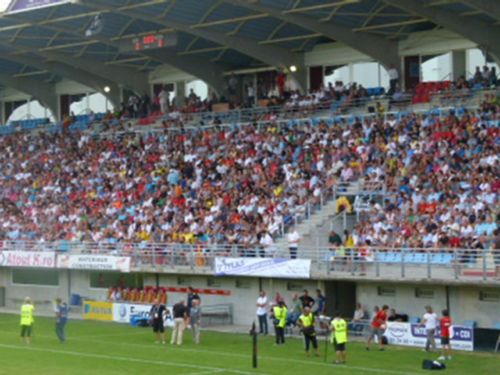 In the space of 8 minutes early in the second half three USAP players received yellow cards for foul play and at one point the Catalans were down to 12 players against Bayonne's 15.
What a nightmare! During the absences of Hahaamahina, Mafi and Mjekevu the Basques took full control and only a late try by James Hook, for USAP, gave the score an element of respectability. That is two loses so far out of three and the next match against Grenoble on Wednesday night takes on greater significance. Another defeat at the Aime' Giral will put the local team into the relegation zone.
This was a game of paradoxes because USAP started well, playing with commitment and commendable discipline. There was a marked improvement in the scrummage, defensive organisation and the tackling was highly competitive. At half time they were only 13-9 down and the general consensus was that they were in with a strong chance of victory. Then disaster struck. The three cards took the stuffing out of the remaining players and Bayonne took full advantage by scoring 11 points while USAP were understrength. This was followed by a Spedding try, created by the powerful Welsh scrum half Mike Phillips.
Positives for USAP were Hooks persistence in saving the honour of the team and young Camille Lopez's 15 points through four penalties and a drop goal. Strokosch, the Scot, again showed his true Warrior qualities in fighting for every loose ball in his vicinity. A worry is the fact that the Captain Bertrand Guiry is injured and is likely to be out for 8 weeks. On the other hand, the imminent return of International hooker Guilhem Guirado is likely to provide solidity and aggression in the front row.
Why not pop along there on Wednesday for a 19 h kick-off and give the lads some support?