Tony Goodman continues his tour of regional wine producers, chatting to the vignerons and recommending wines that have inspired him. A bit of poetic licence will allow you to enjoy some fun observations from this talented amateur wine taster.
This winter he visits another four fabulous domaines; Domaine Lafage, Château du Mas Deu, Mas Cristine and Abbé Rous (Terres des Templiers).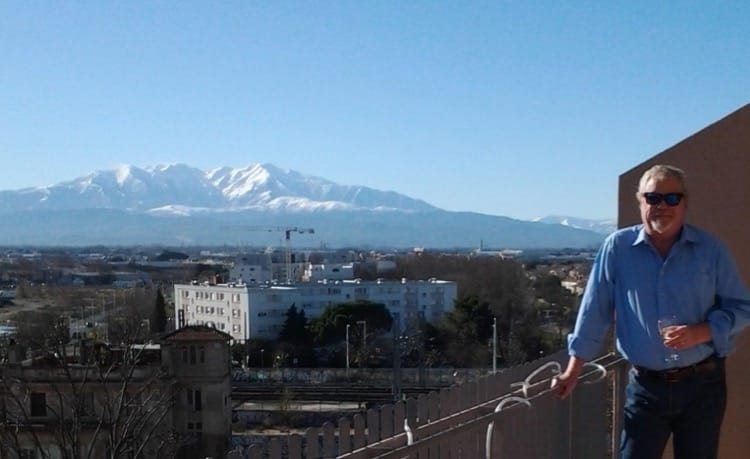 The history of wine making in the PO dates back to the pre-roman Phoenicians. Ancient winemakers saw promise in its hot red plains. With bloodied hands they hacked and stacked razor edged stone to create the terraces of Banyuls and Collioure. Their modern descendants also craft their wines within a framework which allows a level of individuality other wine producing regions never experience. Vines are matched to precise microclimates, old vines are respected for the quality of their grapes not the quantity. While other regions require their winemakers to be chemists and mechanics PO's master winemakers are allowed to be alchemists and magicians.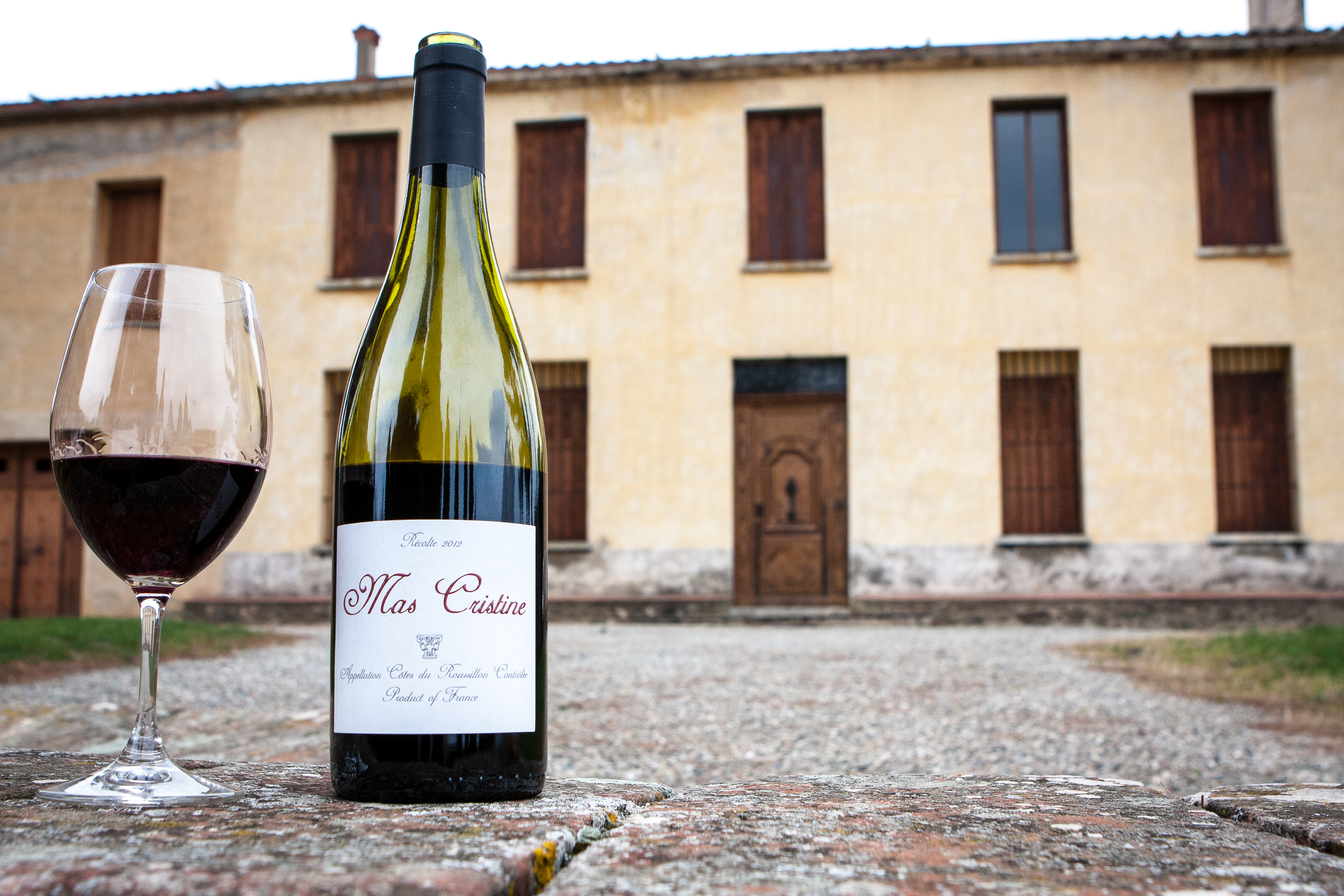 YOUR VISIT
The Argeles/Banyuls/Collioure pocket is a special magical place where the Pyrenees cools down after its cross county run by plunging into the sea. The interaction of mountain morphology and the silky soft Mediterranean has created a truly extraordinary terroir. In his state of the art winery master winemaker Andy Cook and his team use grapes from precise pockets of old vines to craft a range of fine wines that can be found on the wine menus of the best restaurants in the world.
Surrounded by vines the new purpose built winery. The salle de degustation is an integral part of the winery. Andy personally guides visitors through his comprehensive range of wines. Plenty of parking and facilities. Ring ahead especially around harvest time.
VIN BLANC: MAS CHRISTINE
Grenache Gris 33%, Grenache Blanc 25%, Macabeu 25% Roussanne 9%, Vermentino 5%, Carignan Gris 3%
A showcase of the winemaker's blending and balancing skills and the generosity of the areas schist rich geology. Peach with a hint of Tahitian lime aroma. An alert crisp wine perfect with a seafood platter, cheese and with enough presence of mind to carry you from the pre dinner apero, through the warm goat cheese and roquette salad entrée and well into a seasonal main course of free range roast chicken. Chilled around 12C, while it could be laid down for say 12 months enjoy it now.
VIN ROUGE: L'ETRANGLE CHIEN
100% Mouverde
From time to time the vendange rewards winemakers with such extraordinary grapes it demands a bespoke response, a personal project. Hand picked from old Collioure vines perched on steep schist slopes high above the sea. Soft pressed and aged in oak the wine's name is a reference to its power to satisfy the most determined red wine aficionado. The well trained Mouverde tannins once booted and suited in your best crystal decanter will perfectly match a well seasoned grilled 35 – 40 mm thick aged Cote de Boeuf . No thinner, no younger than 28 days and no Entrecote nor Rump this time SVP. Carefully decant, rest for 60 mins and serve around 15C. It could be put aside for up to 5 years.
LE SANGLIER 2015
100% Syrah
Syrah more than any other grape types reflects the terroir, the moods of the weather gods and the winemakers skill. This totally approachable wine with its complex berry rich aroma is big and bright, The initial taste hints at leather and autumnal days. Satisfying to the last due to its full bodied southern French tannins it possesses the resolute strength of purpose of a Kathleen Hepburn and the affability of a young Fred Astaire. Wild boor ragout of course, medium to rare rump steak meat bien sur however such is its tractability it could be paired with late night rich and velvety Belgium dark chocolate. Serve at 15C, Happily be put aside for 2 – 3 years.
MAS CRISTINE
48% Grenache 42% Syrah 10% Carignan
The region's wines through the dedication and determination of winemakers such as Andy Cook have moved far beyond the wines of last century. In this instance old growth vines, gentle harvesting and state of the art winemaking has produced an utterly reliable classic southern French wine as it should be. Bright, peppery perfect for a mid-day BBQ'ed shoulder of local lamb with friends in our bright winter sun. Serve around 14C. It would age quite well however it is a wine for today.
CHEMIN DE SAINT-ANDRÉ,
ARGELÈS-SUR-MER
TEL: 04 68 54 27 60
andy@mascristine.com
---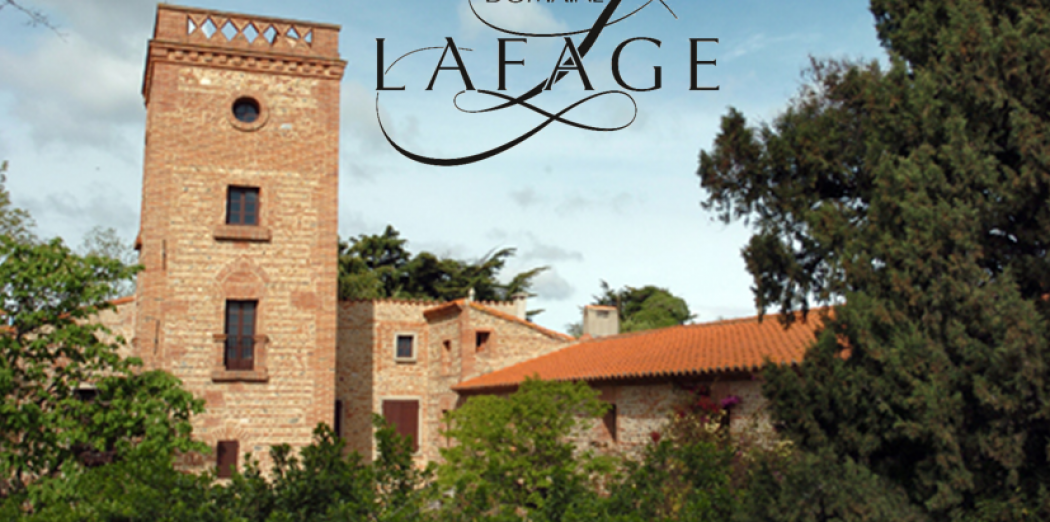 YOUR VISIT
Sixth generation winemakers Jean-Marc and Eliane Lafage represent the very best of modern wine production in the P-O. Devoted to the region to produce world conquering wines. Very visitor friendly venue located beside the D617, 10 minutes from Perpignan. Selected regional produce also available. Ample English speaking staff, parking and facilities.
VIN ROUGE CHATEAU SAINT ROCH KERBUCCIO 2014
40% Grenache noir 40% Syrah 20% Mourvèdre
This wine is fabulously vanilla, cassis and liquorice scented. Profoundly red, powerfully elegant. A finely balanced impeccably mannered prowling panther of a wine. Perfect for a celebratory Beef Wellington for several or a thick well seasoned Saturday evening Cote de Boeuf for two. Gloriously drinkable now, its power and structure will allow it to be laid down for five years. Let the wine breath for 30 minutes or so, serve at 14C.
DOMAIN LAFAGE LEA 2015
50% Grenache noir – 30% Carignan – 20% Syrah
Crafted from vines clinging 400 meters above the hot Roussillon plain this classic blend of hand picked grapes is a perfect example of soil, microclimate and mature vines. Deep ruby red with hints of red fruit and exotic spice, its elegant playfully long finish will satisfy ardent and freshly hatched red wine enthusiasts alike. Perfect for a medium to rare rump steak with parsley butter, Cassoulet, or a tomato rich Lamb Jalfrezi. Perfectly acceptable now or put aside for say 3 years. Open around 30 mins before serving at 14C.
FAMILLE LAFAGE ARQUETA COLLIOURE 2015
70% Grenache Noir, 5% Grenache Gris, 10% Syrah 15% Carignan
Intensely red, almost black. A joyous celebration of Banyuls/Collioure's steeply inclined hills and vines. Hand picked, it has an intriguing complex aroma with hints of coffee and apricot jam. Match it with Grilled Lamb with Thyme, a well seasoned New York strip steak, Pork roasted on a bed of fennel. Love it, love it, love it. Its fine structure and relatively youth suggests it could be set aside for up to three years but why would you? Jean-Marc has created the wine to be consumed now, don't disappoint him. Let it breathe for 30 mines of so then serve around 14C. MAS
MAS MIRAFLOR,
PERPIGNAN
TEL: 04 68 80 35 82
contact@domaine-lafage.com
———————————————————————————————————-

YOUR VISIT
If Banyuls-sur- Mer did not exist, Hollywood would have invented it. Surrounded by impossibly steep bleached terraced slopes protecting the town from harsh weather, the resort is just extraordinary. The modern visitor centre of Abbé Rous will welcome you almost year round, (closed all January) . Ample parking, well paced and structured tours in English provide a detailed insight into modern wine making.
Vin Rosé Cuvée de Peintres 2016
Grenache noir 70 % Mourvèdre 20% Syrah 10%
An elegantly simple Rosé from old growth Collioure vines. Grenache and Syrah provide a festive strawberry and grapefruit welcome while Mouvedre provides depth and a sense of direction. Perfect for a Friday night Margarita pizza, a Saturday Grilled Dorade or a Sunday seafood platter. Chilled 8 – 10 C.
Vin Doux Natural Banyuls Blanc Cornet & Cie 2015
Grenache Gris 70 % Grenache Blanc 30 %
Elegantly green and gold, Rita Hayworth in a pale green evening gown. Floral and bright aromas which never overpower. The aged vines deeply buried roots have extracted the taste of peaches and apple. Generous and powerful, lingering without clinging. An aperitif perhaps with slices of slightly salty jamon, small provencal style olives or an accompaniment to a seasonal tarte aux poires or Serve at 8 – 10C.
Banyuls Grand Cru-Domaine de Baillaury
Grenache Noir 75% Grenache Gris 25%
A deeply enticing wine. As smooth as Ernie Els's swing, as determined as Tiger Wood's 2005 chip shot on Augusta's 16th. Hole. Structured orange and chocolate aromas. A soft rustic spicy sweetness driven by Collioure's dry schist terroir. A perfect apero wine, a partner to rich cheese, chocolate or a rich sweet brioche. Lightly chilled to 13 C if the weather demands
ROUTE DU MAS REIG
BANYULS-SUR-MER
Tel: 04 68 98 36 70
---
MAS DEU TROUILLAS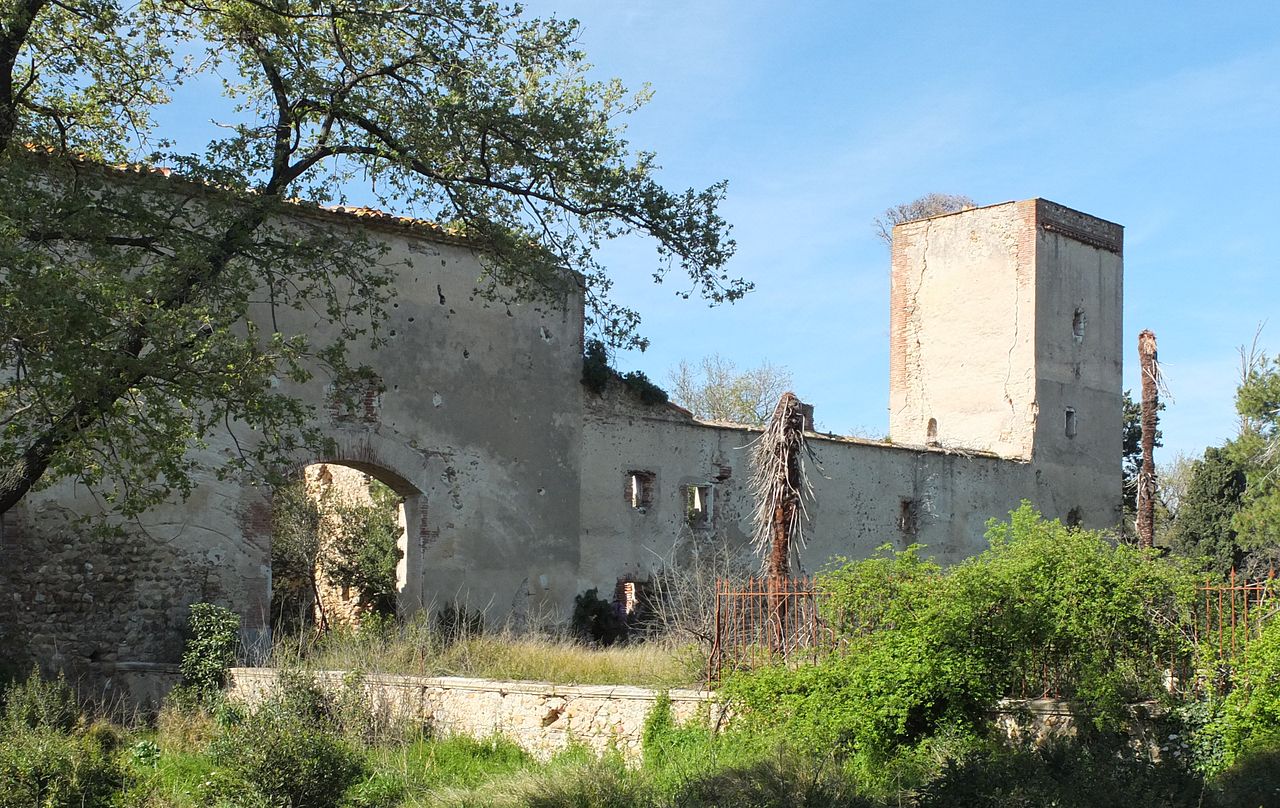 YOUR VISIT
Mr Claude Oliver is a quintessential son of the PO, the real deal. When you shake his hand you can sense his total commitment to his wine, his family….. and his rugby. Nestled deep within peaceful ranks of grapes the Bio certified winery shares its location with the ancient Templar Commanderie where General Luc Dagobert and his Spanish counterpart Antonio Ricardos went toe to toe in the battle of Truillas in 1793.
Located on the D612 10 minutes from historic Truillas village, tasting takes place among the vats and casks holding the recent 'recolte'. Claude personally runs the tasting sessions, his English is reasonable but you will need some French to meet him half way. Totally authentic, well signposted, generous parking.
Vin Blanc Cuvée Chloe 2017
100% Petit Grain Muscat Bio certified
Muscat Blanc à Petits Grains is arguably one of the most ancient grape varieties whose tight bunches are still producing fine wines today. Here the master winemaker's skill has produced a crisp Gordon Greenidge classic cover drive of a wine. It will work with cod or monkfish wrapped in slices of Iberian ham then roasted, langoustines quickly grilled at a high heat them drizzled with green sauce, a quick ricotta and goat cheese cannelloni supper or tapas as you watch the match. Perfectly useful now its powerful structure suggests it will benefit from being put aside for two years or so. Serve at 8 – 10C
Vin Doux Naturel Cuvee Murmure 2016
100% Grenache Noir Bio certified
An intriguing offering showcasing the power of Grenache. Picked and bottled according to the lunar calendar, it is lush, plush not to be rushed. Carrying unexpected hints of East Asia it is something more than a classic vin doux natural. Certainly pair it with red fruit and dark chocolate, however its extra dimensions suggests it would work well as a game day starter with man-sized slices of peppery Iberico ham, fresh crusty tomato bread and fat Cerignola olives. Serve at around 12C.
TROUILLAS
TEL: 06 81 55 04 05
claude.oliver@orange.fr