Women and Landscapes
By Ellen Turner Hall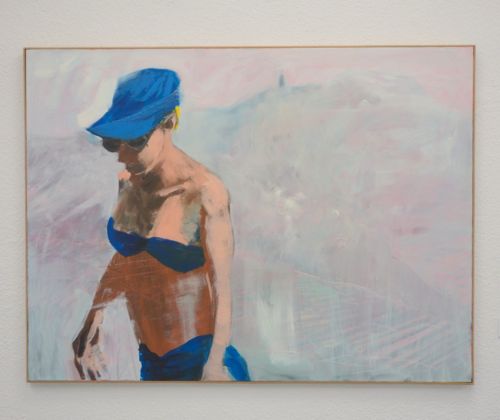 The winter exhibition at the Musée d'Art Moderne displays 70 studies of Collioure created in 2014 by Julien Descossy. Descossy's work explores the theme and variations of women and landscapes: women as landscape and landscapes with sensual curves.
His series of female bathers evokes the classical association of woman and water, "Venus emerging from the waves", except Descossy's Venuses are knee-deep in water and sporting sunglasses and baseball caps. The modest shell-borne goddess is replaced by a frankly sensual modern female. In the Baroque postures of Descossy's women lying on the beach, reeling away from a splash or twisting into (or out of?) a tee-shirt, the artist pays tribute to women's sexuality and vitality.
The canvas "Ecran total" depicts a woman in a blue bikini and baseball cap in the foreground against a mountainside lined with vineyards seen through a cottony fog. The title suggests both the bather's sun screen and Nature's white veil. This ambiguity and playfulness works as the title for the exhibition as a whole.
Descossy's views of Collioure eclipse the famous bell tower in favour of flame-coloured umbrellas at jaunty angles under a sky which changes from blue to pink to grey. Playing with the light, he transforms Fort Saint Elme into a flaming torch at sunset or a brown monolith suspended in a grey landscape. A closer look at the "flat surfaces" of colour reveals a tornado of brush strokes in varying layers of paint.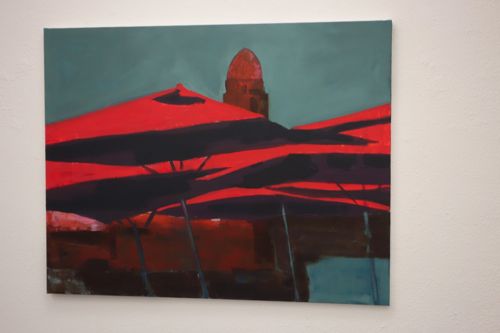 Finally, three canvases which depict the preparation for the macabre procession of the Sanch on Good Friday: the faceless black-hooded figures under their pointed caps represent another screen between good and evil, death and redemption and fear and love.
"Ecran Total" runs from 12 October 2014 to 15 March 2015.
For further information: www.collioure.net/museedart
(A parallel show of Julien Descossy's works will run from 13 October to 15 March at the galerie Odile Oms in Ceret.)
Côte Vermeille Stories
by Ellen Turner Hall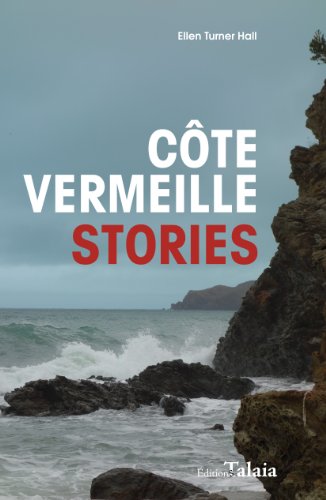 Since her childhood in New York, Ellen Hall has always been a storyteller. She has written and spun her imaginary world into tales to entertain herself, her friends, and now, a wider public.
In Côte Vermeille Stories, Ellen Turner Hall's carefully crafted prose invites us into her half-imagined world inhabited by characters who, like her, fall under the spell of one or other of the four villages of the Côte Vermeille.
Like her, their previous experiences are far flung. Like her, their knowledge and love of music influences their actions. They embrace their surroundings, sometimes seduced, sometimes seducers, sometimes deceived, often beguiled, never indifferent.
Their stories, twist and turn, basking in and buffeted by the eccentric charms of Catalonia's rocky coast.
In these four stories, at least one of which is shortly to become a film, Ellen guides the reader on a voyage of discovery along the Côte Vermeille.
Available in both French and English in bookshops and newsagents in the region and Amazon.fr