Tir des Aspres: The shooting club with a view.
By Jane Mann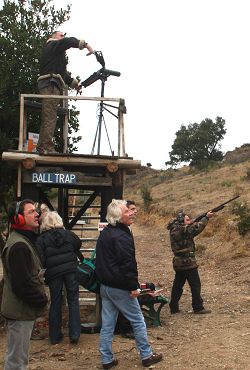 "Have you ever been shooting?" I was asked. "No, not keen on killing" I replied.
"No killing, clay pigeons, very skilful, very relaxing"
I doubted the relaxing aspect but was curious enough to go along.
From the parking the view is over the Aspres to the sea in one direction and to Canigou in the other. Breathtaking. Open daily, the club is an Association. Joelle is President, Ken, Vice President and Debbie his wife own the land. Christian, Joelle's husband is an expert shot and great instructor. In fact they all shoot well, their enthusiasm is infectious and the ambience, once the headphones have deadened the noise of gunfire, is convivial in the extreme.
Anyone can go along and be sure of a warm welcome and the possibility of trying their skills with a variety of pistols, shotguns and rifles. The shooting ranges run from 10 to 200 metres, the costs are reasonable, way below English prices and the French seem to allow shooting to be more accessible and fun than their English equivalents.
For a start, in England pistols are out of bounds. I was immediately handed a 357 magnum revolver and shown how to aim and fire. A puff of sand indicated I had well missed the target. I tried again and got close enough to earn 6/10. A fatter bullet pulled quite a punch and once again hit the sand, but the lighter Smith and Wesson .22 scored me a near bull's eye.
Cowboy Action Shooting is becoming very fashionable. Ken demonstrated how to load a .44 Navy Colt cap and ball black powder revolver. Very complicated. First in went an accurate measure of black powder (gunpowder), then an equally carefully measured measure of cous cous (cowboys used wadding at this point), the bullet, topped by a cap and finally the pistol was ready to fire. I reckoned the Indians would have had plenty of time fire off several salvoes of arrows and the battle would have been over before it began.
When fired the pistol gave off a satisfactory puff of smoke and scored me at least 6/10 on the target. Fun.
And is the Tir des Aspres used for more than fun? Well yes it is. The police and the Army use the firing ranges. Hunters train there and so do the guards from prison. And no, they do not use prisoners for target practice. I watched my friends fire off their rifles at the clay pigeons and was most impressed as they shattered the bright orange biodegradable flying discs. Ball trap, it is called here.
At the end of the morning I did not go home with a brace of pheasant over the shoulder but had learnt that shooting not-to-kill is a skilful and relaxing hobby involving intense concentration interspersed with much laughter and the advice and banter of friends.
This club is now closed down but Google 'ball trap, Pyrenees-Orientales, and there are plenty of possibilities to try out if you want to have a go.