One day in July we saw a huge billowing cloud of smoke coming from the direction of the Spanish border. A fire had started after someone had thrown a cigarette butt out of a car window in Le Perthus.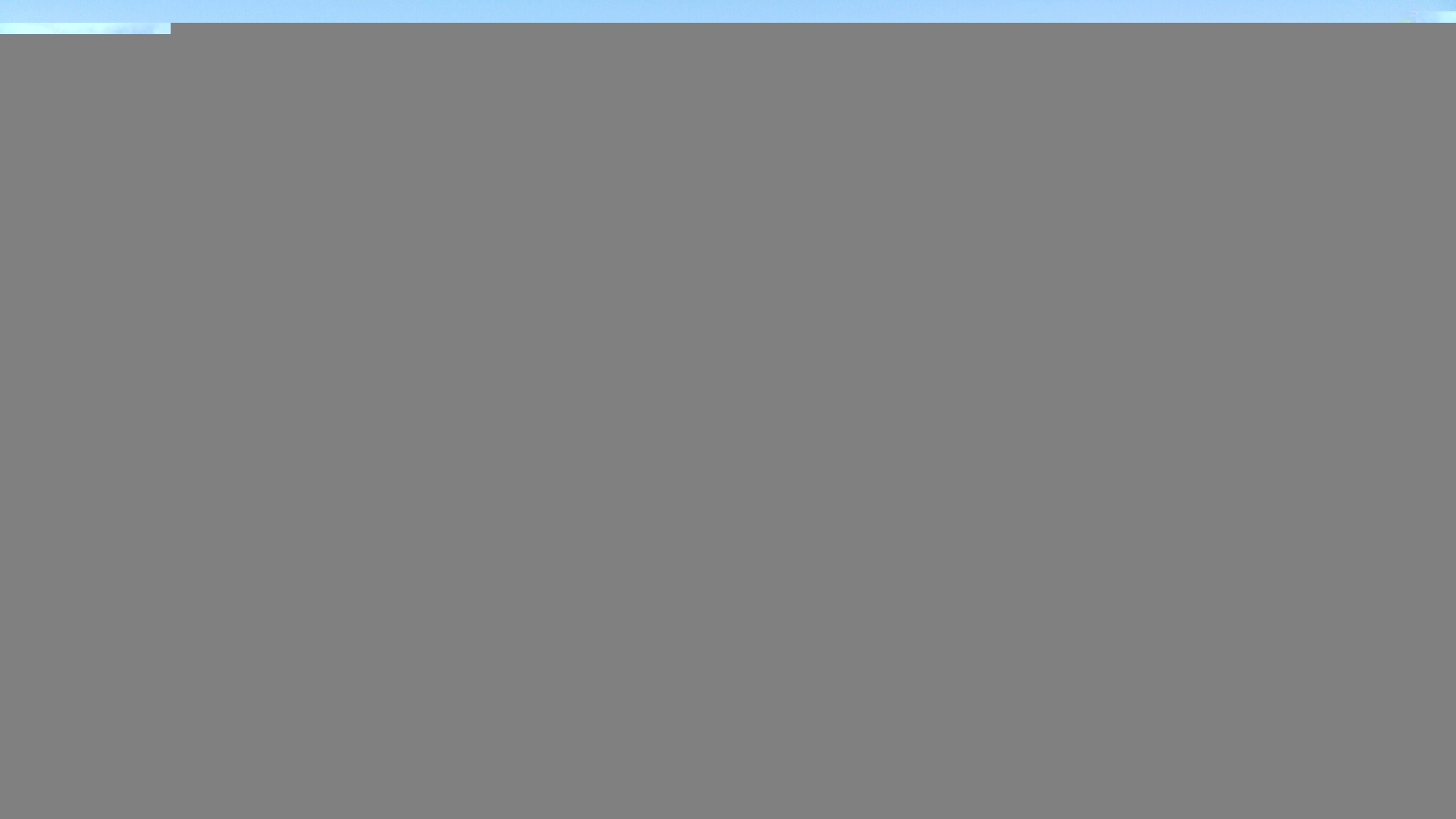 By the next day the fire had spread south to Figueres, by all accounts still not under control, and had already burned several thousand hectares of forest. At 2 in the afternoon we saw a huge plume of smoke and red flames billowing up from behind Eagle Rock, the hillside behind us. This was very worrying.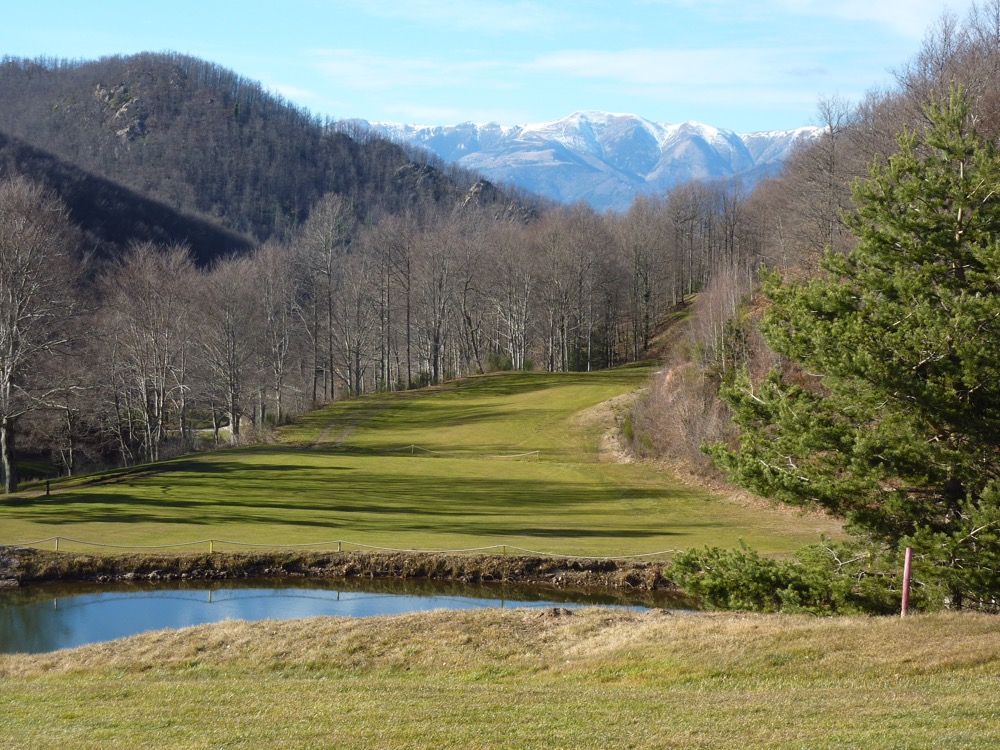 Friends who lived around the corner posted on Facebook that they were putting their valuables in the car in readiness for evacuation and we followed suit, packing up the passports, cash and credit cards. I looked anxiously at the sheep as they grazed in the field. The idea of trying to get them into the horse box was not an appealing one, as our Cameroon sheep leap about like deer if anyone tries to confine them. As for our border collie, Gyp, he thinks that chasing sheep is just a great game and the further they run the greater the fun. If we were to be evacuated I had no idea what we would do.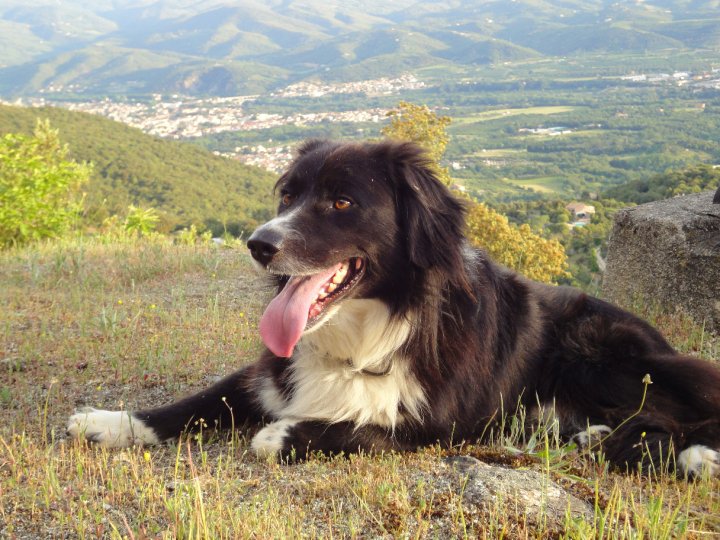 At about 6 that evening the Tramontane, as the local wind is called, changed direction and as we ate dinner on the patio we found ourselves spattered with tiny particles of ash. Our usual clear view of the Med, about a 30 minute drive away, was obscured by a thick cloud of smoke; now we were unable to see where the fire was and where it was going. The continual drone of planes in the skies above continued, and worryingly started to pass directly over our heads. I put towels in the kitchen, ready to plug the gaps around the doors and windows and wondered whether to sleep in the house instead of the yurt.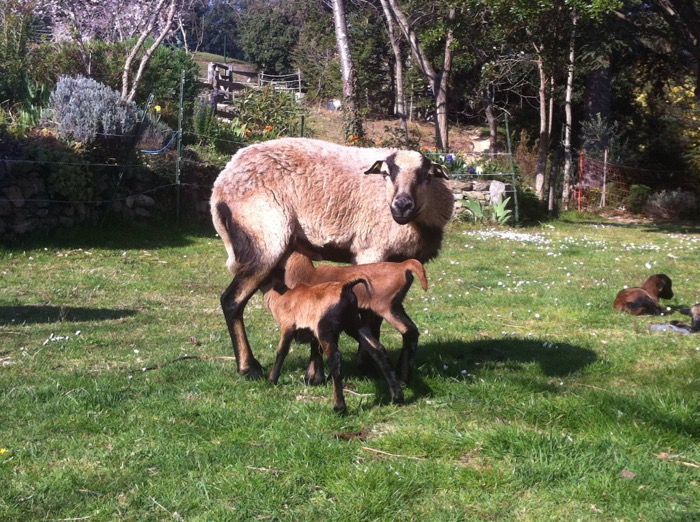 The house was empty but had been prepared for the imminent arrival of house guests, so I was reluctant to mess it up. So rather than give myself extra housework I plumped for being roasted alive in the yurt. I sent a message to our friends saying if they got evacuated to honk their horns as they passed to awaken us, and so walked through the woodland to bed. It took another 2 days to get the fire under control. Sadly, 13,000 hectares of forest and conservation areas in Spain had been devastated.
The time came for Scary Soldier's Estonian girlfriend to return to Tallinn, and as Scary Russian Army Man couldn't drive he asked Arthur to give them a lift to Le Boulou, where they would catch the Frog Bus to Girona airport. On the way Arthur asked tentatively how the week had gone. Scary Soldier Man went very coy and would say no more than that it had gone very well. But as the pair alighted from the car and walked toward the bus stop they were not talking, and the woman was marching ahead with Scary Man trailing gloomily several yards behind her. Not a good sign, we all agreed as Arthur reported back.
Since her stroke, things in our friends' household were becoming more chaotic than ever, and that's saying something. One of Jo's false teeth had fallen out so she stored it in a glass in the cupboard to take to the dentist on her next visit. When the home help came as usual that morning, Arthur offered her a beer and poured it into the same glass. As I've explained before, Arthur couldn't speak a word of French and the hapless home help could not speak English; despite this they had worked out an effective means of communication. Whenever Arthur did something that she did not like, which was most days, she rolled her eyes, said 'Catastrophe!' and accompanied this by drawing her index finger across her neck in a rather alarming manner.
We are reliably told that the long suffering home help knocked the tooth back with the beer but I cannot guarantee the veracity of this story.
Unfortunately, Arthur was also ill. He suffered from Parkinson's and often lost his balance and fell or if he forgot to take his pills he froze up. But it constantly amazed me that he never allowed his condition to get him down or to stop him from doing the things he wanted to do. With Jo now in a wheelchair, it fell to him to drive to the shops and get in the shopping. As an ex-London cabbie he was particularly proud of his driving abilities. But on this particular day he had gone to Carrefour and as usual had fallen a few times in the aisles. Not being able to speak a word of French he was unable to explain himself and was forcibly restrained by the store staff, who phoned the police. The gendarmes turned up, told Arthur he should not drive and delivered him to the clinic.
Once there the intrepid Arthur made a bid for freedom. Miraculously, he recovered his ability to walk and legged it from the clinic to Carrefour, found his car and drove home as fast as he could. On another occasion he tried to enter Leclerc by the revolving doors but once inside them was unable to move. The doors stuck and nobody was able to get in or out and once again Arthur was forcibly removed by the security staff.
We laughed along with Arthur as he recounted these stories with his usual good humour at our local bar. As usual we were being served by Mr Grumpy-face Waiter. Mr Grumpy-face wore a black waistcoat, sported a droopy moustache and, as his name implies, never disturbed his face with the inkling of a smile. As Arthur joked he waited with melancholy eyes for us to order.
Wine ordered we continued to chat. Arthur relaxed and allowed his walking stick to slide towards the ground. At that moment Mr Grumpy-face was passing by, tray held high, piled with glasses of wine, pastis and coffees. As if in slow motion we saw the tray sailing past in the air, followed by Mr Grumpy-face himself. Arthur laughed. Bad move. Mr Grumpy-face was lying face down amid a chaos of broken glass, hot coffee and several litres of wine, and strangely enough, didn't see the joke.
The universe works in mysterious ways, and somehow or other, that embarrassing incident endeared us (but not Arthur) to Mr Grumpy-face, who, after that, started to give us the odd wink and a few peanuts with our gin-tonics. Some British tourists watched mystified as our drinks arrived with peanuts. "How did you manage that?" they asked.
"Long story," hubby replied.