June 2013
A Summer Selection….
Reviewed by John Fairclough
For many, an integral part of Summer in the PO is a tasty meal in the company of friends and family. Fortunately, it's not too difficult to find restaurants that serve up consistently good or excellent cuisine in picturesque surroundings with friendly attentive service, without the silly prices too often found in many popular tourist spots.
For this summer, I've visited five restaurants in France and Spain, which, although fundamentally different in location and atmosphere, have a consistent track record of providing good, tasty food at moderate prices.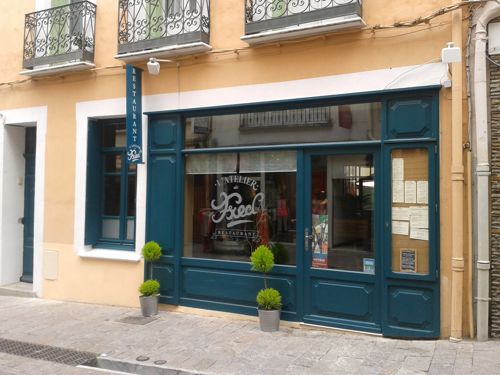 First up, we head for the ever-popular town of Céret and a brand new establishment, L'ATELIER DE FRED, run by Fred, the ex-chef from the much lamented Michelin star Feuillants restaurant.
Right in the heart of the town, it is a small, intimate place with a modern, comfortable ambience. Imaginative cuisine, using market fresh ingredients is very much the order of the day, with the daily changing lunchtime formule (19€ for two courses, 23€ for three) an excellent value introduction.
Evenings see a choice of two Menus, both of which change monthly. The lead in at 28€ featured either citrus marinaded salmon or home made foie gras terrine for starters, with either superbly fresh loin of cod or perfectly cooked magret of duck as mains. As the sweets are made to order, you are asked to pick one from the outset to avoid delays.
The top 39€ menu is also just two choices on each course, but with more expensive ingredients. Short, but well-chosen wine list, and fabulous, well-priced pichet wine from the popular Piquemal winery. All in all, at long last, a fine restaurant fitting for a town of Céret's calibre.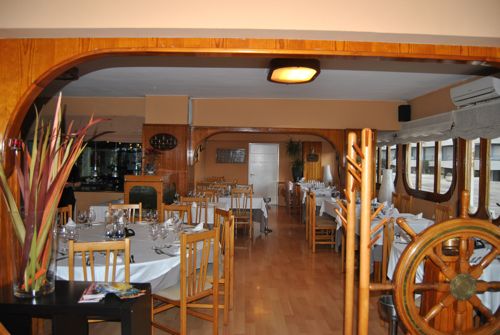 Next, we pop over the border to LA GAVIOTA in the small, but lively Costa Brava resort of L'Estartit. A stone's throw from the wide sandy beach, this is an ideal place for a good meal while on a seaside jaunt.
There is a very comfortable and spotlessly clean main dining area done out in pale wood panelling. Also a small outside patio overlooking the beach. All the staff seem to speak excellent English and service is prompt even during busy sessions.
The menus range from a daily lunch menu at 15€ which includes a starter, choice of meat or fish, dessert and a glass of wine. Better value, to my mind, is the 20€ offering which also changes daily. On our visit, there was a choice of 5 different starters including a plate of small fried fish and an artichoke and king prawn warm salad.
Examples of mains were suckling pig tenderloin, roast veal, hake basque style and a paella type rice dish. Sweets were imaginative by Spanish standards. The price for two includes a bottle of the highly regarded Espelt wine. For those looking for something more extravagant there is the 5 course 49€ deal which features a fresh fish course followed by lobster.
Passeig Maritim 92, 17258, L'Estartit tel 0034 972 75 20 19 Open daily during the summer period.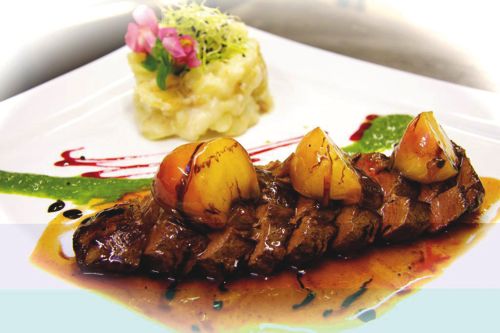 Back in France, in the Albères village of Palau del Vidre is the ANCIENNE ECOLE. As the name implies it is housed in the old stone built village school-house, and many of the original features remain.
There is a lunch plat du jour menu for 16€. Evening food is served in a "formule" fashion, with a carte of starters, fish courses, meat courses and sweets. All permutations are possible, but, for example, starter +main is 27€ and adding a sweet bumps it up to 33€.
The food varies from week to week, but when we went examples of starters were goats cheese profiteroles and a beef tartare with avocado mousse. Mains included red mullet with summer veg and filet mignon of pork with cardamon butter, all delicious and imaginatively presented on a slate board.
A good selection of wines is offered at reasonable prices with pichet wine available for those who prefer.
20 av Joliot Curie, 66690 Palau del Vidre 0468 22 34 09
www.ancienne-ecole.fr
Open every day except Sun Eve and All day Mon.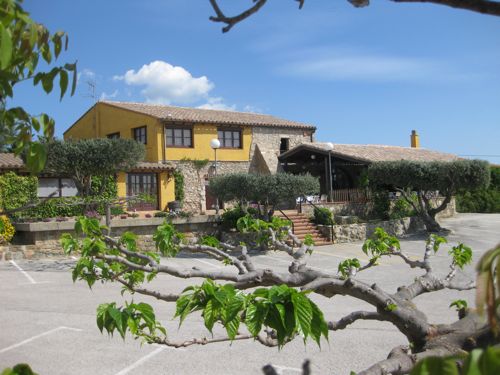 Finally, back across the border to Spain, between Capmany and St Climent, not far from La Jonquera, is old favourite, MAS ULLASTRE. A large old farm in the middle of vineyards, this is popular with holidaymakers, day trippers and locals alike. The parents who ran it till recently have seemingly gone into a well-earned retirement, and now it's controlled by their offspring, who have updated the menu.
There is a good value lunchtime menu del dia at 10€ that changes daily, but does not offer any choice. Also on offer is the "Menu Especial" now featuring a wide variety of starters, followed, on our recent visit, by a huge Girona entrecote, salmon in honey, or pork solomillo in a port wine sauce.
Unfortunately, there is little in the way of vegetables to accompany the usual chips, and as we often see in Spain, the sweets are rather predictable, but the deal does include unlimited (but very average quality) wine and water, so all in all very good value at 20€ . Plenty of fresh fish and a huge choice of charcoal grilled meats are on the Carta.