September
Fete de Mailly – Port Vendres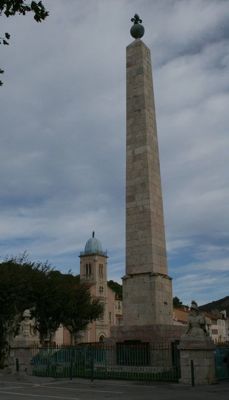 In commemoration of the placing of the first stone of the Obélisque in Port Vendres, on the orders of the Maréchal de France, comte de Mailly, the Fete de Mailly will be held on Sunday 17th September. The day will begin with a fancy dress parade through the streets starting at 15h, (place Castellane, quai Pierre Forgas, quai Jean Moulin, arrive Obelisque 16h) followed by a re-enactment of the placing of the first stone.
Throughout the day, there are concerts, circus workshop, historical games, rides in a carriage, Xim Xim (traditional dance music of central France) sardanes, catalan ballet, enactment of a pirate fight, jeu de foulard (bandana game) ending in a firework display on the port at around 21h.
Count Joseph Augustin De Mailly d'Haucourt was born in April 1707 at Corbiom, Vilaine-sous-Luce, in the Sarthe. In 1726, he entered military service as a musketeer, and in 1749 was appointed lieutenant general for the Roussillon and commander in chief of the province. In true 'musketeer' style, he was exiled by the king in 1753 for having 'stolen' one of the king's mistresses but in 1758, was reinstated as commander in chief, a post which he continued to hold until 1790
De Mailly was the driving force behind the creation of Port Vendres as a port, and followed plans originally conceived by Vauban to open up and enlarge the existing facilities. From 1776 – 1778, land was dug out and quais were created. As a foil to the enormous amount of construction of flat concrete, De Mailly called in Charles De Wailly, architect and painter to the king, to build the Obelisque which has now become a focal point of Port Vendres. The first stone was placed on 28th September,1780, by Mailly's wife, Felicite de Narbonne Pelet, and witnessed by much of the Roussillon nobility.